Synopsis: The spiritual journey of a ninety-year-old atheist.
Release Date: October 6, 2017     MPAA Rating: PG-13
Genre(s): Drama,
Film Review

A few weeks back, legendary character actor Harry Dean Stanton passed away. Stanton leaves behind a diverse body of work that includes such classic movies as Alien and Wild at Heart, but he was basically known as a supporting actor – a sideman. It's only fair that his last film, the simply titled Lucky, lets him spread his wings as a lead performer.
Lucky is a slice-of-life drama about a curmudgeonly old man named Lucky (Stanton) who goes about his daily routine of doing his crossword puzzles, watching his gameshows, and drinking his time away at a local watering hole. After a medical emergency, Lucky has an existential moment where he questions his own being and experiences. Surrounded by his friends and acquaintances at the bar, Lucky searches for meaning in his – and everyone else's – life.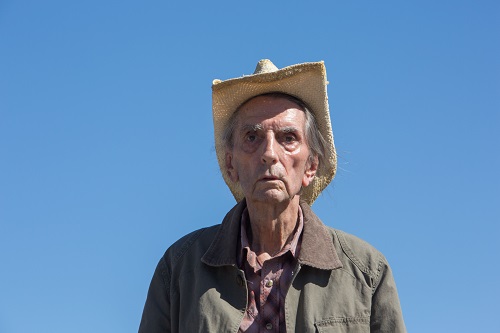 There's really not much more to Lucky. The directorial debut of John Carroll Lynch (who is much better known as an actor, with appearances in Fargo and Zodiac) is a basic fly on the wall story that follows around a man who is questioning his own existence. The script, written by the team of Logan Sparks and Drago Sumonja, is a masterclass in deep character dialogue and philosophical reasoning. The simple skeleton of a story ends up being a wonderful vehicle for Harry Dean Stanton. There's very little that happens story-wise, but damned if Stanton isn't an absolute joy to watch in it.
For a movie that is essentially a surly old man verbally sparring with his drinking buddies, Lucky is damn entertaining. It's also very insightful, engaging, and, in certain places, hysterical. For Harry Dean Stanton, Lucky is a fitting capstone for a very distinguished career. As a movie, it's average, but Stanton's magnetic charisma elevates the entire production.

It's clear from the start that Lucky is a vehicle for Harry Dean Stanton, and it makes no attempt to be anything else. Stanton is in pretty much every scene, if not every shot. Luckily, his presence is commanding enough to carry the movie. It almost seems as if the whole thing was ripped right out of Stanton's real life and experiences, and he is the only actor who could have pulled it off. It's all extremely natural and organic, and it's absolutely lovely to see Stanton shine so much in what would end up being his final performance.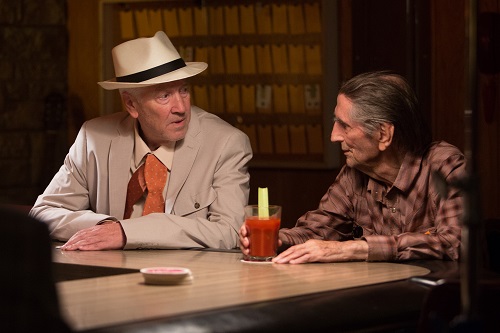 There's also a notable support cast full of familiar faces in Lucky. Ron Livingston (Office Space, The Conjuring) plays one of Lucky's bar pals with whom he feuds. Cult director David Lynch appears as another barroom denizen whose most memorable lines are all about his pet tortoise ("Yeah, it's for protection, but it's also the coffin he's gonna be buried in. And he has to drag that thing around on his back."). Tom Skerritt (who starred with Stanton in Alien) shows up as a grizzled Marine vet who trades war stories with Lucky. Even Ed Begley Jr. ("St. Elsewhere") pops in momentarily as Lucky's doctor. Not exactly A-listers, but the support cast in Lucky is made up of talented individuals who all seem to be very excited to be working with the iconic Harry Dean Stanton.

The music for Lucky was written by Elvis Kuehn from the band FIDLAR. It's not so much a score as it is a series of down-home southern jams, mostly built around a bunch of awesome harmonica riffing and railing. It's not diegetic music, but it seems like the kind of stuff that might be playing in Lucky's head as he goes about his day. There's not much more that needs to be said about it, it's just a simple and enjoyable soundtrack that really adds to the movie.
Cast and Crew
Director(s): John Carroll Lynch
Producer(s): Ira Steven BehrDanielle RenfrewGreg GilreathAdam HendricksRichard KahanJohn H. Lang
Screenwriter(s): Logan SparksDrago Sumonja
Story: 
Cast: Harry Dean Stanton (Lucky)David Lynch (Howard)Ron Livingston (Bobby Lawrence) Ed Begley Jr. (Dr. Christian Kneedler)Tom Skerritt (Fred)Beth Grant (Elaine)James Darren (Paulie)Barry Shabaka Henley (Joe)Yvonne Huff (Loretta)Hugo Armstrong (Vincent)Bertila Damas (BibiAna Mercedes (Victoria)
Editor(s): Slobodan Gajic
Cinematographer: Tim Suhrstedt
Production Designer(s):
Costume Designer: Lisa Norcia
Casting Director(s): 
Music Score: Elvis Kuehn
Music Performed By: 
Country Of Origin: USA