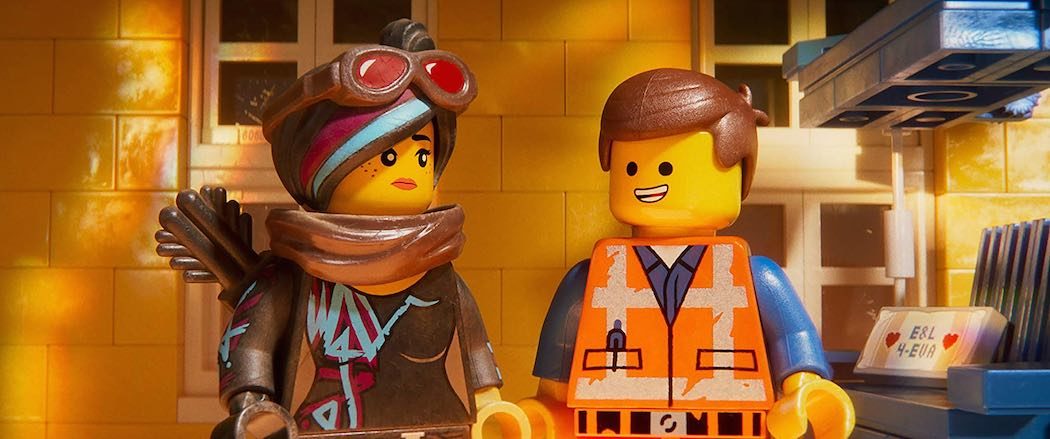 'The LEGO Movie 2: The Second Part' Review
LEGO takes on its own gender stereotypes in The LEGO Movie 2 and admits that everything is not awesome, but it can be.

Release Date: February 8, 2019
The much-anticipated sequel to the critically acclaimed, global box office phenomenon that started it all, The LEGO Movie 2: The Second Part, reunites the heroes of Bricksburg in an all new action-packed adventure to save their beloved city. It's been five years since everything was awesome and the citizens are now facing a huge new threat: LEGO DUPLO invaders from outer space, wrecking everything faster than it can be rebuilt. The battle to defeat the invaders and restore harmony to the LEGO universe will take Emmet (Chris Pratt), Lucy (Elizabeth Banks), Batman (Will Arnett) and their friends to faraway, unexplored worlds, including a strange galaxy where everything is a musical. It will test their courage, creativity and Master Building skills, and reveal just how special they really are.
Director: Mike Mitchell
Screenwriter(s): Phil Lord, Christopher Miller
Producer(s): Jinko Gotoh, Roy Lee, Dan Lin, Phil Lord, Christopher Miller
Cast: Chris Pratt (Emmet Brickowski/Rex Dangervest), Elizabeth Banks (Wyldstyle/Lucy), Will Arnett (Batman), Tiffany Haddish (Queen Watevra Wa'Nabi), Stephanie Beatriz (General Mayhem/Sweet Mayhem), Alison Brie (Unikitty/Ultrakatty), Nick Offerman (MetalBeard), Charlie Day (Benny), Maya Rudolph (Mom), Will Ferrell (President Business/Dad), Jadon Sand (Finn), Brooklyn Prince (Bianca), Channing Tatum (Superman), Jonah Hill (Green Lantern), Richard Ayoade (Ice Cream Cone), Jason Momoa (Aquaman), Cobie Smulders (Wonder Woman)
Editor: Clare Knight
Production Designer: Patrick Marc Henenberger
Music Score: Mark Mothersbaugh
The long-awaited sequel to The LEGO Movie is here, and with it, audiences finally learn the fate of the Bricksburgians, who were last seen getting invaded by an alien DUPLO force on the tail end of the worst Taco Tuesday in the history of minifig-kind.
For anyone who loved the first film but is worried about getting caught up in a two-hour watered-down clone of the original, this sequel, The LEGO Movie 2: The Second Part offers a fresh take on everything you loved in Emmet's first adventure: Witty pop culture references, snappy dialogue, and a clever, well-paced plot. It's not a film that's going to change your life. But as a parent, what the producers did with the subtext moves it beyond a fun little bubble-gum family flick to something with a little more substance.
It may come as little surprise that LEGO has been taking some heat for a while now for its representations of gender both in marketing and toy development. Despite the fact that LEGO play offers considerable benefits to children—aiding in fine motor development, problem-solving, STEM learning, and cooperative interaction, among others—, for years, LEGO primarily created toys and advertisements heavily infused with male stereotypes.
Later development and marketing attempts aimed at reaching out to girls drew just as heavily on stereotypically "girly" things–imagine pink and purple Stepfordian tract housing populated with Barbie-esque minifigs and you've got the idea.
Although the brand still has a long road ahead in deconstructing the pastel hellscape of compulsory gender performance they've built, The LEGO Movie 2: The Second Part demonstrates an earnest effort to that end.
Everything's Not Awesome Anymore
The LEGO Movie 2 begins by expanding on a flashback to the last scene of the first movie. The Bricksburgians have made it through the chaos of Taco Tuesday only to find themselves confronted with an alien invasion. Quick-thinking Emmet (voiced by Chris Pratt) attempt to appease the DUPLO folk by offering a LEGO heart ends in disaster, and the DUPLO people lay waste to the city.
Flash forward five years, and Bricksburg has been replaced with a post-apocalyptic wasteland known as Apocalypseburg, "a heckish place to live" with a Mad Maxian aesthetic. We soon learn the Apocalypseburgians are under constant attack from the invading force, which is now made up of pastel-laden LEGO UFOs from the remote Sistar System. Everything they attempt to rebuild is almost immediately destroyed and looted by the invaders, who shoot destructive and yet completely adorable star and heart bombs at their homes and buildings.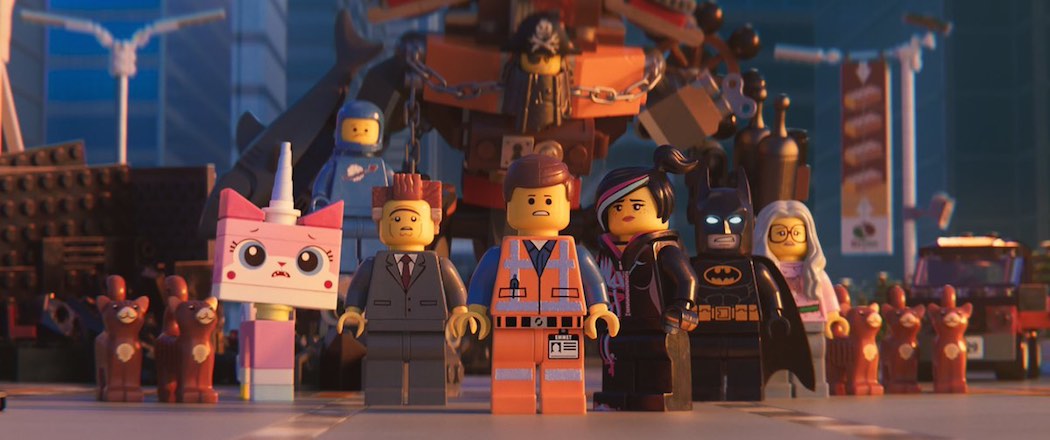 The only thing that hasn't changed is Emmet's persistent cheerfulness, but with his prescient vision of "Arma-mageddon" followed by the abduction of Lucy (formerly Wyldstyle, voiced by Elizabeth Banks), Batman (voiced by Will Arnett), and several others, he is pulled into an adventure that will challenge even his enduring optimism.
Two Different LEGO Worlds
The LEGO Movie 2 has a few layers to it. One of them explores the power of sibling bonds, a theme echoed in the credits, which feature LEGO creations crafted by siblings working together. But the film also doesn't shy from exploring gender stereotypes and how divisive they can be, a message the company would do well to heed going forward as they develop and market future toys.
We learn that in the real world, Finn (Jadon Sand), the now-teenaged boy creator of Bricksburg, largely abandoned his massive LEGO build to focus on more complicated builds after his little sister Bianca (actor/pre-teen director Brooklynn Prince) began to play with it, messing up his builds and stealing pieces she wants to play with. The world she creates is a lot like the vision LEGO has historically had for girls: It's a nightmarish ocean of pastels, glitter, rainbows, hearts, and every other imaginable stereotypically girly thing.
The overarching theme of this perceived gender gap is misunderstanding and poor communication. To Emmet and his friends, the Sistar System is alien and threatening. And in fact, it is.
Although the Sistar System is a vast kingdom where everyone gets along pretty well, it's not enough to just have pinks and purples and frilly things, hence the raiding. The many inhabitants of this kingdom include a sparkly "non-threatening" teen vampire, a banana dude, and the shapeshifting ruler Queen Watevra Wa-nabi (voiced by Tiffany Haddish), and they want the Bricksburgians to join them—even if by force.
Deconstructing Prescribed Gender in The LEGO Movie 2
The gender performance theme is underlined by the appearance of the hypermasculine action hero Rex Dangervest, who schools Emmet in the ways of not being "a total Hufflepuff." Much of The LEGO Movie 2 is devoted to Rex showing Emmet how to channel his destructive, aggressive side so he can take back what the Sistarians have stolen from their world.
Meanwhile, in the Sistar System's Palace of Reinventification, Emmet's friends are encouraged to get caught up in catchy music and makeovers—anything but think about the roles they are literally being forced into.
Toward the film's climax, near a moment where RBG and Marie Curie appear alongside a sentient chocolate bar, the dialogue lines up so perfectly with the theme it's enough to make a feminist parent get the goosebumps.
When one character from the Sistar System is revealed to be much less fearful and threatening than she at first appears, she confesses, "I tried to wear a mask and talk tough—it's the only way you'll listen." And as a character from Bricksburg commits a particularly destructive act, he cries, "Sorry, but this is for your own good!"
Without giving too much away, the film leads us to see that staying in assigned gender spaces too tightly can cause miscommunication and destruction. It questions the wisdom of teaching our boys and men that growing up means rejecting things that are considered "soft" and takes a compassionate approach to the anger girls and women often feel when relegated to prescribed female domains.
"Everything's not awesome," The LEGO Movie 2 tells us. "But it doesn't have to mean it's hopeless and bleak."
In other words, things are better when we stop trying to be who we think we're supposed to be and build something incredible together.
It's not a perfectly executed message, but the heart and intent are legit. And maybe it's a small sign that the next generation will be less worried about who they're told they're supposed to be and more concerned with making beauty through human connection.
At least, we can hope so.