Synopsis: Directed by Phil Lord & Christopher Miller (Cloudy with a Chance of Meatballs, 21 Jump Street) the original 3D computer-animated story follows Emmet, an ordinary, rules-following, perfectly average LEGO minifigure who is mistakenly identified as The Special, the most extraordinary person and the key to saving the world. He is drafted into a fellowship of strangers on an epic quest to stop an evil tyrant, a journey for which Emmet is hopelessly and hilariously underprepared.
Release Date: February 7, 2014     MPAA Rating: PG-13
Genre(s): Animation, Action
Film Review
Production
As far as colorful playthings go, you'd be hard pressed to find a toy more recognizable than LEGO. It's a brand most know and love, or at least hold a certain fondness for in hindsight. At the same time, the LEGO name has stretched far beyond those simple bricks into a global, billion dollar business. And yet there's still something a little magical when you think back on LEGO, from the hours spent pouring over instructions to the free-form creations that arise simply from your imagination. The LEGO Movie seeks to capture all of those ideas, from the breath of LEGO's catalog to the nostalgia, and it ticks all those boxes in incredible fashion.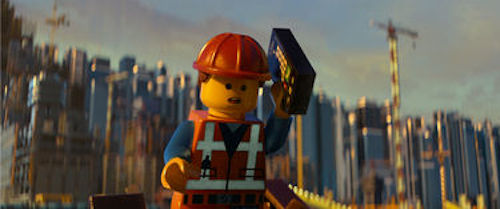 At its core,
The LEGO Movie
is a story about Emmet (Chris Pratt), a well-to-do construction worker living in Brickburg. In both his personal life and his professional one Emmet follows instructions to a "T." He never ventures outside his LEGO bubble, even though he harbors a burning desire for something more. It is only when Emmet happens upon a mysterious object, called the Kragle, that he discovers he might have a greater purpose as a prophesied savior called "The Special."
However, his happening upon the Kragle puts Emmet at the center of a conflict between the Master Builders, LEGO characters of all varieties (i.e. Superman, an '80s spaceman, Batman) who can make anything from the environment and are led by Vitruvius (Morgan Freeman), and Lord Business (Will Ferrell), who wants to use the Kragle to maintain order and uniformity. And, as it turns out, Emmet's story is as much about these LEGO people as it is LEGOs themselves.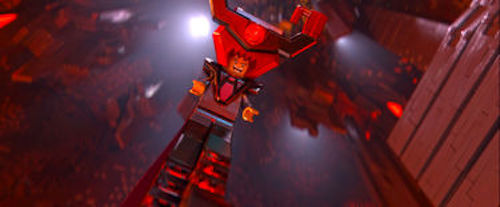 See, in the world of
The LEGO Movie
, nearly every object is animated in such a way that it looks and moves as if it were actually made from real LEGOs. For example, when it rains, tiny blue pieces fall from the sky. Or when smoke billows it looks like an actual cloud made of LEGOs. These tiny details add up to something that feels more like a diorama brought to life than an actual CG movie, which in and of itself is amazing to see on screen.
In addition to the film's design and construction, however, The LEGO Movie also boasts plenty of winks and nods towards LEGO's storied history. The film features plenty of classic LEGO creations, both characters and buildings, and has enough cameos to fill up several films. Most importantly, though, everything is done in a reverent way, still with an obvious focus on entertainment and laughs, but it works extremely well in conjunction with the aesthetic.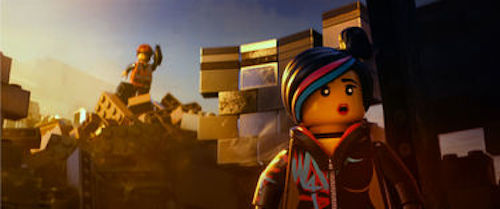 On top of that, the film's voice acting is top notch. Nearly every actor's comedic timing, especially Pratt, Freeman, and Ferrell, show that they "get" what the film is going for. They know when to change tones, and can do so at the drop of a hat. Without giving too much away, let me just say that
The LEGO Movie
asks a lot of its actors – more than most animated films – and they deliver. But really, every member of the cast is great, even those who just pop in for a brief joke.
While The LEGO Movie's story might have a few familiar beats, nearly everything else that's packed into the film feels original and bursting with creativity. Directors Phil Lord and Chris Miller didn't make a movie that features LEGO characters, they quite literally made The LEGO Movie. This is an animated feature that touches all bases – from kids to adults – very well; both in the way it is constructed and in its humor. It even sets a new bar for animated films and what types of stories that genre can explore. Anyone with a fondness for LEGOs must see this movie (it's actually pretty great in 3D too); they'll get a lot more out of it than expected.
Directing
With Cloudy with a Chance of Meatballs, Phil Lord and Chris Miller made a very clear statement. They showed they can take relatively thin subject material and make something unexpectedly enjoyable out of it. With The LEGO Movie, they pull off a similar feat but do so without reusing any of their old tricks. Sure, this film has a lot of the same comedic sensibilities, specifically Cloudy's use of random humor to keep a high pace going, but The LEGO Movie still feels full of life.
Lord and Miller clearly have nostalgia for LEGOs that permeates every aspect of the film, but obviously, the area that got the most attention is the design. It really can't be said enough how clever the film's visuals are – this is the film's true accomplishment.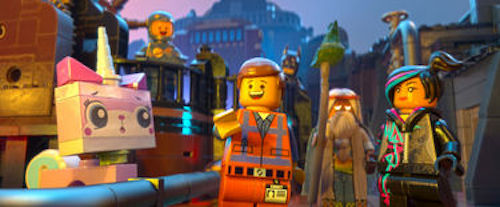 The LEGO Movie
could have easily been a series of low jabs at LEGOs as toys without much concern for their place in history, but under Lord and Miller's eye, it's a nostalgic trip that is reverent, touching, and genuinely funny the whole way through. They may have shown some aptitude for live action with
21 Jump Street
, but
The LEGO Movie
proves that Phil Lord and Chris Miller are equally, if not more, capable of delivering impressive animated feature films.
Comedy Factor
At this point the question of "Is it funny?" has already been answered, but it should be mentioned just how smart the comedy in The LEGO Movie is. Like Cloudy with a Chance of Meatballs, this film never goes for the obvious joke or plays down to its audience. Instead, it regularly pulls a fast one on them with an unexpected gag and executes those jokes perfectly. Even Oscar-caliber actors like Morgan Freeman and Liam Neeson (who plays Lord Business' henchman Good Cop/Bad Cop) embrace the unconventional nature of the jokes, which makes the film all the more enjoyable.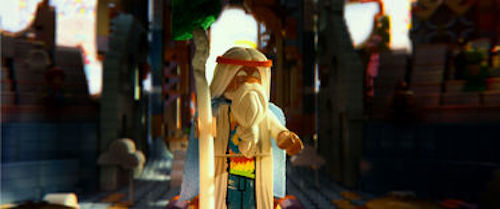 That isn't to say the film is highbrow, just more original. If you're the type of moviegoer who loves unpredictable comedy,
The LEGO Movie
will have you laughing almost the whole way through.
Cast and Crew
Director(s): Phil Lord
Screenwriter(s): Phil Lord, Christopher Miller
Cast: Will Arnett (voice of Batman/Bruce Wayne), Elizabeth Banks (voice of Wyldstyle/Lucy), Craig Berry (voice of Blake), Alison Brie (voice of Unikitty), Anthony Daniels (voice of C-3PO), Charlie Day (voice of Benny), Chris Pratt (voice of Emmett)
Editor(s): David Burrows
Cinematographer: Barry PetersonPablo Plaisted
Music Score: Mark Mothersbaugh
Country Of Origin: USA