Synopsis: With the IMF disbanded and Ethan (Tom Cruise) out in the cold, the team now faces off against a network of highly skilled special agents, the Syndicate. These highly trained operatives are hell bent on creating a new world order through an escalating series of terrorist attacks. Ethan gathers his team and joins forces with disavowed British agent Ilsa Faust (Rebecca Ferguson), who may or may not be a member of this rogue nation, as the group faces its most impossible mission yet.
Release Date: July 31, 2015     MPAA Rating: PG-13
Genre(s): Action,
Film Review

By now it might seem like the Mission: Impossible franchise has run its course, delivering all that immortal star Tom Cruise can offer as super spy Ethan Hunt. And yet, Mission: Impossible seems to chart a different trajectory, not unlike that of the Fast and the Furious series. With each subsequent entry, Mission: Impossible draws in more moviegoers and impresses with dazzling, practical stunts.
At some point, though, there's an expectation that the Mission: Impossible franchise will start to see diminishing returns, where what was once novel and exciting starts to feel like old hat. Mission: Impossible – Rogue Nation, the fifth and most recent film in the franchise, does not have that feeling, but as a whole it's a step backward. Compared to the endlessly exciting Mission: Impossible – Ghost Protocol, Rogue Nation is a little more subdued and its storyline is far more formulaic. Against the average summer blockbuster, however, there's still no question that Tom Cruise & Co. know how to deliver the goods.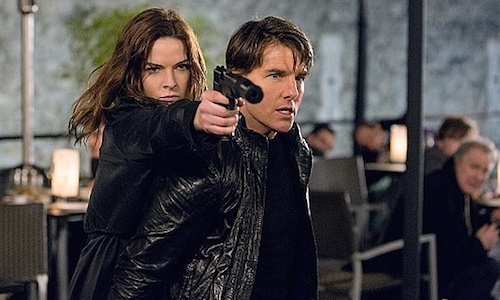 In a very basic sense, Mission: Impossible – Rogue Nation is an action-packed spy thriller. It pits our hero, Ethan Hunt (Cruise), against a shadowy organization known as "The Syndicate" with stakes that are both personal and global. For those who are familiar with Mission: Impossible lore, The Syndicate is the original antagonist organization to the IMF, or Impossible Mission Force. They're basically the opposite of Hunt's employer, choosing intricately plotted missions for evil rather than good.
That in itself is a fine setup for Mission: Impossible – Rogue Nation, and there are some clever twists and turns in the film, but compared to the highflying, fast-paced stunts, the story feels a little generic. Where past films have married the stunts with the narrative, the Mission: Impossible – Rogue Nation adventure gives the sense that the stunts drive the storyline. Not to mention, the stunts this time around don't give as much of a sense of consistent awe as past films have. Every Mission: Impossible film has its signature moment – Ghost Protocol had its Burj Khalifa sequence, for example – but Rogue Nation's comes before the title card.
Nevertheless, the film is plenty exciting and sure to please fans of the past Mission: Impossible films, or even action films in general. Even at age 53, Tom Cruise dedicates his whole body to believable stunt work, and director Christopher McQuarrie knows just how to make each set piece feel as realistic – not to mention dangerous – as possible. It's that much more nerve-wracking to know that Cruise is really performing the stunts, whether it's hanging off the side of airplanes or zipping through traffic on a motorcycle. When comparing one Mission: Impossible film to another it would be fair to say Rogue Nation is towards the bottom of the list, but judged against your average summer movie fare there's no comparison: Mission: Impossible – Rogue Nation is an entertaining thriller from beginning to end.

Once again, it's hard not to get nitpicky, but the action in Mission: Impossible – Rogue Nation does not meet the same heights (despite that aforementioned plane sequence) as past iterations, most notably Ghost Protocol. Where that film consistently outdid itself from clever set piece to clever set piece, Rogue Nation hits a climax about midway through, and tones things down for the rest of the film. That being said, the action that is on-screen is thrilling, well composed, and extremely well shot. Director Christopher McQuarrie also knows how to deliver chase sequences that feel authentic and have weight to them, and he's hit a new stride here. But of course, the star of the movie is still Tom Cruise, who deserves huge props for taking on some truly insane tasks. Watching him brave incredible circumstances and deliver lines is worth the price of admission, but getting to see an entertaining movie makes the film even better.
Cast and Crew
Director(s): Christopher McQuarrie
Producer(s):
Screenwriter(s): Christopher McQuarrie
Story: 
Cast: Tom Cruise (Ethan Hunt)Jeremy Renner (William Brandt)Simon Pegg (Benji Dunn) Rebecca Ferguson (Ilsa Faust)Ving Rhames (Luther Stickell)Sean Harris (Lane)Simon McBurney (Atlee)Alec Baldwin (Alan Hunley)
Editor(s): Eddie Hamilton
Cinematographer: Robert Elswit
Production Designer(s):
Costume Designer: 
Casting Director(s): 
Music Score: Joe Kraemer
Music Performed By: 
Country Of Origin: USA