As cheap of a ploy as it sounds, setting a horror movie in a mental hospital is a highly effective way to raise the creep factor. From Asylum to The Ward, and even in cult classics like Alone in the Dark and Bad Dreams, a loony bin is a great setting for scares. Even fringe horror movies get spookier when they take place inside an insane asylum. For an example, look no further than Samuel Fuller's 1963 noir thriller Shock Corridor.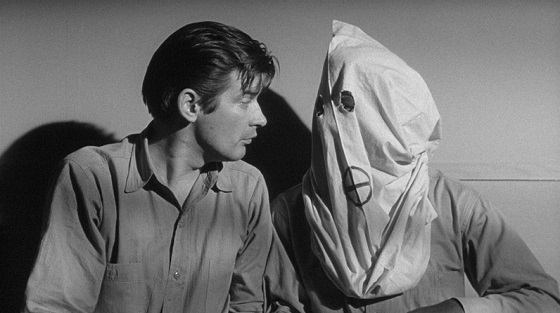 Shock Corridor is about a journalist named Johnny Barrett (The Crawling Hand's Peter Breck) who, in an effort to win a Pulitzer Prize, checks himself into a mental institution so that he can investigate a murder that took place there. He convinces the doctors than he is crazy and to commit him, then befriends three fellow patients who were witnesses to the crime: an ex-soldier named Stuart (James Best from The Killer Shrews) who was captured during the Korean war and who thinks he is a Confederate general, an African-American fellow named Trent (The Lost Missile's Hari Rhodes) who believes he is a member of the Ku Klux Klan, and a nuclear physicist named Boden (Gene Evans from Donovan's Brain) who has been terrified so much by his work on atomic weapons that his mind has regressed to that of a child. While inside, Johnny plays his part a little too well; the doctors feel that the only way to treat his illness is to give him shock treatment. Even if Johnny solves the murder, there may not be enough of his mind left to write his Pulitzer Price-winning article.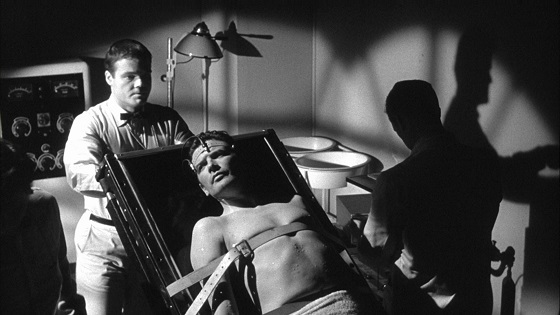 Writer/director Samuel Fuller (The Big Red One, White Dog, The Naked Kiss) was both a World War II photographer and a pulp novelist. It comes as no surprise that his movies are a combination of these two passions. Shock Corridor in particular is a gritty combination of grindhouse cinema and dime store melodrama, brutally frightening with just a tad of dark humor and sarcasm. Fuller was initially upset with the fact that the film was marketed as an exploitation flick, but exploitation or not, Shock Corridor has had a lasting impact on film history.
The asylum in Shock Corridor isn't a deserted, haunted one; it's packed full of loony patients more along the lines of One Flew Over the Cuckoo's Nest or Girl, Interrupted than Session 9 or Dark Feed. Johnny's fellow inmates, whether it's the schizophrenic country music singer or the room full of nymphomaniac women, are an intriguing and colorful bunch, each and every one with a backstory that makes them feel as if they are just on the edge of snapping. The sadistic doctors are worse, seemingly providing torturous treatment for their own amusement rather than for the benefit of their patients. And, of course, the whole reason Johnny is there is to unmask a murderer, who could be anyone, patient or doctor. The threats are everywhere in Shock Corridor.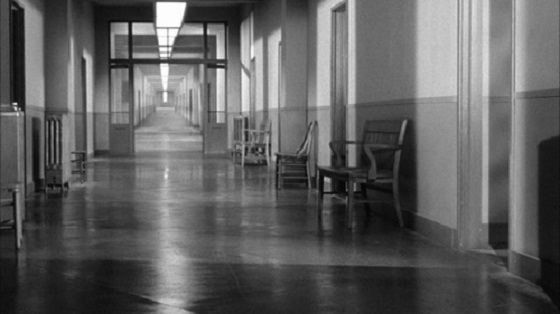 The photography in Shock Corridor keeps the ho-hum hallways of the mental hospital looking interesting. The film was shot quickly in 10 days on a single set by Stanley Cortez (The Neanderthal Man), although Samuel Fuller was very hands-on with the photography. Shock Corridor is pure film noir, with high-contrast light-and-dark shadows slashing and stabbing their way through every frame. Of course, with the exception of a handful of home movie and religious imagery, the film is shot on pulpy black and white film stock like any self-respecting noir thriller should be. There are some clever camera tricks, like a neat forced perspective illusion that makes the titular corridor look ultra-long. There are also a handful of fun post-production gimmicks, like the superimposition of Johnny's stripper girlfriend (whom everyone at the hospital thinks is his incestuous sister) dancing around his head while he dreams about her at night. The mental hospital set may be bland and sterile, but Cortez and Fuller spice it up with their creative cinematography.
The most surreal scene in Shock Corridor takes place when Johnny, having been subjected to the "treatments" of the medical staff, imagines that it is raining inside the hallways of the institution. He runs from door to door while rain comes down in sheets and drenches him to the bone. Predictably, this scene was shot last, as Fuller essentially used high volume firehoses to simulate the rain, absolutely flooding the set, thereby destroying it. They were finished shooting anyway, and Fuller's all-in commitment to his movie resulted in a stunning depiction of Johnny's desperation at the height of his insane journey.
There are movies with scarier mental hospitals than the one in Shock Corridor, but the film isn't about that. The madness of Johnny Barrett is what makes the movie frightening, and Samuel Fuller captures that madness perfectly.