Synopsis: A tormented philosophy professor finds a will to live when he commits an existential act.
Release Date: July 24, 2015     MPAA Rating: PG-13
Genre(s): Drama, Mystery
Film Review

Although he's not as consistently heard about as he was in the seventies, writer/director Woody Allen still seems to make a movie every year, and for the most part, they're still pretty good. He's been on an upswing lately, with his last few films being the charming-yet-unappreciated Magic in the Moonlight, the Oscar-nominated Blue Jasmine, and the Oscar-winning Midnight in Paris. Well, this year's Woody Allen movie, Irrational Man, shows that the stalwart Allen is still at the top of his game.
Irrational Man stars Joaquin Phoenix (Her) as Abe Lucas, a philosophy professor who has lost his lust for life. Abe takes a new job at Braylin University, where his mysterious brooding manages to attract the amorous attentions of both a fellow instructor named Rita Richards (Parker Posey from Josie and the Pussycats) and a student named Jill Pollard (Birdman's Emma Stone). At first, he rebuffs them both, but one day, while having lunch with Jill, they overhear a woman complaining about an unfair judge. The two make a joke about murdering the man, but that's as far as it goes, at least until Abe gives it a second thought. Knowing he would never be considered a suspect, Abe actually plots and executes what he considers to be the perfect murder. The excitement of the illicit and illegal act reignites his passion for living, and along with it, his passion for both of the ladies, but before too long, his airtight murder plan starts to spring a few leaks.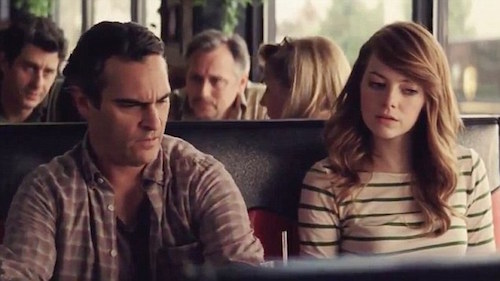 Woody Allen has always waxed philosophical in his movies, so it should come as no surprise that Irrational Man is full of quirky observational dialogue and witty one-liners, especially with the main character being a philosophy professor. It's kind of a funny dichotomy; Abe Lucas preaches randomness and unpredictability in his class, yet the film's plot relies heavily on meticulous planning and intense scrutiny. The movie itself can even be considered a paradox, since it's basically a murder mystery that has, at least to the eyes of the audience, already been solved. The joy of the film is in watching Jill figure out what the rest of the observers already know. Well, that and watching Abe navigate his way through an awkward love triangle. In a lot of ways, Irrational Man is typical Woody Allen; clever, concise, and very well written. At least, until it gets to the ending.
The biggest flaw with Irrational Man actually fits in with the theme of Abe's lessons; the ending is way too convenient to be believable, and that damages the film's credibility. Not enough to completely unravel it, but audiences should be able to expect a little more from Woody Allen. Alas, it looks like even the great ones write themselves into a corner sometimes and need a little help from coincidence to get themselves out.

One area in which Woody Allen excels is casting, and Irrational Man is no exception. Joaquin Phoenix is just crazy enough to play the part of the psychologically drained philosophy professor Abe Lucas, and Allen was both lucky and smart to get him to come aboard. Allen also seems to have found a muse in Emma Stone, this being his second consecutive movie with the talented starlet (Stone was also the female lead in Magic in the Moonlight). Stone has the perfect balance of intelligence and humor that is necessary in portraying an open-minded-yet-stubborn independent college student. Phoenix and Stone are also great together; in one scene, Jill, unaware of Abe's murder plot, unwittingly outlines the entire scheme while Abe helps her along, trying to avoid suspicion but basically feeding her his methodology. Stone and Phoenix have a fluid gave-and-take that simply lights up the screen. Parker Posey is endearing in a damaged way as Rita Richards, but her character's unhappily married drunken escapades make her more of a sympathetic figure than any kind of a lead role. The entire cast is serviceable, but Joaquin Phoenix and Emma Stone are the shining stars in Irrational Man.

Like many of Woody Allen's movies, the soundtrack for Irrational Man is mostly made up of cool jazzy music. The recurring theme song in the film is the version of Billy Page's "The 'In' Crowd" that was recorded by The Ramsey Lewis Trio in 1965; this is the recognizable tune that is played all throughout the course of the movie. A couple of other Ramsey Lewis tunes are mixed in as well, along with songs by the Daniel May Jazz Combo and the Jimmy Bruno Trio. In order to keep the viewer from drowning in jazz, the soundtrack also includes a handful of Bach classical pieces performed by pianist Bernard Roberts and cellist Torleif Thedéen. The soundtrack may seem eccentric and eclectic, but it's really not. The music fits the film perfectly, giving Irrational Man a hip sonic foundation for its reverse murder mystery plot.
Cast and Crew
Director(s): Woody Allen
Producer(s): Letty AronsonStephen TenenbaumEdward Walson
Screenwriter(s): Woody Allen
Story: 
Cast: Joaquin Phoenix (Abe Lucas)Emma Stone (Jill)Parker Posey (Rita) Jamie Blackley (Roy)
Editor(s): Alisa Lepselter
Cinematographer: Darius Khondji
Production Designer(s):
Costume Designer: Suzy Benzinger
Casting Director(s): Patricia Kerrigan DiCertoJuliet Taylor
Music Score: 
Music Performed By: The Ramsey Lewis Trio
Country Of Origin: USA