Things can get messy when emotions are involved, so love triangles make good backdrops for horror movies, even when two of the three parties don't realize they're in a trio. Whether in 1932 with Tod Browning's classic Freaks or just last year in Chan-wook Park's masterpiece Stoker, one thing is perfectly clear; when it comes to horror movies, three's a crowd. In 1935, accomplished cinematographer/director Karl Freund (The Mummy) took a love triangle and tossed a mad scientist into the mix, giving the world the aptly titled Mad Love.
Mad Love is about a famous pianist named Stephen Orlac (Frankenstein's Colin Clive) and his fiancé, a lovely actress named Yvonne (Frances Drake from The Invisible Ray). While Stephen is on tour, Yvonne wraps up her residency at a horror cabaret theater in Paris. Yvonne's biggest fan, Dr. Gogol (Peter Lorre from M and Casablanca) is upset that her time at the theater is over, but is more upset that she is leaving the production to marry Stephen. When Stephen loses his hands in a horrible train accident, Yvonne arranges for him to be brought to Dr. Gogol's clinic for treatment. Once there, Gogol is able to attach the hands of a recently executed murderer named Rollo (Edward Brophy from Freaks, in which he also played a character named Rollo) to Stephen's arms. Unfortunately, Stephen's new hands can't play piano anymore – but they seem to have retained the murderer's ability to throw knives with deadly pinpoint accuracy. Dr. Gogol, obsessed with Yvonne, decides to take advantage of Stephen's fragile mental state and torment him, making him believe that he is now a homicidal maniac. The scary thing is that Gogol might be right – Stephen's hands may be causing him to commit murder without his knowledge or consent.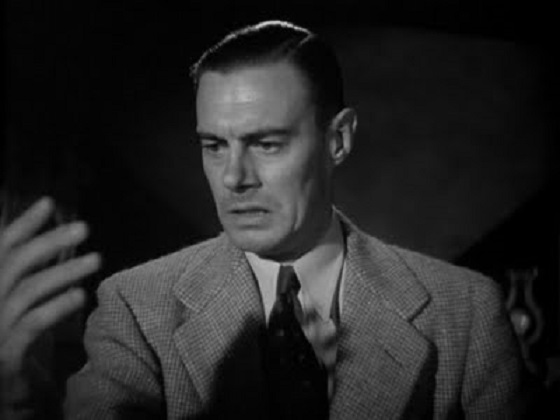 Mad Love is based on Florence Crewe-Jones' translation of the French language Maurice Renard novel "Les Mains D'Orlac," or "The Hands of Orlac." The screenplay was adapted by Guy Endore (The Curse of the Werewolf) and written for the screen by P.J. Wolfson (The Perils of Pauline, Allegheny Uprising) and John L. Balderston (who helped write many of the Universal monster movies like Dracula, The Mummy, and Frankenstein). Mad Love is actually one of several cinematic treatments of "The Hands of Orlac," and was actually released under the title The Hands of Orlac in Great Britain. What sets Mad Love apart from other adaptations of "The Hands of Orlac" is the spellbinding performance of Peter Lorre.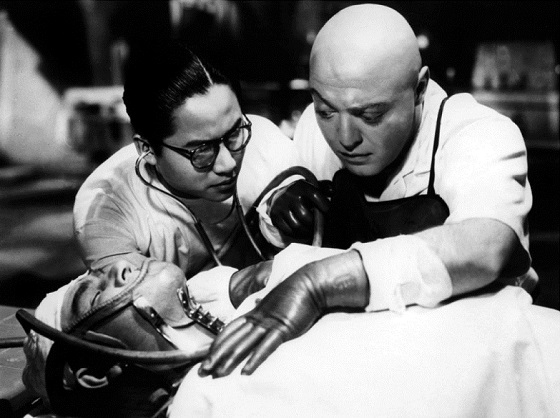 Peter Lorre was one of those Hollywood actors who had an instantly recognizable face, even if audiences never knew his name – most people are probably more familiar with the parodies of him that appeared in Warner Brothers' cartoons than the man's actual film roles. Lorre's performance in Mad Love is magnetic; his character is an absolute madman, but Lorre plays him with enough puppy-dog innocence to generate sympathy with the audience; as crazy as he is, Dr. Gogol seen as a giver of unconditional love who is driven insane by his own desires. The iconic image from the film is supplied by Lorre in a scene where Dr. Gogol, disguised as Rollo, the executed murderer, summons Stephen in an attempt to torment the man out of his sanity so that he can steal his lady. Lorre appears, his neck in a brace while his head and face are covered, speaking through clenched teeth, practically spitting his lunacy at the camera. Lorre is able to inject subtlety into a very in-your-face role, turning in a performance that is not unlike that of Marlon Brando in Apocalypse Now. Yes, Dr. Gogol is a Colonel Kurtz-type of character, and Peter Lorre plays him as such. Peter Lorre's performance is a definite high point in Mad Love.
Director Karl Freund was primarily a cinematographer, having shot influential classics like Dracula and Metropolis, so he knew exactly how to get the look he wanted with Mad Love. Freund used two directors of photography to realize his vision; Mad Love was shot by the team of Gregg Toland (Citizen Kane) and Chester Lyons (Bad Girl). Both photographers were experienced and had developed a firm grip on the use of light and shadows, so Mad Love has the definite vibe of an early film noir picture. The look of the film also relies heavily on the angular influence of the German expressionist movement of the twenties that produced horror classics like Nosferatu and The Cabinet of Dr. Caligari. The clever merging of the two photographic styles gives Mad Love a look and feel that is all its own.
Although the score is credited to Dimitri Tiomkin (Dial M for Murder, High Noon), there are several sources that contributed music to Mad Love. Tiomkin composed most of the cinematic score, but the main title theme was written by R.H. Bassett (The Black Room), and supplemental organ music was provided by David Snell (Blackmail), both of whom went uncredited. In addition to the original music, Mad Love contains a number of classical standards by the likes of Wagner and Chopin. The soundtrack to Mad Love is a real team effort, and while it can be a bit uneven at times, it's all great.
When the decade of the thirties is thought of in terms of horror films, it's the Universal monster movies that usually come to mind. Mad Love is proof that there was a lot more to the thirties than just Frankenstein and Dracula.