Synopsis: The all-star comedy cast from Grown Ups returns (with some exciting new additions) for more summertime laughs. After moving his family back to his hometown to be with his friends and their kids, Lenny (Adam Sandler) finds out that between old bullies, new bullies, schizo bus drivers, drunk cops on skis, and 400 costumed party crashers, sometimes crazy follows you.
Release Date: July 12, 2013     MPAA Rating: PG-13
Genre(s): Comedy,
Film Review

I will admit this fact to anyone, I did not like Grown Ups. When a sequel was announced my eyes rolled and I dreaded the day I would have to endure this Adam Sandler created ensemble of comedians who did not work well together the first time around–a huge shock, I know. I have now seen Grown Ups 2 and I am surprised to say that its not horrible; its actually quite an improvement from the first film and the issues with everyone clicking chemistry-wise have almost all been fixed. Bravo, Sandler and company. The overall improvement is largely because Grown Ups 2 doesn't really have a plot. Its merely a combination of events that occur between the group of friends and their families. It could easily be seen as small shorts, compiled into one larger movie, that in the end finds everything coming together in a climactic brawl that is so ridiculously planned out the movie suddenly clicks. You leave without a sour taste in your mouth, or feeling that you have wasted a portion of your life. You have laughed, and that is all you can ask for in an ensemble movie of aging comedians who must maintain a PG-13 rating to draw in the crowds. Adam Sandler may be passed his prime, but after the train wreck that was Jack and Jill, Grown Ups 2 looks like awards material.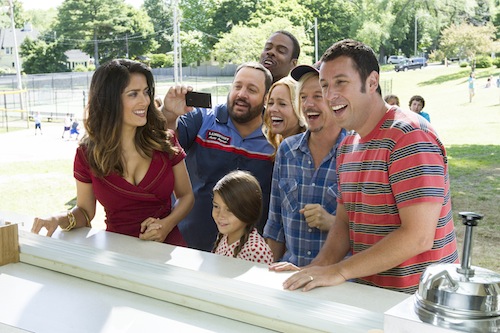 Grown Ups 2 finds childhood friends Lenny (Adam Sandler), Eric (Kevin James), Kurt (Chris Rock), and Marcus (David Spade) all living back in their hometown. Lenny has given up the Hollywood lifestyle for a simpler life, while his friends are all getting by doing what they do–being a mechanic, cable repairman, and working the go-karts, respectively. None of that matters. Their wives are here too, Salma Hayek reprises her role as Lenny's trophy wife Roxanne, Maria Bello' Sally is around briefly in order to coddle the children she has with Eric, and Maya Rudolph's Deanne starts the movie off by forgetting her 20-year anniversary to Rock's Kurt. Rock and Rudolph still have zero chemistry together; thankfully the storyline of forgetting the anniversary is quickly tossed aside. As are all of the storylines, for that matter. As I said, Grown Ups 2 is more about the comedy bit than the overall picture so as each character is given their current life crisis to deal with, they just as quickly forget its even happening. As for the single Marcus, he has an illegitimate teenage son he found out about a week ago who's possibly a psychopath that wants to kill him. Poor little Marcus.
You can watch Grown Ups 2 looking for a deeper story than it provides, and expect each character to resolve his/her issues by the end, and be disappointed. Or, you can watch it as a movie full of laughs from comedians who each do their own thing, while in a group, and in turn provide plenty of laughter to keep you interested and entertained. Grown Ups 2 even includes the inevitable battle between the guys and an opposing force, as seen in the first movie; this time in the form of frat boys, led by Milo Ventimiglia and Taylor Lautner, who not only go up against the guys but the entire town, while dressed in their favorite 80s era costumes. Grown Ups 2 is what it is, doesn't try to be anything more, and it doesn't need to be. As long as your laughing, you don't care about the fact that the movie isn't actually about anything in particular.

Most of the world never saw Bucky Larson: Born To Be A Star, starring Nick Swardson. The movie was horrible, and absolutely hilarious (although most would be embarrassed to admit it). The comedy star of Grown Ups 2 is Bucky's Nick Swardson, as bus driver Nick. You'll first meet him when he comes to pick Lenny's kids up, admits that his wife of three weeks has just left him because of a banana incident, and that a reputable doctor at a Cypress Hill concert gave him some pills to make him feel better. They also appear to have given him a case of schizophrenia–that's not good. Actually, its very good in the hands of Swardson as he is hilarious. This is also in part to how Sandler's Lenny messes with him in his altered state on the bus. The entire bit, leading up to a trip to Kmart, will have you laughing without a doubt. It only gets better as Nick continues to pop-up throughout the movie, with his grand finale occurring while wearing a Boy George costume. If you see Grown Ups 2 for one reason alone, it should be to see Nick Swardson in action.
The rest of the cast has their moments as well. Sandler is Sandler, toned down and older, but full of one-liners that actually poke fun at his real life. A favorite scene will involve the word "fugly," as it showcases Sandler's ability to carry comedic dialogue and really work a skit well. Its actually quite refreshing to see Sandler be funny again, without having to dress in drag (and that didn't work). Then there is Kevin James, a funny man in his own right, and here he gets to use it in two ways: the first being to make wise-ass comments about his son's lack of genius, and the other to showcase his talent at burping, sneezing, and farting at the same time. Yea, you can't escape the potty jokes in Grown Ups 2, but this time around they are actually funny. You'll never look at a soft-serve ice cream machine the same way again, I promise. As for everyone else, expect them to provide entertainment as well. Taylor Lautner pokes fun at himself and the 'being gay' rumors that surround his real life and he actually does a decent job of it; not being the most talented actor works to his advantage here, and he doesn't have to put on the Twilight furrowed brow as evoking emotion face, thank the heavens. You'll also be treated to other well-known actors who do comedy well, such as Steve Buschemi, Colin Quinn, Tim Meadows, Jon Lovitz, Peter Dante, Oliver Hudson, Allen Covert, and Cheri Oteri. For the surprise twist you get Shaq and Steve Austin–who knew they could be funny? This is a Happy Madison production, and Adam Sandler always manages to get a great group of comedians to sign-on for one of his movies. For Grown Ups 2, they make the movie worth watching.
Cast and Crew
Director(s): Dennis Dugan
Producer(s):
Screenwriter(s): Fred WolfAdam SandlerTim Herlihy
Story: 
Cast: Adam Sandler (Lenny)Kevin James (Eric)Chris Rock (Kurt) Salma Hayek (Roxanne)David Spade (Marcus)Maya Rudolph (Deanne)Maria Bello (Sally)Steve Buscemi (Wiley)Milo Ventimiglia (Frat Boy Milo)Taylor Lautner (Frat Boy Andy)Nick Swardson (Nick)
Editor(s):
Cinematographer: Theo van de Sande
Production Designer(s):
Costume Designer: 
Casting Director(s): 
Music Score: Rupert Gregson-Williams
Music Performed By: 
Country Of Origin: USA