Synopsis: August: Osage County tells the dark, hilarious and deeply touching story of the strong-willed women of the Weston family, whose lives have diverged until a family crisis brings them back to the Midwest house they grew up in, and to the dysfunctional woman who raised them.
Release Date: December 25, 2013     MPAA Rating: PG-13
Genre(s): Drama, Comedy
Film Review
Production
Family. Everyone has one, some love theirs, others would like to forget they exist. August: Osage County examines a few days in the life of one family after they have suffered a terrible and unexpected loss. It is not a movie about a family coming together to support one another during a traumatic time. Nor is it a showcase on forgiveness of past sins, and moving forward to become a stronger unit.
Oh no, August: Osage County is an all-American horror story, without any blood or guts or killing for that matter. The horror in August: Osage County is all about how the family communicates, treats, and downright belittles one another. Whether these people actually care for one another is a question impossible to answer. Whether they enjoy devouring each other's souls at the dinner table is an unquestionable yes. This is one family you will be happy you're not related to while enjoying every dysfunctional minute their dirty laundry is displayed on-screen.
Adapted from the play "August: Osage County," by none other than the playwright himself, Tracy Letts (
Killer Joe
),
August: Osage County
is a movie made to traumatize its viewer, while it causes fits of giggles and gasps from the audacity of the characters. It is incredibly fun to watch, because the twists keep on coming–from adultery to incest to abuse to violent acts to unimaginable truth–and Letts guides you through the mayhem with a smile and a wink. This is a version of family, and the terrifying prospect of what can become of parents, children, and their kin you never want to imagine is possible. If you thought
Precious
was disturbing, or Letts' own
Killer Joe
, prepare yourself for
August: Osage County
.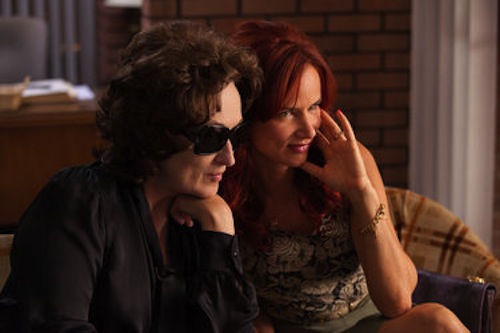 The Weston family has been brought together due to the disappearance, and ultimate death, of the father, Beverly Weston (Sam Shepard). Beverly introduces the movie, as he explains the current living situation he and his wife have to the housekeeper/cook/maid/care assistant he is hiring, Johnna (Misty Upham). According to him, he and his wife Violet (Meryl Streep) have a marriage contract that states he can drink, being the excellent alcoholic he is, and she takes pills; ranging from Valium, Percocet, Oxycontin, Xanax, and whatever else she can get a prescription for.
Violet has mouth cancer, a perfect excuse to pop painkillers at will, and she does, while continuing to smoke cigarettes as fast as she can light one. Beverly and Violet have been married a very long time, and the family they have created is nothing short of damaged. A reality that becomes all too clear when the Weston clan reunites for Beverly's funeral. Beverly and Violet's three daughters come home, Barbara (Julia Roberts), Ivy (Julianne Nicholson), and Karen (Juliet Lewis), with their family's in tow or a fiance. Violet's sister is there, Mattie Fae (Margo Martindale) and her husband Charlie (Chris Cooper), plus their son Little Charles (Benedict Cumberbatch). It is a great big family affair, where there is no love lost between anyone and each time an attempt is made at empathy, care, or concern it all just blows up into an argument.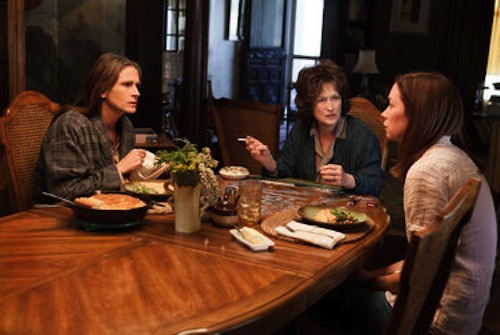 August: Osage County
proceeds as a glimpse into the dysfunctional arrangement the Weston family has with one another, all circling around Violet's tempestuous attitude, failing health, and downright mean doings. The movie is a character piece, wherein everyone is given a moment in time to flesh out their character, have a meltdown or argument, and suffer the consequences of their own choices. Whether they have become the people they are because their mother is always in the background, gnawing away at your conscience as the walls come crumbling down around the Weston's.
August: Osage County is a familial drama, full of melodramatic moments, while also maintaining a steady stream of dark comedy one cannot resist succumbing to with laughter. The events in the story are shocking, and Violet Weston could win an award for least supportive mother of the year. Her daughters are not perfect, either, and each in their own way resembles their mother–a horrifying truth that will come to the surface. August: Osage County has everything a viewer could dream of from a dark twisted family tale, and it is all executed so well you leave haunted by the memory of the Weston's, and wishing there was more to come from them.
Acting
Meryl Streep has been lauded as one of the greatest actresses of the modern-era. Whether one believes this notion is completely subjective; after seeing August: Osage County a viewer will undoubtedly become a fan of Meryl Streep without much choice in the matter. Streep is absolutely phenomenal as Violet Weston, a mother who is a drug addict, verbally abusive to her children and anyone else she so chooses, and mentally deranged, to put it mildly. If one combined Bette Davis' Baby Jane Hudson from What Ever Happened to Baby Jane? and Faye Dunaway's Joan Crawford from Mommie Dearest you would have a decent start in mapping Streep's Violet.
The bite she displays, the absolute horror that develops around her presence, and the fear of how she will respond to anything comes from Streep's ability to deliver a line, narrow her brows, cock her head in defiance, and go in for the kill with Letts' amazingly constructed dialogue. Violet would not be Violet if it were not Streep nailing each and every line, movement, emotion, and her filterless abrasive attitude perfectly. She even manages to invoke sympathy on occasion, and then quickly snatch any thought of it away again by using her acidic, cancer-ridden tongue to berate her next victim.
Letts' sense of humor in giving Violet mouth cancer does not go unnoticed. Great horror villains live on in the genre for the victims they kill, artfully; dramatic horror has a new queen, and it is Meryl Streep's Violet Weston.
It is easy to say that Streep steals the show with her portrayal of Violet but that would be sinful. The ensemble cast of
August: Osage County
has been crafted so well the family dynamic, and lack-of in particular, is on display perfectly. Julia Roberts, in her best role in years (and years), strikes out from her standard generic fare to play Barbara (Barb), the daughter who was closest to her father, yet equally attached to her mother Violet. Her and Violet share a tumultuous past, as Barb is the one who got Violet into rehab for drug abuse before and always manages to have the strength and fight in her to stand up to her mother.
Barb is not a soft woman, even if she is caring. Roberts carries the role and goes up against Streep's Violet without a flaw to be found. The scenes where they go toe-to-toe, swearing and cursing one another, blasting each other for their lives, their predicaments, and at one point making things physically violent, are moments that give you absolute chills. Streep needed an adversary that could match her talent, and not be shadowed by the electricity Violet produces; Roberts was the perfect fit for the role and she deserves accolades aplenty.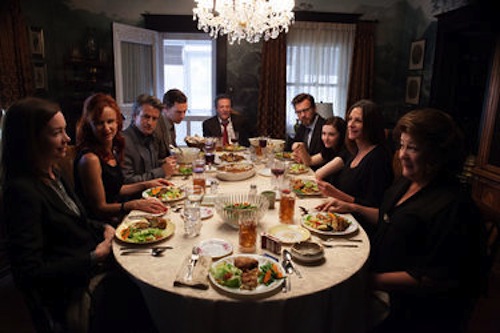 As for the rest of the cast, including Juliet Lewis, Beverly Weston, Chris Cooper, Ewan McGregor, Margo Martindale, Sam Shepard, Dermot Mulroney, Julianne Nicholson, Benedict Cumberbatch, Misty Upham, and Abigail Breslin…there is not one loose link in the chain. Everyone, absolutely everyone, is magnificent.
August: Osage County is a painful movie, full of darkness and very little light emotionally. The entire cast pulls together to create a dysfunctional family dynamic that makes the viewer crave more from them. Director John Wells cast the best group of people possible for August: Osage County, and their success as an ensemble, and individually in their roles, should not go unnoticed.
Comedy Factor
The possibility that one of the funniest films you see all year will also be the most dramatic and disturbing for its view on family is absurd, right? Wrong. August: Osage County is written with humor in mind, just as much as drama, and it nails each and every comedic beat from the beginning to the end. The comedy comes from the sarcasm, the all-out hate-filled words family members say to one another; as a viewer, you cannot help but laugh because it is unbelievable that people can be so cruel to one another and continue to eat their dinner.
With truth, no matter how much it hurts, and with professions, however painful, there is humor to be found in the delivery, and Wells manages to direct the actors so they teeter the line of drama and comedy derived from circumstance through Tracy Letts' script. Anyone who can survive August: Osage County without laughing may have been born in a test tube, never had a family, and quite frankly lacks any sort of a sense of humor. The movie is hilarious, in the most terrifying ways possible. Welcome to the twisted tale that is August: Osage County, where nothing should be funny, but oh so many things are indeed.
Cast and Crew
Director(s): John Wells
Screenwriter(s): Tracy Letts
Cast: Meryl Streep (Violet Weston), Julia Roberts (Barbara Weston), Chris Cooper (Charlie Aiken), Ewan McGregor (Bill Fordham), Margo Martindale (Mattie Fae Aiken), Sam Shepard (Beverly Weston), Dermot Mulroney (Steve Huberbrecht), Julianne Nicholson (Ivy Weston), Juliette Lewis (Karen Weston), Abigail Breslin (Jean Fordham), Benedict Cumberbatch (Little Charles Aiken), Misty Upham (Johnna Monevata)
Cinematographer: Adriano Goldman
Music Score: Gustavo Santaolalla
Country Of Origin: USA