Continuing the exploration of the outer limits of film noir I will now discuss one of the last examples of the genre with Orson Welles' Touch of Evil (1958). In the seventeen year period between 1941 and 1958, film noir had come to dominate Hollywood. Loosely based on the novel "Badge of Evil
" by Whit Masterson, Touch of Evil offers an intriguing new take on the noir detective hero and the femme fatale and a much darker world view than that expressed even in The Maltese Falcon. The film features overwhelmingly dark visuals and Welles' characteristically compelling camera angles and movement. Frequently cited as film noir's epitaph, Welles' film succeeds in presenting a thorough dissection of the traditional noir archetypes of the noir detective and femme fatale while maintaining and even expanding the cynical world view of film noir.
Detailing an investigation near the US-Mexican border, Touch of Evil follows Miguel Vargas (Charlton Heston), a Mexican narcotics agent, as he confronts a corrupt police force. Vargas' honeymoon is interrupted when a car crosses the border into the US and explodes, killing the man and woman in the car. Police Captain Hank Quinlan (Orson Welles) suspects Sanchez, who was secretly married to the victim's daughter, and frames him by planting dynamite in his apartment. Vargas begins investigating his belief that Quinlan has planted evidence to solve all of his cases and later shares his suspicions with Quinlan's partner, Pete Menzies (Joseph Calleia). Meanwhile, Vargas' wife, Susie (Janet Leigh), is left alone in a motel and threatened by a local gang of hoodlums. To silence Vargas, Quinlan hatches a deadly plan to frame him and his wife as murderers and drug addicts. Vargas allies himself with Menzies to prove Quinlan's vile corruption in the name of justice while simultaneously trying to protect Susie.
As in The Maltese Falcon, the detective hero is at the center of Touch of Evil, yet he is split between the two very different characters of Vargas and Quinlan. Welles does not even make it apparent which man is the film's protagonist. At first glance, Vargas is the true hero, the good guy intent on bringing down the dishonorable Quinlan – a veritable false figure of justice. This interpretation, however, ignores the deep character flaws of both men. Sam Spade's saving grace in The Maltese Falcon was his personal code of ethics, despite his overall unscrupulous behavior. He may have competed with the police and carried out investigations on his own terms, but he ultimately did the right thing. Because of this, he is clearly a heroic figure. In contrast, Vargas and Quinlan both exhibit extremely questionable ethics in their investigation of the car bomb.
Welles' Quinlan is thoroughly unorthodox and his methods as a police officer are inherently evil. Many a film noir hero has been destroyed by guilt, but Quinlan is consumed by it. He flatly denies Vargas' accusations of planting evidence and has seemingly been lying about evidence to his partner, Menzies, throughout his thirty-year career. His eagerness to stop these rumors before they ruin his reputation leads him to frame Vargas in a drug scandal. At the height of his manic denial, he even shoots his long-time associate for siding with Vargas.
The fall of Quinlan is masterfully captured in Welles' manipulation of the camera. Welles never underestimated the camera's ability to influence the audience's interpretation of characters and events in his films. The character of Hank Quinlan is no exception. At the beginning of the film, Quinlan commands great respect in his small border town, thanks to years of police work. To emphasize Quinlan's legendary stature in the town, his character is almost exclusively shot from a low-angle in the first half of the film. This low-angle shot allows Quinlan to dominate the screen. Welles switches to high-angle shots in the latter half of the film, making Quinlan look vulnerable and small.
Vargas appears to be the more heroic character in Touch of Evil but is not without deep flaws. His investigation of Quinlan becomes an obsession, and by relentlessly pursuing the corrupt officer he needlessly endangers his wife in a treacherous town. Susie is constantly alone in grungy motels at the mercy of hoodlums and greasers. Vargas rarely tries to contact her, let alone protect her, until it's too late. Instead, his obsessive search for evidence to ruin Quinlan causes him to compromise his principals. He recruits Menzies, Quinlan's best friend, to wear a wire and record everything Quinlan says. While Vargas ultimately kills Quinlan, his methods are little better than Quinlan planting evidence to expose people he believed guilty.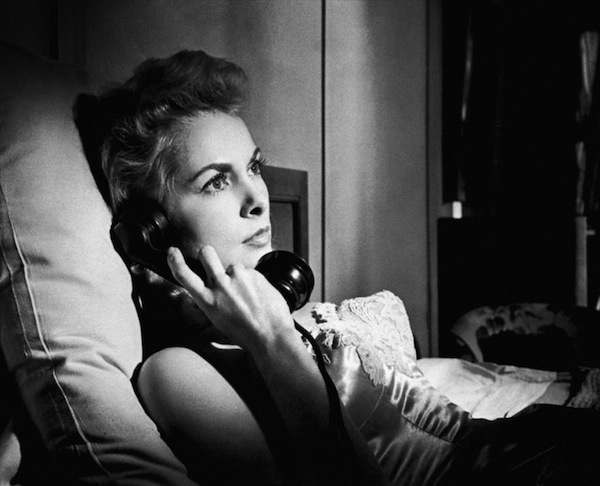 Just as Welles splits the noir private eye into two morally confounding characters, his treatment of the deadly femme fatale presents an entirely new view of women in film noir. Touch of Evil explores a variation of the portrayal of the "good" nurturing woman and the destructive femme fatale. Whereas most film noirs have a definite line between nurture and seduction, Welles throws convention to the wind with Susie and Tana (Marlene Dietrich), a madame in a brothel. Susie Vargas is outwardly the epitome of good, nurturing, and moral. Tana represents anything but morality and seems to be the traditional femme fatale. However, it is Susie who becomes the center of violence, as she is Vargas's weakness and Quinlan's weapon against Vargas. In contrast, Tana is the alienated Quinlan's escape from conflict. She is loyal to and, supposedly, in love with Quinlan.
Touch of Evil remains a landmark film noir and a fitting epitaph for the genre. Charlton Heston is less than believable as a Mexican drug enforcement officer, but Orson Welles carries the film as the maniacal, guilt-ridden Hank Quinlan. Supporting actors Janet Leigh, Marlene Dietrich, and Joseph Calleia bring this morally bankrupt border town to life. Orson Welles coupled his unmistakable style with a morally ambiguous mystery to create a damning exploration of ethics and justice in with Touch of Evil.
[For the first installment on the outer limits of film noir read Touch Of Noir: The Outer Limits Of Film Noir With 'The Maltese Falcon']