Synopsis: Epic tells the story of an ongoing battle between the forces of good, who keep the natural world alive, and the forces of evil, who wish to destroy it. When a teenage girl finds herself magically transported into this secret universe, she teams up with an elite band of warriors and a crew of comical, larger-than-life figures, to save their world…and ours.
Release Date: May 24, 2013     MPAA Rating: PG-13
Genre(s): Animation, Children and Family
Film Review

Epic is a basic good vs. evil story. What makes it great fun is the inclusion of two sidekick characters, the slug and the snail. Even when Mub (Aziz Ansari from "Parks & Recreation") the Slug and Grub (Chris O'Dowd from The Sapphires) the Snail are not featured, the rest of the cast manages to keep the movie moving as the evil Boggans, led by Mandrake (Christoph Waltz of Django Unchained), try to destroy the forest and all of its inhabitants, most importantly the Leafmen, led by Ronin (Colin Farrell of Total Recall 2012).
The animated story begins with a kooky Professor Bomba (Jason Sudeikis), who is obsessed with discovering the "little people" of the forest where he lives. His quest has taken over his life; he lost his wife to divorce and has been estranged from his daughter Mary Katherine (Call her M.K.) because of his infatuation. After his wife's death, M.K. is sent to live with her father Bomba, and while he notices she is there her attempts to talk with him go ignored when the sirens go off on his outside cameras alerting him to forest activity. M.K., being the strong-willed teenager that she is, decides this is not the right place for her and ventures to leave. But the adorable three-legged dog of theirs takes off as well, and while M.K. is running after him she comes face-to-face with the Queen of the Forest, Tara (Beyonce Knowles), as she lays in a disastrous situation. To save the future of the forest, and their world Moonhaven, she entrusts M.K. with the special Pod that will choose a new Queen, and thus keep the forest alive with power. A human with the Pod just would not work, especially since the forest people of Moonhaven are small enough to ride on the backs of Hummingbirds. It's an easy fix…M.K. is instantly transformed to the size of a forest inhabitant, and becomes part of the world her father has been searching for for years.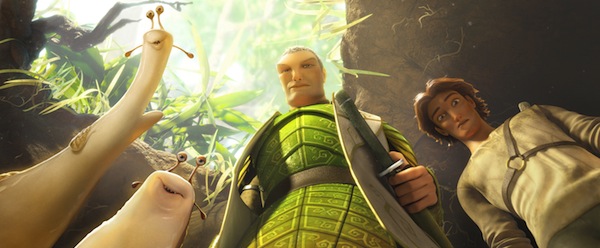 Once M.K. has joined the Leafman, and hitched up with Mub and Grub–Mub has a crush on her immediately, as he is the ladies man; Grub just wants to be a Leafman one day–its going to be hard considering he is a snail. The quest begins to get the Pod to safety with M.K., Mub, Grub, Ronin, and the young-stud of the Leafman, Nod (Josh Hutcherson, The Hunger Games). The stakes aren't very high on this quest, because, well, you know things are going to work as they should. But the battle between Boggins, with their disgusting decay they spread that looks like bubbling goo, and the Leafmen are nothing short of fantastic to watch. The animation in Epic is stunning throughout, with great detail given to creating a forest world that is effervescent with color, steeped in small details, and a perfect contrast to the decaying world of the Boggins. It makes for a visually exciting experience.
Epic's greatest achievement comes in the form of the ending as it breaks conventions of the genre to establish that the real world and the fantastical world of Moonhaven must remain separated. There will be no combining of worlds here, because the impossibility of such a notion is a fact in the story. There are ways to keep in touch with one another, though. Epic does a great job at establishing an adventure, and one that at times reminded me of Raiders Of The Lost Ark–shocking, I know. The movie is quickly paced, full of humor thanks to Mub and Grub, and has a great sentiment when it comes to family and acceptance. One should not hesitate to see Epic, as it will undeniably be a pleasant time at the movies.

There is very little debate that all animated films released today are held up to the Pixar standard: flawless animation, strong storylines, likable/memorable characters, inherent themes, and free-flowing natural dialogue. Many animated films achieve all of the aforementioned as the competition has gotten steeper to woo the young child demographic because children are much more attune to what they expect from an animated movie. Blue Sky Studios makes beautiful animated films, and Epic is a crowning achievement visually. The downfall of Epic comes in the form of dialogue; its just a tad clunky throughout and lacks a natural flow between characters. At times it even appears like the characters are speaking to themselves, only to have an edit signal the beginning of another's response. A missing fluidity exists in the direction of Epic by Chris Wedge, and it is an unfortunate occurrence because the story, being as old as time, is engaging.
Screenwriters James V. Hart, William Joyce, Daniel Shere, Tom J. Astle and Matt Embermanage create a brand-new world with Moonhaven while also maintaining the human world in its own reality. Epic is not concerned with merging the two worlds together, but finding a balance in both worlds for the characters. There are also the random influxes of comedy thanks to snail Grub and slug Mub, plus some witty banter between love-interests M.K. and Nod. Epic pits good against evil in the most basic sense, and it does so with stunning visuals and a plot that moves swiftly, never making it possible for the viewer to lose attention. While children may not notice the issues with dialogue, the adults who have brought them to the theatre will definitely be aware of the obvious clunkiness. Director Wedge has done his best to create a good animated picture, and one that does not let its issues with dialogue deter from the enjoyment of watching the movie. He need only had paid a larger amount of detail to creating a synch between characters, a chemistry to to speak, to make the movie appear more steeped in reality than merely multiple characters performing their respective parts noninclusive of the others tones and beats. Epic is a movie made for children and they will enjoy it, even if its not perfect.
Cast and Crew
Director(s): Chris Wedge
Producer(s):
Screenwriter(s): James V. HartWilliam JoyceDaniel Shere
Story: Tom J. Astle
Cast: Matt Ember Aziz Ansari (voice of Mub)Chris O'Dowd (voice of Grub)Amanda Seyfried (voice of Mary Katherine)Colin Farrell (voice of Ronin)Josh Hutcherson (voice of Nod)Beyonce Knowles (voice of Queen Tara)Jason Sudekis (voice of Bomba)Christoph Waltz (voice of Mandrake)
Editor(s):
Cinematographer: Renato Falcao
Production Designer(s):
Costume Designer: 
Casting Director(s): 
Music Score: 
Music Performed By: 
Country Of Origin: USA