Cinema Fearité Presents Time Travel Cautionary Tale The Butterfly Effect
Cinema Fearité travels back in time with Ashton Kutcher and chaos theory in The Butterfly Effect.
Movies about time travel usually involve heavy machinery or fearsome cyborgs. Occasionally, maybe they've got souped-up DeLorean or, at the very least, an enchanted hot tub. But sometimes, they're The Butterfly Effect.
The Butterfly Effect is about a young man named Evan Treborn who, as a child, would consistently black out, finding himself confused and afraid with no memory of what has just happened. A doctor recommends keeping a journal to possibly jog his memory, and when Evan goes to college, he happens to thumb through these old notebooks. The journals mentally teleport him back to the gaps in his memory, and he realizes that the blackouts correspond with certain traumatic events of his childhood.
He also figures out that while he is in one of these time-travel-trances, he is able to change the past, thus altering the course of his life and, therefore, his entire existence. As Evan's rewritten path changes, the circumstances of his and his friends' lives drastically change. Evan continues to read through his journals and redo his childhood, hoping that some point he can set everything right again.
Taking its name from a Chaos Theory concept where a butterfly flapping its wing can cause a windstorm thousands of miles away, The Butterfly Effect was written and directed by Eric Bress and J. Mackye Gruber (the pair who wrote Final Destination 2). It's an apt title; as Evan slowly relives the missing chunks of his childhood, he performs different actions, thinking that he is saving the day, yet he is really just screwing things up more.
It's a fascinating and disturbing realization of the age-old time travel rule of "don't change anything in the past." It's also a surprisingly layered and textured movie, full of complicated timelines and revelatory explanations. Yet it all still makes perfect sense to viewer. For as complex as its plot is, The Butterfly Effect is simple to follow.
Despite its long-game timeline, there's an impressive continuity to The Butterfly Effect. The principal characters are Evan, his best friend Lenny, his schoolboy crush Kayleigh, and Kayleigh's brother Tommy. The events of the film follow the group from the age of seven through to their college years. The "present day" characters are portrayed by Ashton Kutcher (just starting to break out of his "That '70s Show" mold), Elden Henson (The Hunger Games: Mockingjay), Amy Smart (Campfire Tales), and William Lee Scott (The Magnificent Seven).
At age seven, the kids are played by Logan Lerman (Fury), Jake Kaese (Bloodsuckers), Sarah Widdows ("The L Word"), and Cameron Bright (Running Scared). At thirteen, Evan and his pals are John Patrick Amedori ("Dear White People"), Kevin G. Schmidt ("The Young and the Restless"), Irene Gorovaia (The Royal Tenenbaums), and Jesse James (The Amityville Horror remake). The casting is remarkable, as it is entirely believable that these four kids grew up to become those four adults.
Part of it is also the acting. Not only do the actors have to convincingly be the same characters in different stages of life, but aside from Evan, the characters go through vastly different transformations with each perverted timeline. Some of it is costuming and makeup, but a great deal of the burden falls upon Amy Smart, William Lee Scott, and Elden Henson. Kayleigh's arc takes her from small-town waitress to sorority girl to damaged drug addict, and Amy Smart plays it all wonderfully. Tommy transforms from sadistic a-hole to born-again crusader, and like Smart, William Lee Scott transforms along with his character. Lenny flips between nice guy punching bag and semi-comatose vegetable, and Elden Henson takes the audience along with him on his journey.
Even the supporting cast, an impressive list that features Melora Walters (Short Term 12) as Evan's mom, Eric Stoltz (The New Kids) as Kayleigh and Tommy's dad, Ethan Suplee (American History X) as Evan's college roommate, and Kevin Durand (Tragedy Girls) as Evan's prison cellmate (yes, one of the timelines sends Evan to jail), is adept at helping the viewer roll with the changes.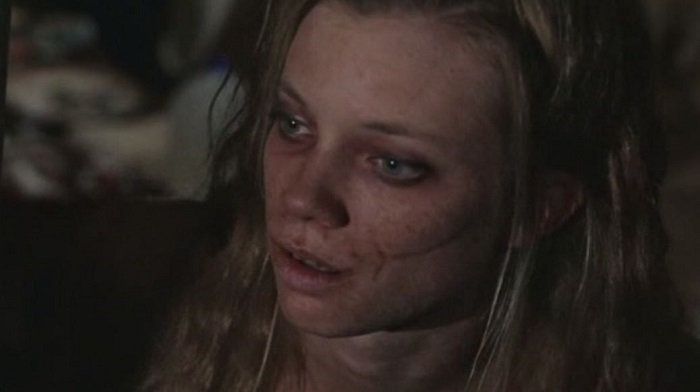 The Butterfly Effect was shot by experienced cinematographer Matthew F. Leonetti (Dawn of the Dead remake, the original Poltergeist). The photography is harsh, almost too crisp, with a slight greenish tint that recalls brutal torture porn movies like Saw or Hostel. Leonetti captures every blemish and wart of his subjects. He also captures lots and lots of layered shadows, adding to the neo-noir vibe of the movie. The "time travel trance" phenomenon is illustrated with a cool shaky cam effect similar to ones used in movies like Jacob's Ladder and Book of Shadows: Blair Witch 2 that effectively helps the audience slip into the past with Evan. The actors get the glory, but Leonetti's camerawork is just as important to the overall picture in The Butterfly Effect.
There are two versions of The Butterfly Effect, a theatrical cut and a directors' cut. The directors' cut runs about six minutes longer than the theatrical, with most of the additional content being comprised of scenes between Evan and his mother as well as some extended prison sequences. The extra scenes basically support an alternate ending that is much darker and more depressing than the semi-uplifting one that was ultimately used in the theatrical cut. Conceptually, the director's cut isn't substantially different, but it does add another layer of philosophical dread to an already deep movie.
Maybe it's because of its disappointing box office take, or maybe it's because of Ashton Kutcher's Dude, Where's My Car? mentality, but The Butterfly Effect is often not taken seriously by many movie fans. Which is unfortunate, because it's one of the best movies of the 21st century.