Some of the most horrifying movies ever made have been war movies. No one can argue that the opening scene of Saving Private Ryan and the Russian roulette scene in The Deer Hunter are as scary as any traditional horror film. When horror movies mix with war movies, things get really frightening Case in point: Jacob's Ladder.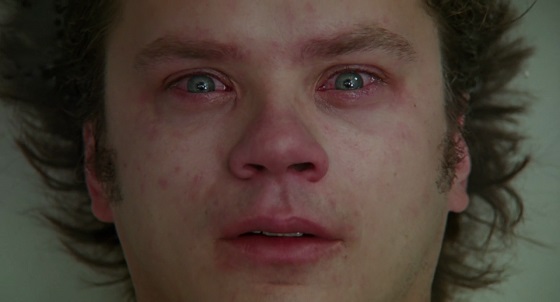 Jacob's Ladder stars Tim Robbins (The Shawshank Redemption) as Jacob Singer, a Vietnam vet who returns home to become a postman in New York City. Jacob lives with his girlfriend, Jezzie (Elizabeth Peña from Strangeland), but is constantly haunted by memories of his ex-wife and dead son. Add in the case of post-traumatic stress disorder from which Jake suffers due to his time in 'Nam, and the ex-soldier has a hard time making his way through life. When Jake starts having horrifying hallucinations, he thinks that he's going crazy. He realizes something more sinister is going on when he learns that his old army buddies are suffering from the same paranoia as he is. Jake struggles to figure out why his mind is playing tricks on him before he goes completely crazy.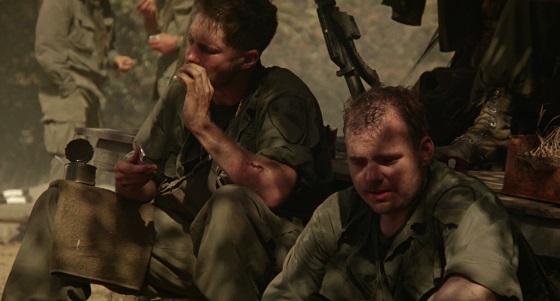 That's really all of a synopsis that can be given about Jacob's Ladder without giving too much away. The film was directed by Adrian Lyne in 1990, nuzzled nicely between Fatal Attraction and Indecent Proposal on the filmmaker's resume. The screenplay, written by Bruce Joel Rubin (Deadly Friend, Ghost), combines the militaristic aspects of Oliver Stone's Platoon with the dirty mystery elements of David Fincher's Se7en, all the while spinning a mind-tripping subtext along the lines of Darren Aronofsky's Requiem for a Dream. It's not scary in the typical jump-scare sense of the word, but Jacob's Ladder is a tense and paranoid film that will get under the skin of even the most stoic of viewers.
The most memorable aspect of Jacob's Ladder is its multiple timelines and parallel universes. The film pretty much takes place chronologically, with events falling into place logically, but there are a copious number of flashbacks and imaginary scenes that toss a wrench into the works. The running time is divided between Jake's life with Jezzie, memories of his time with his wife and son, and flashbacks to his experiences in Vietnam. After a while, the viewers (and the characters) have no idea which reality is real and which is illusion; there's little indication as to what is happening in the real world and what is only taking place inside Jake's head. It's a total mind-freak, but in the best possible way; it's not used as a cop-out, but an actual plot device that moves the story forward. It's confusing, but purposefully so, and by the end, it all makes sense.
The different realities of Jacob's Ladder give way to some creative and complicated editing. No fewer than three editors worked on the film – Tom Rolf (Taxi Driver, Prophecy), Peter Amundson (The Butterfly Effect, Pacific Rim), and B.J. Sears (Student Bodies) – with the addition of five assistant editors, one associate editor, and one apprentice. One would think that with all of those cooks in the kitchen, the finished film would be a hot mess, but it's quite the opposite. The editing is slick and cohesive, balancing the three timelines of the film masterfully, and even enhancing many of Jake's hallucinations with some fast motion speed or cutting tricks. The editorial team works well together, and their magic helps keep the story of Jacob's Ladder straight.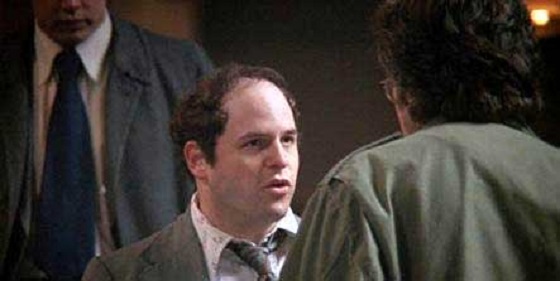 Although the main cast in the film is made up of Tim Robbins and Elizabeth Peña, there are a ton of familiar faces in Jacob's Ladder. Danny Aiello (Do the Right Thing, The Stuff) stars as Jacob's massage therapist. Jason Alexander (The Burning, "Seinfeld") plays Jacob's lawyer. Ving Rhames (Pulp Fiction, The People Under the Stairs) appears as one of Jake's soldier buddies. An uncredited Macaulay Culkin (Home Alone, The Good Son) shows up in a handful of scenes as Jake's dead son. Comedian Lewis Black ("The Daily Show with Jon Stewart") and musician Kyle Gass (Jack Black's partner in Tenacious D) also make appearances in blink-or-you'll-miss-them roles. A lot of future star-power is on full display in Jacob's Ladder.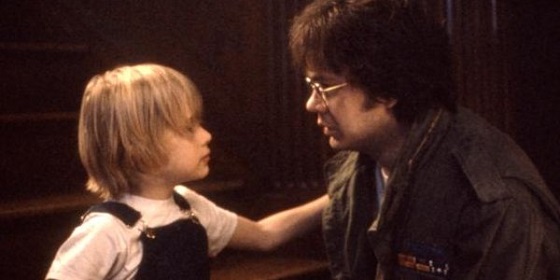 War movies don't need masked killers, spooky ghosts, or evil demons to be frightening. Sometimes, they don't even need the war, just the aftermath of it. Jacob's Ladder may confuse and confound, but it's worth every bit of audience misperception.