Synopsis: As Janie recovers from a violent psychotic break, she's subjected each day to a bizarre holistic health and wellness regimen designed, and enforced, by her lifelong nanny and caretaker. But when she develops an obsession with a stranger, Janie's buried demons begin to surface.
Release Date: August 5, 2016     MPAA Rating: PG-13
Genre(s): Drama, Mystery
Film Review

It's been quite a strange year for horror. We've had high-profile franchise films like 10 Cloverfield Lane and Blair Witch made in absolute secrecy. We've seen an amazing movie like The Witch sparking passionate arguments over whether or not it deserves the horror label (spoiler alert – it totally does). Then, we've gotten a film like The Neon Demon, where the filmmaker purposely tried to make a "non-horror" horror movie. And now, adding to the already muddy fringe horror waters, we get a creepily surreal movie like Sun Choke.
Sun Choke is about a young woman named Janie (Sarah Hagan from "Buffy the Vampire Slayer") who, with the help of a caretaker named Irma (horror legend Barbara Crampton, who has been having a healthy resurgence lately in modern movies like You're Next and We Are Still Here), is recovering from a nervous breakdown. Janie has made enough progress that Irma lets her go outside on her own. While wandering around the city, Janie notices a pretty girl named Savannah (Sara Malakul Lane from Sharktopus), and starts stalking the girl, following her home, peeping in her windows, and, eventually, breaking into her home. The obsession only increases when Janie meets Savannah and the two become friendly. As Janie's unhealthy infatuation with Savanah grows, Irma tries to tighten the reins in an effort to keep her from going crazy again, but Janie may already be too far gone.
Coming straight from the crazed imagination of writer/director Ben Cresciman (Negative Space), Sun Choke is less of a movie and more of a visceral experience. Watching Sun Choke is a bit like seeing the aftermath of a car wreck. You wonder why you're watching, yet you can't take your eyes off of it. You question what you are seeing, and why anyone would want to tell a story like that, yet you're completely fascinated by Janie's slow descent into madness – or, more accurately, her regression back into madness. The inside of Janie's head is a scary place, and the audience is put right there, face to face with all of the girl's demons. Sun Choke is a difficult watch that gets downright confusing at times, but that's all part of the insanity.
Cresciman pulls off an interesting feat with Sun Choke. He manages to craft a heart-racing, pulse-pounding movie that is suspiciously devoid of any real action. It's more suspense than payoff, but that only adds to the paranoia and unsettledness of it all. Sun Choke is a weird movie. Not arthouse weird, more like mid-career Cronenberg weird (think Dead Ringers or eXistenZ). It's a crazy ride. Crazy and unforgettable.

It's not really fair to call Sun Choke a horror movie, but the fact that it deals with such disturbing subject matter coupled with the presence of bona-fide scream-queen Barbara Crampton means that the movie will get the label, regardless of whether or not it's earned. Although it's not horror in its purest form, there are some very frightening moments in the movie. They're fairly few and far between, but when they do show up, they're both spine-tingling and cringe-worthy. Whether it's the feeling of palpable suspense that grips the viewer tightly as they watch Janie narrowly avoid getting caught stalking Savannah or the stomach-churning chaos that breaks out during the film's twisting-and-turning third act, Sun Choke provides some shockingly brutal slices of horror. It's just a shame that there aren't a few more of them.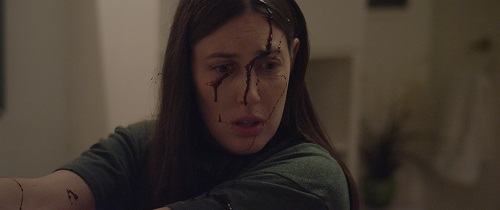 Cast and Crew
Director(s): Ben Cresciman
Producer(s): Wandie KabuleGeorg KallertPeter J. NievesRob Schroeder
Screenwriter(s): Ben Cresciman
Story: 
Cast: Sarah Hagan (Janie)Barbara Crampton (Irma)Sara Malakul Lane (Savannah) Evan Jones (Booker)Riley Litman (Connor)William Nicol (Lincoln)
Editor(s): Jason Jones
Cinematographer: Mathew Rudenberg
Production Designer(s):
Costume Designer: 
Casting Director(s): Peter J. Nieves
Music Score: Bryan Hollon
Music Performed By: 
Country Of Origin: USA