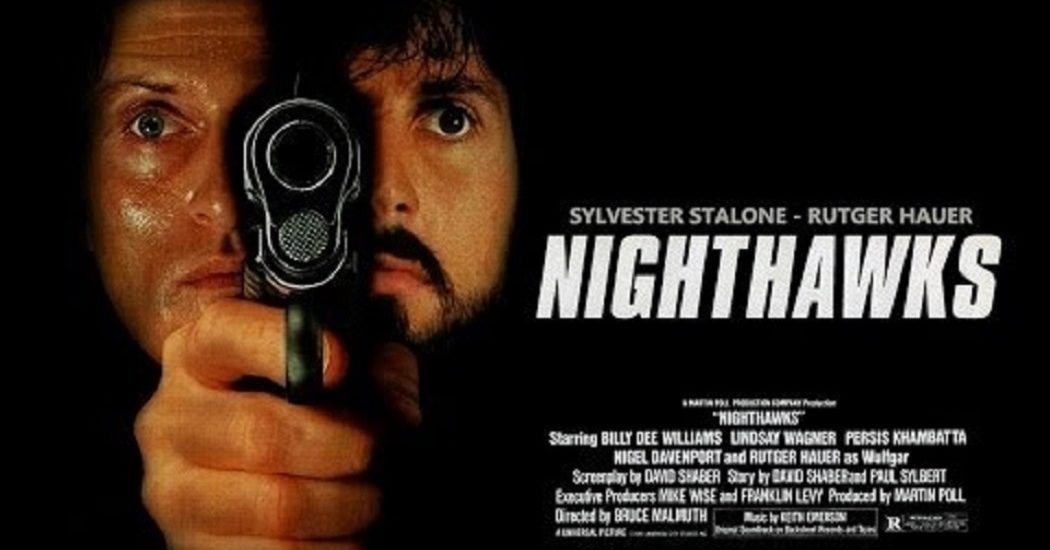 Cinema Fearité presents 'Nighthawks'
Rutger Hauer upstages the hero yet again in Nighthawks.
Last week, Cinema Fearité paid respects to the late Rutger Hauer with The Hitcher. Well, one movie isn't enough to cover the career of one of the greatest character actors of his time. So, we're doubling down on the Rutger this week with the 1981 crime thriller Nighthawks.
Nighthawks stars Hauer as Heymar "Wulfgar" Reinhardt, an international terrorist who finds himself up to no good in New York City. Interpol taps the NYPD for help catching him, and street cops Deke DaSilva (Sylvester Stallone in between Rocky and Rambo) and Matthew Fox (Billy Dee Williams in between The Empire Strikes Back and The Return of the Jedi) are enlisted for the job. Once the hunt is on, Wulfgar finds himself especially drawn to DaSilva, and he toys with the cop as he works his way through the city creating mayhem. Eventually, however, Wulfgar and DaSilva will have their epic showdown.
The screenplay for Nighthawks was originally intended by screenwriter David Shaber (The Warriors) to be another sequel to The French Connection. Gene Hackman showed little interest in reprising his Popeye Doyle character for a third movie, so Shaber retooled the plot into a coherent standalone movie, with rising action star Sylvester Stallone jumping on board to take over the hero role.
Nighthawks was initially slated to be directed by Gary Nelson (The Black Hole, Freaky Friday), but he was replaced by Bruce Malmuth (The Man Who Wasn't There, Hard to Kill) a week into pre-production. Unfortunately, Malmuth had a scheduling conflict on the first day of shooting, so budding director Stallone (who had already had a taste of the chair with Rocky II) stepped up and helmed the day, an incidental fact which led to future power struggles, both on the set and during post-production.
Just like with The Hitcher, Rutger Hauer's antagonist character in Nighthawks completely overshadows Stallone's protagonist. The shoot was especially torturous for Hauer, who not only had to deal with the deaths of both his mother and his best friend during production, but also found himself in a brinkmanship-like working relationship with Stallone. When test audiences favored Hauer's character over Stallone's, Stallone flexed his muscle by having some of Hauer's scenes excised from the finished film. Even with Stallone's edits, however, the evilly charismatic Hauer outshines him onscreen. Stallone's performance is like a potted plant next to that of Hauer.
Besides Hauer, Stallone, and Billy Dee Williams, there are a few other familiar faces amongst the support cast of Nighthawks. The most famous, at least for the early eighties time period, is Lindsay Wagner, best known to audiences as "The Bionic Woman," whose role seems to have also been sacrificed to the editing gods; she's sort of DeSilva's love interest, but her part is so miniscule that the viewer hardly gets to know her. Horror fans will recognize Joe Spinell from Maniac and The Last Horror Film (although he also worked with Stallone in Rocky) as DeSilva and Fox's NYPD lieutenant. Finally, British chameleon Nigel Davenport from Chariots of Fire and Phase IV shows up as the Interpol agent who gives the American cops their crash course in anti-terrorism.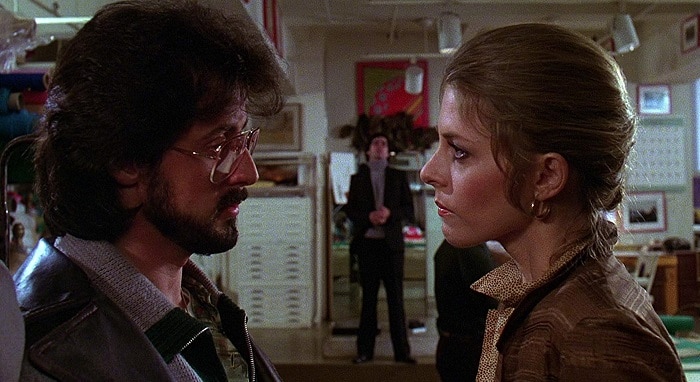 Nighthawks was shot on location mostly in New York City by cinematographer James A. Contner (Monkey Shines, Cruising). Contner manages to showcase the city without having the location distract from the plot of the film. Basically, New York plays a character in the film, but a supporting one. It's always there for the characters, but never overshadows them. Dark subway tunnels and dirty streets play important roles as Wulfgar evades and avoids the cops, and the added danger of a ton of pedestrian foot traffic makes all of those exciting chase scenes all the more intense. And Contner knows just how to paint that Big Apple intensity on film.
Speaking of intense, the score for Nighthawks was composed by rock musician Keith Emerson (Inferno, Godzilla: Final Wars). The soundtrack consists of high-energy, groovy music with a rock feel that always comes within an inch of turning itself into a full-fledged pop song. These snippets of rock and roll gold are perfect for a movie that spends so much time on the streets of New York City. Wulfgar also frequents disco dance clubs in order to find unwitting female accomplices for his terrorism, so the soundtrack also contains some sweet disco tunes as well as a handful of classic rock songs like Foghat's "Slow Ride," The Rolling Stones' "Brown Sugar," and Emerson's own cover of Spencer Davis' "I'm A Man" (those last two had to be replaced by generic dance music in some home video releases due to rights issues). Whether it's incidental score or pop songs, the musical selections in Nighthawks are some red hot jams.
The death of Rutger Hauer has left a huge void in the cinematic universe. No one will ever be able to play the villain quite like him ever again. But we'll always have movies like Blade Runner, The Hitcher, and Nighthawks by which to remember him.