Synopsis: Jon Martello (Joseph Gordon-Levitt) is a strong, handsome, good old fashioned guy. His buddies call him Don Jon due to his ability to "pull" a different woman every weekend, but even the finest fling doesn't compare to the bliss he finds alone in front of the computer watching pornography. Barbara Sugarman (Scarlett Johansson) is a bright, beautiful, good old fashioned girl. Raised on romantic Hollywood movies, she's determined to find her Prince Charming and ride off into the sunset. Wrestling with good old fashioned expectations of the opposite sex, Jon and Barbara struggle against a media culture full of false fantasies to try and find true intimacy in this unexpected comedy written and directed by Joseph Gordon-Levitt.
Release Date: September 27, 2013     MPAA Rating: PG-13
Genre(s): Drama,
Film Review

What is it about porn that men (and women) find so appealing? Does it have something to do with our latent need for sexual attention? Does it appeal to the voyeur hidden within all of us? Whatever it may be, it's hard to deny porn's impact on our society, and more importantly its impact on our relationships with others.
In Joseph Gordon-Levitt's Don Jon, the actor turned writer/director doesn't seek to answer those questions, per say, but instead creates a character in Jon who values his relationship with porn more than actual intimate connections. He finds a late-night romp in the sheets less appealing than private time with the blinding glow of his MacBook. In more common terms, Jon is addicted to porn, so much so that it impacts his entire life.
We meet Jon at a time when he seemingly has it all figured out. His life has become a monotonous routine, reinforced by the film's symmetrical shot composition and repeated editing choices. He goes to church every Sunday to confess his sins, he works out, cleans his apartment, and heads out to clubs and bars to find his latest conquest. We rarely get the sense that Jon is happy doing all of this, though; it's only when he's looking at porn that he truly finds bliss. Well, at least until he meets the certified perfect 10, Barbara (Scarlett Johansson).
Once Barbara enters the picture Jon is instantly enamored with her. He structures large portions of his life around her, even going so far as to take night classes to prove he has aspirations beyond the service industry. Underneath it all, though, Jon still puts his porn above everything else, and that soon begins to clash with his relationship with Barbara, forcing him to finally confront his porn addiction and his outlook on life in general.
Although Don Jon ultimately has some poignant things to say about the nature of relationships in a modern context, it's also surprisingly light and funny. From the very beginning, the film establishes a comedic tone that it carries throughout, and is reinforced by Gordon-Levitt's stylistic choices (music, editing, narration). So, while on the one hand Don Jon has a lot to say, and many moviegoers will find a connection with Jon that they'd rather not admit, there's still plenty to enjoy about the movie on a very basic level as well. It's not a film for porn addicts seeking help either, but a witty expose centered on some people's inability to connect with anything expect on a surface level. We laugh at Jon because he is shallow, but we also understand where he's coming from – even if his outlook is a bit exaggerated. And when it's all said and done, the film has something to say – it isn't just a raunchy R-rated comedy for the teenage crowd. Yes, it has plenty of big laughs, but it has a tremendous amount of heart as well.

Don Jon has a stellar cast from top to bottom, but the real standouts are Joseph Gordon-Levitt, Scarlett Johansson, and Tony Danza as Jon's dad. Levitt plays Jon as an oblivious meathead, not unlike the type of "character" you would see on The Jersey Shore. He hits all the right comedic beats, and his narration adds an additional layer to the character rather than becoming a distraction. Levitt carries the movie, through and through – he understands Jon and brings him to life.
Johansson similarly adds a nice tongue-in-cheek commentary to the proceedings, as Barbara represents the beautiful girl with devious intentions. While Levitt embodies the New Jersey Guido, Johansson embodies the New Jersey wanna-be housewife. Her character spells trouble from the very beginning, but is important for Jon's growth. She doesn't throw herself into roles too often, but Johansson nails Barbara here.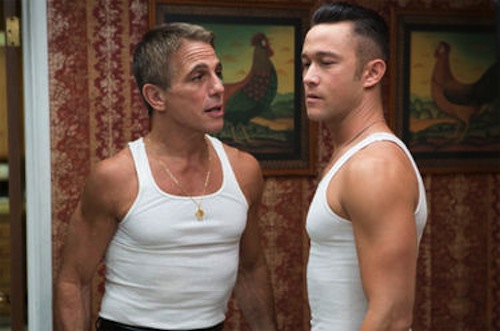 While Danza doesn't have much to do in the movie, his performance as Jon's dad is worth mentioning because he does so well acting against type. Jon's dad is basically an older version of Jon, a shallow, narrow-minded New Jersey native who could care less about emotional connections. He's basically the anti-Tony Danza, which makes all of his scenes so much fun to watch.

From the very first frame, you can tell that Joseph Gordon-Levitt is a talented director – he's learned a lot during his 20+ years working on movie and TV sets. Yes, he falls into the first time director trap of making his film overly stylized, but those heavy-handed editing tricks do help give Don Jon its own personality. And, in some respects, the stylistic choices, like the reuse of shots and sound effects, reinforce the monotony of Jon's life.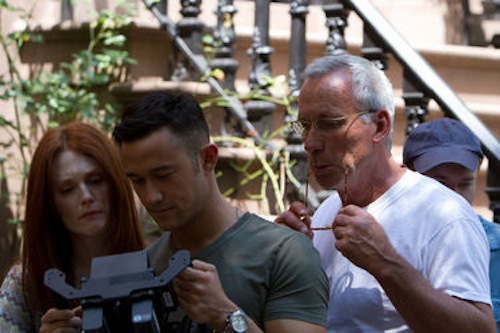 For a first time feature, Don Jon is a surprisingly accomplished and nuanced film. It proves that Levitt has a solid understanding of stylistic techniques and wants to tell unconventional yet compelling stories. I want to see more from him.
Cast and Crew
Director(s): Joseph Gordon-Levitt
Producer(s):
Screenwriter(s): Joseph Gordon-Levitt
Story: 
Cast: Joseph Gordon-Levitt (Don Jon)Scarlett Johansson (Barbara)Julianne Moore (Esther) Tony Danza (Jon Sr.)Brie Larson (Monica)
Editor(s): Lauren Zuckerman
Cinematographer: Thomas Kloss
Production Designer(s):
Costume Designer: 
Casting Director(s): 
Music Score: Nathan Johnson
Music Performed By: 
Country Of Origin: USA