The dangers that threaten everyday people and society differ from film noir to film noir, but what unifies them is their insidious nature. Fritz Lang's The Big Heat (1953) is undeniably a film noir of the 1950s. Its protagonist, Det. Dave Bannion (Glenn Ford), lives the suburban American dream with a good job, a beautiful, doting wife, a princess of a daughter, and a comfortable home. Bannion is as happy as a man can be, but even he knows that there is evil at work in his small city, deftly controlling everything, even the police chief. He takes it upon himself to bring down these controlling criminals but at the high cost of life, happiness, and morality. One of Lang's best American noirs, The Big Heat presents the familiar story of a city corrupted by crime and uses the cliché as a jumping off point for a story of vengeance and the corruption of a good man. What makes Lang's film all the more important in the film noir canon, however, is the question it poses the audience. Bannion embarks on a mission to restore justice but is sidetracked by his own thirst for revenge – and for understandable reasons – but The Big Heat asks whether this vigilante vengeance is right or as immoral as the criminals Bannion sought to capture.
The complex plot begins with the apparent suicide brought on by ill health of police officer Tom Duncan. Det. Bannion assumes his investigation of the death is an open-and-shut-case until Duncan's mistress, Lucy Chapman, comes forward to announce that she and Duncan were set to marry after he divorces his wife. Chapman also reveals that Duncan kept a second home, which would have been impossible on his police salary. Suspecting Duncan had worked for Mike Lagana, the city's crime boss, Bannion confronts both Mrs. Duncan and Lagana with his accusations. The reward for his dedication to justice is pressure to close the case from his superiors and a car bomb that kills his wife, Katie (Jocelyn Brando). Realizing that no one will stand up to Lagana, Bannion resigns and embarks on a mission to avenge his wife's death. His investigation leaves behind a trail of bodies: Chapman; Larry Gordon, the car bomber; Vince Stone (Lee Marvin), Lagana's right-hand man; and Debby Marsh (Gloria Grahame), Vince's girlfriend.
The Big Heat is overly concerned with domestic life. Throughout the film, we are shown three different households, each drastically different. In the opening sequence, Lang takes us to the sinister home of the Duncans, the familial façade of Lagana's opulent house, and finally, the beacon of domesticity that is the Bannion home. The first two examples are cold and unloving. Mrs. Duncan is unfazed by her husband's suicide and more concerned with money. Lagana has created an approximation of a good home life, and there is mention of a daughter, but she is never seen. The only semblance of family present is a portrait of Lagana's dead mother hanging in the living room. The Bannions, on the other hand, are the paragons of the ideal suburban American family. Lang films their scenes in a classic Hollywood style with abundant lighting and, compared to the seedy streets, few shadows. Bannion's wife, Katie, however, is unlike any other domestic ideal of the time period. As portrayed by Brando, she is charmingly vivacious, and her flirtatious sparring with Bannion certainly tested the censors. Their lives are pure innocence, down to Katie's inability to repeat the vulgarity of a threatening phone call. But it is systematically becoming corrupted by the outside world.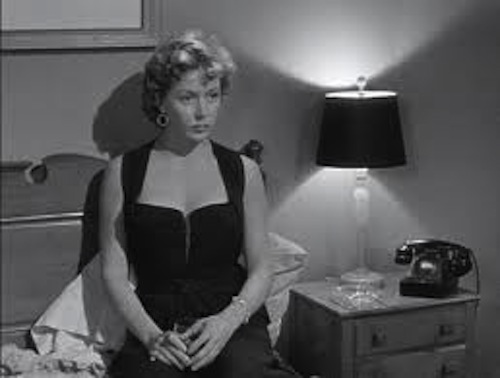 With Katie's accidental death in the car bomb meant for her husband, a door closes on Bannion's idyllic past. Lang illustrates this very literally, showing Bannion and his daughter, Joyce, move out of their dream home to escape the memories as well as to hide from Lagana's men. What emerges from this tragedy is an uncontrollable anger in Bannion and a desire to avenge Katie's death. He now occupies a dark and dingy motel room, and Lang shows us the clichéd split mirror reflection of our now morally ambiguous protagonist, a good man now consumed by hate. This new Bannion is relentless in his search for evidence against Lagana, Vince, and the rest of their crime syndicate. Typical film noir protagonists live in a bleak and evil world and are incapable of escaping their fate and ultimate demise. Their inevitable fall isn't tragic, because they were never paragons of noble character to begin with but characters of extreme fault. This description of a typical noir hero, though, does not fit Bannion. He is not truly morally ambiguous. Rather, his only fault is being tempted by evil. For instance, the death of Bertha Duncan would release incriminating evidence that would end Lagana's stranglehold on the city, but he cannot kill her himself. Bannion's morality does not allow him to avenge his wife's death. That leaves the job to someone else who is not as inherently good as Bannion.
This role is filled by none other than Debby Marsh, a woman very much in the heart of this crime ring, a woman who has admittedly always avoided her boyfriend's work and boss. That's not to say that she hasn't recognized fault in Vince or been witness, even victim, to his rage. Sensing Bannion's desire to take down Vince, Debby follows him to his motel room and lets slip some information about Vince's activities. For this, Vince throws scalding coffee on her face, permanently disfiguring her in a scene that is so chilling it's easy to forget that it happens off-screen. If Debby weren't convinced that she had to act before, she certainly is now. When Bannion explains that Mrs. Duncan holds the most valuable piece of evidence, Debby resolves to shoot her and then reciprocate Vince's actions by hurling scalding coffee on his face, despite the fatal consequences. Essentially, she carries out all of the evil deeds that Bannion would like to do and so keeps his morality intact. This woman who is already part of a morally inferior circle takes the moral fall, if you will, and our hero may continue to be a symbol for justice.
This somewhat selfless act, however, raises an important question about the morality of our hero, Bannion. Debby makes a very accurate observation when Bannion tells her that he couldn't bring himself to kill Mrs. Duncan: if Bannion had killed Mrs. Duncan, he would truly have been no different from Lagana or Vince. Lang makes this distinction very clear, but that doesn't make up for for the deaths that Bannion directly causes in his quest for personal vindication. Bannion uses police resources for his own pursuit of violence against Lagana, and four people die because of his carelessness. To be fair, Mrs. Duncan, Larry Gordon, and Vince were guilty members of the mob, but Lucy, Katie, and Debby were innocent. This begs the question: if Bannion's revenge quest were just, shouldn't those innocent people be alive? Is Bannion justified in destroying so many people's lives for his own peace of mind? While most film noirs have a femme fatale who wreaks havoc on the good and destroys everything and everyone, The Big Heat lacks a true femme fatale and instead casts Bannion as the cause for nearly every death in the film.
As with much of Lang's work, this violence and ethical ambiguity is thinly veiled by domestic tranquility and our ideal of a good cop and loving husband. When Bannion ceases to be the morally upright man we thought he was, we begin to question every aspect of the character and his case. His self-righteous heroism is shown to be the most deadly factor in an already dangerous city. Yet it never occurs to Bannion that he is even partially responsible for the deaths of innocents like Lucy Chapman and his wife. It is interesting to note, that it is Bannion's own sense of morality – his urge to uncover the mystery of a fellow officer's death – that subjects him to the seduction of vengeance that eventually overcomes him. Bannion is only redeemed as a moral character when he ultimately lets Vince live out his sentence in prison rather than die at gunpoint. It is this final act that allows Bannion to remain our moral hero. Lang's story, however, does not have a happy ending. Bannion maintains his moral stance, but his domestic ideal is forever gone. In fact, the film's unnerving final scene does not show Bannion and his daughter reunited as a family but rather shows Bannion at the police station returned to his position as Sergeant and carrying on his duties as a homicide detective as if nothing had happened.