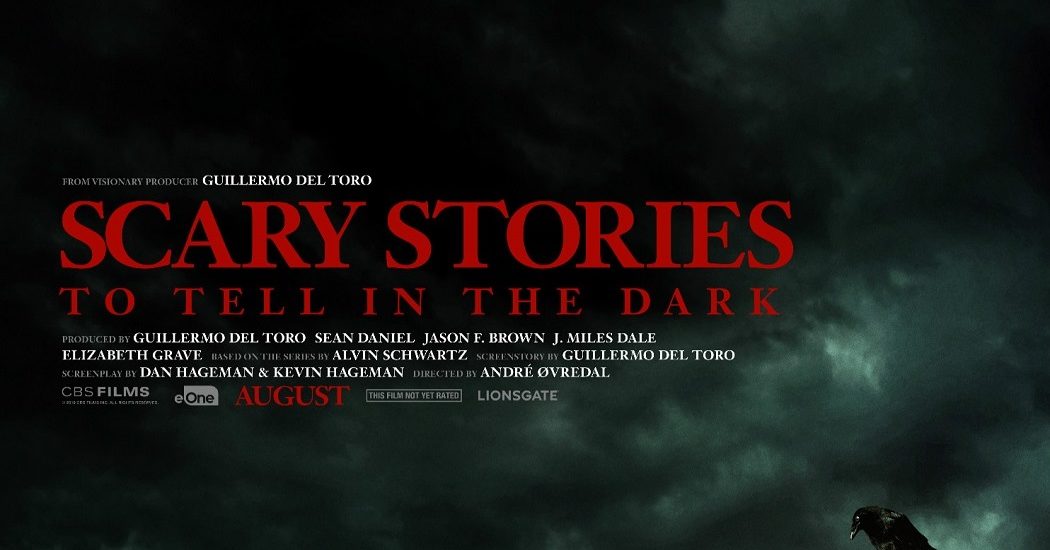 Scary Stories to Tell in the Dark Review
The iconic stories come to life, but the wraparound is all filler in 'Scary Stories to Tell in the Dark.'
Release Date: August 9, 2019
A group of teens face their fears in order to save their lives.
Director: André Øvredal 
Screenwriters: Dan Hageman, Kevin Hageman, Guillermo del Toro, Marcus Dunstan, Patrick Melton, Alvin Schwartz 
Producers: Jason F. Brown, J. Miles Dale, Sean Daniel, Guillermo del Toro, ELizabeth Grave
Cast: Zoe Margaret Colletti (Stella Nicholls), Michael Garza (Ramon Morales), Gabriel Rush (Auggie HIlderbrandt), Austin Zajur (Chuck Steinberg), Natalie Ganzhorn (Ruth), Dean Norris (Roy Nicholls), Gil Bellows (Chief Turner), Austin Abrams (Tommy), Kathleen Pollard (Sarah Bellows)
Editor: Patrick Larsgaard
Cinematographer: Roman Osin
Production Designer: David Brisbin
Casting Director: Rich Delia
Music Score: Marco Beltrami, Anna Drubich
For those who grew up in the eighties, the Scary Stories to Tell in the Dark book series was always a big favorite at scholastic book fairs. Alvin Schwartz's campfire stories coupled with Stephen Gammell's horrifying (and I do mean horrifying) illustrations haunted the nightmares of an entire generation. So, of course, a movie adaptation was bound to happen. After years of rumors, that Scary Stories to Tell in the Dark movie is here.
Scary Stories to Tell in the Dark takes place around Halloween of 1968 in the small town of Mill Valley, Pennsylvania. A young girl named Stella (Annie's Zoe Margaret Colletti) is out pulling harmless pranks with her two friends Chuck (Fist Fight's Austin Zajur) and Auggie (Gabriel Rush from The Grand Budapest Hotel) when they meet a mysterious drifter boy named Ramón (Michael Garza from "Wayward Pines"). Trying to impress the stranger, the pals take him to the local haunted house, a dilapidated old mansion that was once occupied by a supposed occultist named Sarah Bellows. There, they find a strange book full of stories, which the fledgling writer Stella takes. But this isn't just any book of stories. Stella and her friends soon realize that the stories are writing themselves, unleashing spooky scarecrows, toeless corpses, and creepy spiders all over the town.
Of course, the stories are all based on the stories in Schwartz's books. And director André Øvredal (Trollhunter, The Autopsy of Jane Doe) does a great job at bringing those stories to life. The wraparound, the mystery section of the movie where Stella and her friends try to find out what's going on, is where Scary Stories to Tell in the Dark falters. There are no fewer than five credited screenwriters (not counting Schwartz) on the film, including Dan and Kevin Hageman the guys behind Hotel Transylvania and The Lego Movie), Marcus Dunstan and Patrick Melton (who wrote a bunch of the Saw movies), and producer Guillermo del Toro (The Shape of Water, Crimson Peak). On paper, that looks like a dream team of writers for the project, with both fantastical horror guys and whimsical children's creators on board. But all they really do is lean heavily on Schwartz's handiwork while they muddy up the rest.
Scary Stories to Tell in the Dark is essentially the same basic plot as the Goosebumps movie, with the classic book coming to life and wreaking havoc. It's just not nearly as much fun as Goosebumps. Again, the Schwartz stories come to life are the most effective parts of the movie, and Øvredal seems to understand that this is what audiences want to see, as he sticks fairly close to the visions of Stephen Gammell's childhood trauma-causing illustrations. Through a slick combination of CG and practical effects, the terrifying characters from the books look just the same as they did when they occupied every kid's nightmares decades ago. For those who grew up with the Schwartz/Gammell books, the movie is an eye-popping trip down memory lane.
The attempt to make Scary Stories to Tell in the Dark something more than an anthology weakens the movie. The phantom book and its stories being the antagonist turns the film into a formulaic slasher, only one without a killer, sort of like a Final Destination kind of a thing. And the between-nightmare segments get long and tedious. While it's entertaining to see Schwartz's stories on the big screen, Scary Stories to Tell in the Dark would be stronger as an anthology, instead of trying to shoehorn the terrifying tales into a half-baked Scooby-Doo mystery.

For those viewers who are familiar with the Alvin Schwartz/Stephen Gammell, there will be plenty to be afraid of in Scary Stories to Tell in the Dark. André Øvredal shows great respect for the source material, and his love is evident in the terrifying story segments. Schwartz villains like the corpse in "The Big Toe" and the creature in "Me Tie Dough-ty Walker!" are relentless and unflappable. The scariest scene, however, is when Schwartz's "The Dream" is encountered by Stella's friend Chuck. Chuck lives out his nightmare of being pursued by a chubby, pale woman with long black hair. He's running from her down hallways that are bathed in red light, and every turn he takes brings him face to face with the grotesque monster from his dream.
Scary Stories to Tell in the Dark earns its PG-13 rating, meaning it's not too scary for kids. In fact, those who don't have memories of the book may not find it scary at all. But those who do will see their elementary school nightmares come true on the screen.