Synopsis: In the aftermath of a family tragedy, an aspiring author is torn between love for her childhood friend and the temptation of a mysterious outsider. Trying to escape the ghosts of her past, she is swept away to a house that breathes, bleeds…and remembers.
Release Date: October 16, 2015     MPAA Rating: PG-13
Genre(s): Drama, Fantasy
Film Review

Between the action movie Pacific Rim and the superhero flick Hellboy, it's easy to forget that Guillermo del Toro has made horror movies like Cronos and The Devil's Backbone. The filmmaker would like to remind audiences of that fact with his latest movie, the gothic ghost story Crimson Peak.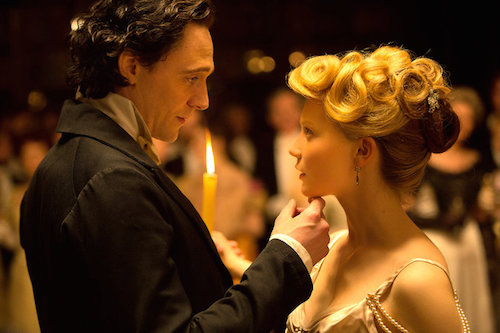 Crimson Peak is the story of a young aspiring author named Edith Cushing (Stoker's Mia Wasikowska) who meets a charming Englishman named Sir Thomas Sharpe (Tom Hiddleston from The Avengers) who is seeking funding for an industrial invention from her father, Carter (Jim Beaver from "Supernatural"). Carter refuses to help him, but Thomas does not leave America empty-handed; Edith agrees to marry him and return to his homeland to live with him and his sister, Lady Lucille Sharpe (A Most Violent Year's Jessica Chastain), to live in a dilapidated house on a mountainous foundation made of blood-red clay – a Crimson Peak. Soon enough, Edith begins to feel as if her new husband and his sister have more sinister motives for keeping her around. Sensing that she is danger, Edith's childhood friend, Dr. Alan McMichael (Charlie Hunnam from "Sons of Anarchy"), travels to England to rescue her before it's too late.
There's a distinct lack of ghosts in that synopsis, and there's a reason for that; there's a distinct lack of ghosts in Crimson Peak. Well, not really – there are ghosts, but they have nothing to do with the core story; it would be easy, even economical, to leave the apparitions out of the movie completely, letting the narrative concentrate on the mystery that is at the root of the film. Guillermo del Toro and his writing partner Matthew Robbins (Don't Be Afraid of the Dark) craft a mediocre thriller, then try to spice it up by adding specters and spooks as an afterthought, and it doesn't work.
So, there are very few ghosts in Guillermo del Toro's big gothic ghost story. What about the rest of the movie? Well, it just becomes a standard who-can-you-trust mystery movie, but in the end, it doesn't matter; none of the characters are likeable enough for the audience to become emotionally invested in them, so the film is a bit of a waste. It's a pretty movie, but the stylish appearance gets old after a while and the viewer just pines for a compelling story that never materializes. Crimson Peak is a dud.

Story-wise, Crimson Peak may be a snoozer, but visually, it's wonderful. In typical Guillermo del Toro fashion, the costumes, sets, and photography are all beautifully striking and memorable. Cinematographer Dan Laustsen (The Possession) bathes the entire set in red, green, and blue light to compliment the white snow and brown walls of the location, resulting in a look that is playfully surreal and frighteningly cold. Laustsen and del Toro frequently shoot their subjects from everywhere in the room at once (as opposed to obeying the "180 degree rule" of keeping the camera on the same side) so that the viewer can never get a good spatial image of the location and, therefore, remains disoriented the entire time. It's a purposeful decision that affects the aesthetic quality of the film, both visually and psychologically. Crimson Peak is shot masterfully. It's just a shame that the story doesn't live up to the look.

The lack of ghosts makes Crimson Peak a rather tame affair. There's not much to be afraid of in the film. A couple of brutally disturbing scenes – one violent murder in a bathroom and another gruesome face stabbing – make the film a bit cringe-worthy, but it's just enough to give the viewer a bit of false hope that is, unfortunately, all for not. There's not much else in the movie that inspires any real fear in the audience. There aren't even any cheap jump scares. There's just nothing.
Cast and Crew
Director(s): Guillermo del Toro
Producer(s): Guillermo del ToroCallum GreeneJon JashniThomas Tull
Screenwriter(s): Guillermo del ToroMatthew Robbins
Story: 
Cast: Mia Wasikowska (Edith Cushing)Jessica Chastain (Lucille Sharpe)Tom Hiddleston (Thomas Sharpe) Charlie Hunnam (Dr. Alan McMichael)
Editor(s): Bernat Vilaplana
Cinematographer: Dan Laustsen
Production Designer(s):
Costume Designer: Kate Hawley
Casting Director(s): 
Music Score: Fernando Velázquez
Music Performed By: 
Country Of Origin: USA