The trials and tribulations of Roman Polanski's personal life often overshadow his body of work; in the midst of having his wife killed by the Mason family and his underage sex scandal, it's easy to forget that the man knows how to make movies. From the cinematic classics of Rosemary's Baby and Chinatown to his later personal projects Carnage and Venus in Fur, Polanski's filmic style is inimitable. Although he could never be pinned down to one particular genre, his early movies were mostly horror, and in 1965, Polanski's second feature Repulsion proved that he could scare with the best of them.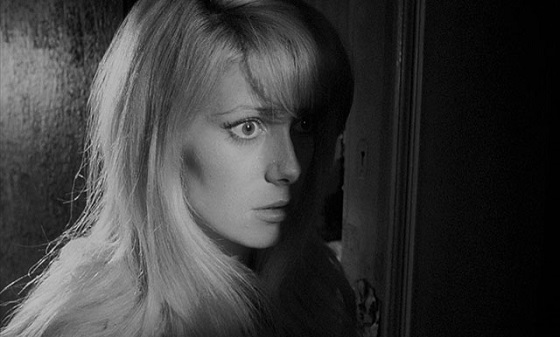 Repulsion stars Catherine Deneuve (Persepolis) as Carol Ledoux, a nail salon worker who shares a London flat with her sister, Helen (Yvonne Furneaux from La Dolce Vita). Carol leads an unfulfilling existence, spending her days at the salon rebuffing the advances of a would-be suitor named Colin (John Fraser from Schizo) and her nights disgusted by the sounds of Helen's sexual encounters with a married boyfriend, Michael (Ian Hendry from Children of the Damned). When Helen announces that she and Michael are going away on vacation in Italy, Carol is reluctantly left alone in the apartment. With no one around to occupy her mind, Carol starts to imagine intruders – both human and supernatural – breaking into the apartment with the intent of harming her. Carol fights back against the invaders, but she (and the audience) is left to decide how much of her experience is real, and how much is all inside her insanity-plagued mind.
Polanski wrote the screenplay for Repulsion along with his frequent collaborator Gerard Brach (The Tenant, Frantic) with additional dialogue assistance from David Stone ("Secret Agent"). The story itself is kind of a slow burner, giving the character of Carol plenty of time to develop and unravel before the audience's eyes. The movie was shot with a very modest budget on inexpensive black & white film stock using sparse locations and a small cast, so the finished product is a textbook example of how a film can be both effective and economical. And scary.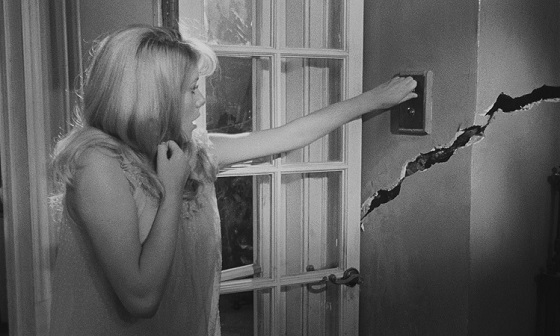 The lovely and talented Catherine Deneuve is the backbone of Repulsion; because the actress is in every scene, she quite literally carries the film on her shoulders. She captures Carol's gradual but deliberate descent into madness perfectly, going from mousey beautician to catatonic psychopath over the course of the film's 105 minute running time. Deneuve plays her part with a combination of wide-eyed innocence and paranoid frustration, wondering along with the audience if the growing cracks in the wall or the shadowy reflections in the mirror are real or imaginary. As a woman anti-hero, Carol is almost a feminist character, fighting back against her (possibly imaginary) male attackers, spitting hate towards her sister's two-timing boyfriend Michael, and even rejecting the shining-armor advances of her little lover boy Colin. And, because she's locked up in the apartment alone for much of the film, she does much of it without the benefit of spoken dialogue. Catherine Deneuve absolutely kills in Repulsion (pun intended).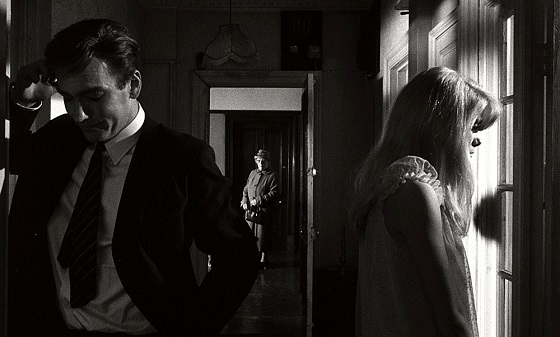 An entire book could be written about Repulsion's cinematography. The film was shot by hip go-to director of photography Gilbert Taylor, a man who has worked with everyone from George Lucas (Star Wars: Episode IV – A New Hope) to Stanley Kubrick (Dr. Strangelove or: How I Learned to Stop Worrying and Love the Bomb) to Alfred Hitchcock (Frenzy) to Richard Donner (The Omen). For Repulsion, Taylor pulls out every trick in his bag; the movie is full of innovative match cuts, extreme close-ups, long follow shots, and high-contrast lighting. He also tosses in a couple of fun things that would become cliché in the horror genre; many scenes have almost a Hitchcockian use of reflections, and the third act of the film has some terrifying victim point-of-view moments. From the opening close-up of Carol's eye to the last lingering sweep across her disheveled apartment, every frame of Repulsion is thoughtfully composed and meticulously planned out.
For having such a small budget, Repulsion features some fairly creative visual effects. One of the most memorable scenes in the film involves Carol walking down a hallway as hands reach out from the walls and grab at her. It's a simple fake wall setup, but it's incredibly effective and nightmarish. The tail end of the film also includes a couple of gory, slasher-esque kills that, even in a post-Psycho cinematic climate, are pretty bloody and gruesome. Between the horrifying hallway of hands and the straight-razor slicing and dicing, Repulsion's visuals are as cinematically impressive as they are shocking.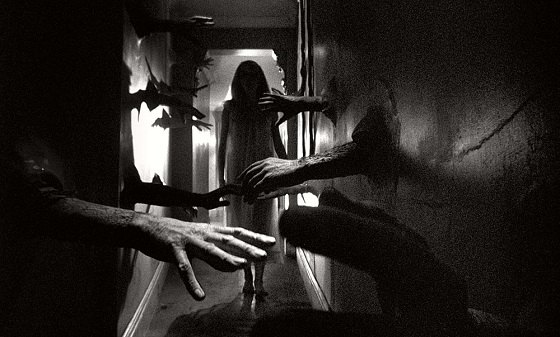 The soundtrack music to Repulsion was written by Chico Hamilton, an accomplished jazz musician who cut his teeth playing in combos alongside the likes of Charles Mingus, Count Basie, and Lionel Hampton. Hamilton is a drummer as well as a composer, so of course the score to Repulsion is full of splashy drums and soulful percussion, but the rest of the jazz band is there, too; there's lots of winds, reeds, guitars, and organs to keep the party going. It wouldn't seem as if a jazz score would work for a horror movie, but Repulsion isn't your average horror movie, and the soundtrack fits the visuals wonderfully; it almost seems like Hamilton has written the music that is constantly playing inside Carol's head as she goes about her life and has her meltdown. By accident or by design, Chico Hamilton's cool jazz score is the perfect soundtrack for Repulsion.
Roman Polanski would end up reinvigorating the horror genre a couple of years later with the one-two punch of The Fearless Vampire Killers and Rosemary's Baby, but after that, he would go full Hollywood. However, horror fans will always have his first four or five movies to remind them of his frightful roots, and Repulsion is as good of an example as any of what Polanski could do when he set out to scare his audience.