Sequels are funny things in the horror world.  Of course, the most successful movies turn into franchises, like Halloween, A Nightmare on Elm Street, and Friday the 13th.  Other popular movies, like American Psycho or The Lost Boys, spawn sequels that many fans don't even know exist.  And then there are the sequels that people don't know are sequels because they became so much bigger than their predecessor, like The Silence of the Lambs.  In today's episode of "they made a sequel to THAT?", we'll take a look at the underrated sequel to the cult hit The Rocky Horror Picture Show, the 1981 musical comedy Shock Treatment.
Shock Treatment sees The Rocky Horror Picture Show heroes Brad and Janet (Pulse's Cliff De Young and Suspiria's Jessica Harper), now married, residing in Denton, U.S.A.  Only the entire town seems to exist solely within the sets of a television studio that is owned and overseen by fast food magnate Farley Flavors (also played by De Young).  Sensing that something is missing in their relationship, Brad and Janet go on a show called "Marriage Maze," hosted by the flamboyant Bert Schnick (Barry Humphries from The Hobbit: An Unexpected Journey), where the couple tries to sort out their matrimonial woes.
During the show, Brad is declared insane and sent to another show called "Dentonvale," a soap opera based in an insane asylum run by sibling doctors Cosmo and Nation McKinley (Richard O'Brien and Patricia Quinn, both from The Rocky Horror Picture Show).  Meanwhile, Janet is groomed to be a superstar socialite, and with her rising popularity, she catches the eye of Farley Flavors himself, who fancies her for himself.  Janet's old pal Betty Hapschatt (Ruby Wax from Chariots of Fire) and famous judge Oliver Wright (Charles Gray, another Rocky Horror alum), working for an investigative news show called "The Denton Dossier," scramble to uncover the plot, but it is a race against time before Brad is permanently committed and Janet winds up with Farley.
In all fairness to those who didn't realize that RHPS had a sequel, Shock Treatment isn't much of a sequel.  Aside from a few of the same characters (who are played by different actors) and a few of the same actors (who play different characters), it has very little to do with its predecessor.  The creative core of director Jim Sharman and music/book writer Richard O'Brien is intact, and the quirky vibe of the film is the same, but narrative-wise, Shock Treatment may as well take place in a different universe as The Rocky Horror Picture Show.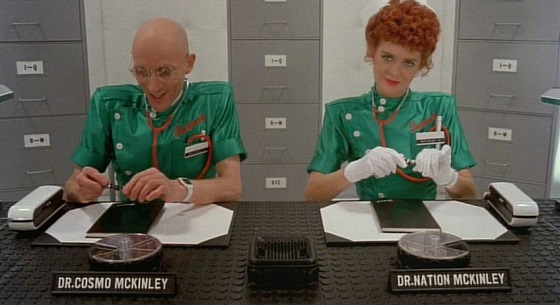 The only carryover from The Rocky Horror Picture Show who plays his same character in Shock Treatment is Jeremy Newson as Brad's best friend Ralph Hapschatt.  Fellow RHPS favorite "Little" Nell Campbell, who plays a "Dentonvale" nurse instead of a tap-dancing groupie, joins O'Brien, Quinn, and Gray as Rocky actors showing up in different roles.  Jessica Harper and Cliff De Young replace Susan Sarandon and Barry Bostwick, and the change to the two better singers drastically improves the musical performances of the film, even if knowing that the chameleonic De Young plays both Brad and Farley is a bit of a spoiler.  Although it's a completely different storyline, Shock Treatment appeals to Rocky Horror fans because of its familiar faces, its similar visual style, and its rocking singalong songs.
It may be just a quirky eighties comedy, but Shock Treatment predicted the advent of reality television with almost eerie precision, years before "Suvivor" or even "MTV's The Real World" hit the airwaves.  Every segment of life in Denton is a different television show, and the entire town's citizens are either stars or contestants, on a production crew, or members of the studio audience (who sleep in their seats, further confirming the fact that Denton as a whole exists completely within the confines of the TV studio).  Daily private life is captured for all to see, whether it's a couple working through their marital problems or a man being railroaded through the mental health process.  Unlikely stars emerge as well, such as Janet after she is turned into a sultry starlet, or her father, who endears himself to the masses by singing a song about toxic masculinity.  Shock Treatment was on the forefront of the "making stupid people famous for stupid reasons" motif.  Only, in Shock Treatment's case, it's satire.  Not so much in the Real World.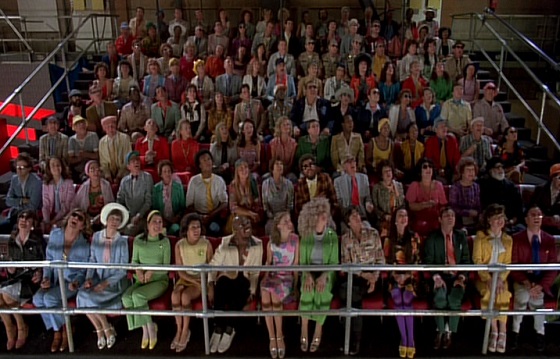 Another Rocky Horror holdover, production designer Brian Thompson, designed the sets for Shock Treatment.  Thompson's designs epitomize the pre-fab temporariness of the studio setting.  Shock Treatment looks to have been shot on a huge soundstage, with smaller sets built in chunks within, so that the action can swiftly and easily move from one "show" to another.  And each "set" employs the characteristics of each show, with "Dentonvale" being sterile and white while "The Denton Dossier" is bathed in red noir lighting.  The set design is a rather ingenious way to illustrate the disposability and cancelability of the town and its citizens.
The cinematography plays to the television aspect of the movie, too.  Director of photography Mike Malloy (who worked as a camera operator with Kubrick on A Clockwork Orange and Barry Lyndon) shot Shock Treatment almost like a television show, with lo-fi video techniques and standard definition aspect ratios.  It's an impressive setup, with Malloy using cranes and dollies to capture every inch of Thompson's simple-yet-effective sets.  The camera motion also allows Malloy to shoot the musical numbers in long, unbroken takes, even when the song is sung by more than one actor, which gives the movie a live theater feel.  Malloy's efforts and attention to detail are obvious, as Shock Treatment looks fantastically fun.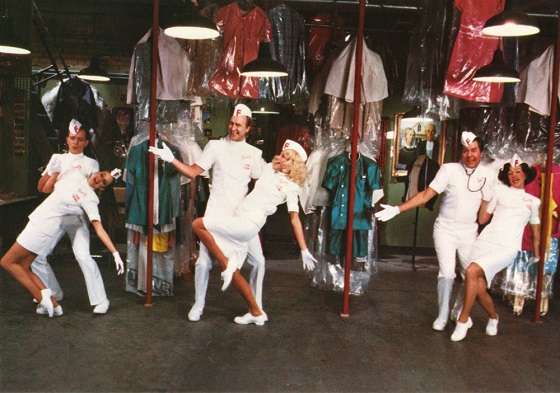 Which brings us to the music.  No discussion of Shock Treatment would be complete without mentioning its awesome soundtrack.  The songs were written by Richard O'Brien and his musical director Richard Hartley (yet another RHPS contributor), and they sound like it; the soundtrack is a musical soulmate to that of The Rocky Horror Picture Show.  The film begins with the infectious opener "Denton U.S.A." and closes with the all-in singalong "Anyhow, Anyhow," and along the way features show-stoppers like "Bitchin' in the Kitchen" (where Brad and Janet sing about their middle class mundanity), "Little Black Dress" (Janet's coming-out song), "Duel Duet" (where Cliff De Young sings a duet battle with himself), and, of course, the insanely catchy title song "Shock Treatment" (the closest thing to a "The Time Warp" that Shock Treatment has).  Shock Treatment is full of awesome rock songs, and it's a bit surprising that the soundtrack is not as well regarded as the one for The Rocky Horror Picture Show.  From front to back, It's pop music perfection.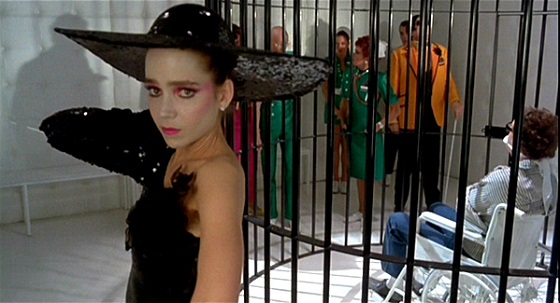 It would make sense that a movie as culturally influential as The Rocky Horror Picture Show would get a sequel, even if RHPS's influence wasn't felt until years after its release.  What doesn't make sense is how Shock Treatment snuck right past its intended audience.  Even as a rock and roll comedy, it's an incredible film.  When its connection to The Rocky Horror Picture Show is considered, it's a wonder that the movie is not a household word.