It would seem as if 4k restorations are all the rage in the horror world. Last year, Tobe Hooper's classic The Texas Chain Saw Massacre got one, as did George Romero's Dawn of the Dead, and there's one for Don Coscarelli's Phantasm on the books as well. Well, not to be outdone, it has recently been announced that one of the most controversial horror films ever made, Henry: Portrait of a Serial Killer, is also getting the 4k treatment for its thirtieth anniversary. It's as good a time as any for Cinema Fearité to take a look back at the 1986 shock film classic.
Henry: Portrait of a Serial Killer is about a guy, of course named Henry (Michael Rooker from The Dark Half and Guardians of the Galaxy), who is, well, a serial killer. Henry spends his days driving around Chicago and stalking women, killing them once he follows them home. By night, he crashes with a buddy named Otis (Tom Towles from House of 1000 Corpses and The Devil's Rejects) whom he met in prison. Soon enough, Otis figures out what Henry does with his days, and decides that he wants to tag along, becoming an apprentice to Henry's murderous ways. When Otis' sister, Becky (The Shot's Tracy Arnold), leaves her abusive husband and comes to stay with the guys, she falls for Henry, which makes for a very explosive situation.
Directed by John McNaughton (Wild Things, The Harvest) from a script that he co-wrote with Richard Fire (The Borrower), Henry: Portrait of a Serial Killer was inspired by the exploits of real-life serial killer Henry Lee Lucas. It's more than just a simple slasher movie, it's a disturbing visceral experience, an unflinching look into the mind of a madman. Of course it's exploitive, but that's the only way that a movie like Henry: Portrait of a Serial Killer can be.
Because of its brutal depiction of violence and gore, Henry: Portrait of a Serial Killer had a hard time getting released. The film was shot in 1985 and played a few festivals the next year, but was given an X-rating by the Motion Picture Association of America. McNaughton chose to release the film unrated, which not only held up its release until 1990, but also ensured that it only got the most limited theatrical run imaginable. The film was mostly confined to arthouse cinemas, which were the only theaters who would dare touch an unrated movie. Of course, the forbidden aspect of the release just made fans want to see it that much more, regardless of how far they had to travel to do it. There was some good that came from the controversy, though; not only did Henry: Portrait of a Serial Killer become one of the most infamous movies of the eighties, but it was instrumental in the creation of the NC-17 rating for adults-only films that were not pornographic.
Henry: Portrait of a Serial Killer is essentially a three-person show. Luckily, all three members of the core cast play their parts to perfection. Michael Rooker's Henry is equal parts "Cheers"-era Woody Harrelson and Dirty Harry-era Clint Eastwood. Tom Towles' brainless oafishness makes Otis a great a-hole sidekick. Tracy Arnold portrays Becky with just the right combination of naivety and intelligence to make her emotionally desperate character believable. Henry may get top billing in Henry: Portrait of a Serial Killer, but there are three sides to that thespianic triangle.
John McNaughton and cinematographer Charlie Lieberman (who has since had a pretty fruitful television career, doing work on shows such as "My So-Called Life," "Party of Five," and "Heroes") shot Henry: Portrait of a Serial Killer primarily on 16mm film, so the picture has a raw and gritty, almost grindhouse look to it. There are a handful of scenes in which Henry and Otis document their crimes with a camcorder, and those scene are shot on videotape, but for most of the movie, it's the grainy celluloid, and it works marvelously in the context of the story; it adds a layer of realism to the movie, giving the viewer the impression that they are almost watching a snuff film or a torture flick. There's an aesthetic to the lo-fi vibe that makes the film seem that much more forbidden.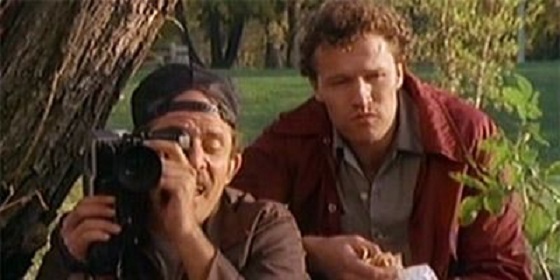 Whether Henry: Portrait of a Serial Killer will benefit from a 4k restoration remains to be seen, but the new transfer of The Texas Chain Saw Massacre looks and sounds great, and that movie was shot in the same gritty and dirty style. Even if a cleaned up version of Henry: Portrait of a Serial Killer isn't completely necessary, it'll still be interesting to see if the release will breath some new life into the old film.