Synopsis: A home invasion rattles a quiet family town.
Release Date: October 27, 2017     MPAA Rating: PG-13
Genre(s): Crime, Drama
Film Review

While the marketing for Suburbicon would have you believe that the movie is a revenge tale about a suburban father who tries to protect his family from nefarious characters, George Clooney's latest directorial effort is all about misdirection. Much like the idyllic suburban neighborhood that serves as the namesake for the film, there is a dark and morally reprehensible soul bubbling right beneath the surface. Suburbicon is one part social commentary and one part dry comedy, and it's surprising just how entertaining the movie can get.
Based on a script from the Coen Bros. (with a later draft written by Clooney and producing partner Grant Heslov), Suburbicon introduces audiences to what is a stereotypical suburban neighborhood in almost every sense of the word. But our story picks up right as Suburbicon is on the cusp of major change. The machinations that once fueled the town have started to give way to modern families, and things only get more disturbed, but poignant, from there. While there are larger themes at play, the core of the story is a family man named Gardner (The Martian's Matt Damon), his wife Rose (Julianne Moore from Still Alice), and their son Nicky (Noah Jupe from the upcoming Wonder).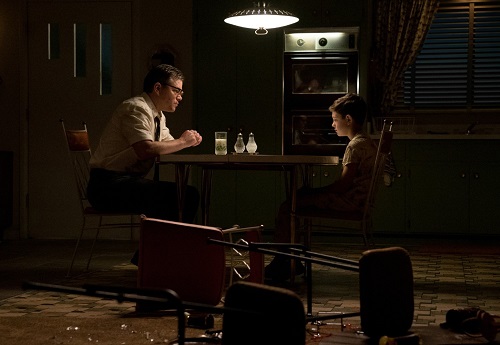 It's best to go into Suburbicon with as little knowledge about the film as possible. What it is safe to say is that the cast is top notch, from Matt Damon, to Julianne Moore, to smaller bit parts like Oscar Isaac's (Inside Llewyn Davis) Bud Cooper. There is a general sense that the actors buy into the material and they trust in their director. Suburbicon is not an easy movie to pitch or sell, but it succeeds because its actors never break character and wink at the audience. They are committed to this absurdist slice of Americana.
Special praise is also due Noah Jupe who is the naïve window through which the darker demons of Suburbicon reveal themselves. While the recognizable names are plenty familiar with Coen scripts, Jupe is a newcomer but he slides right in. Jupe is a big time talent and he shines in the film.
Though the larger narrative and themes of Suburbicon are enjoyable, the film does falter here and there. In a way, it feels like a lesser Coen Bros. film – one that has a lot of the same component parts but is missing that essential piece. By no means is a film that juggles suspense with comedy and social issues going to be easy, and there are likely to be some missteps along the way. Luckily, those slight flaws are overshadowed once Suburbicon hits its stride in the latter half.
Going into Suburbicon, you may be expecting one thing, but George Clooney's film delivers something completely unexpected. It's what you get when you peel back the polished veneer of suburbia and look at the real problems and issues that typify the time period. And then there is the murder and slapstick to give that extra twist of intrigue to it all. Suburbicon is a real treat.

A screenplay drafted from a script by the Coen Bros. already has an air of quality to it, and Suburbicon does its best to honor the prior screenwriters. Everything that you like about the Coens' dark comedies is well represented in the film, even if the biggest message of it all is a bit on the nose. It's funny, it's disturbing, and it has something to say, and that makes for a movie that rises above the traditional fall fare.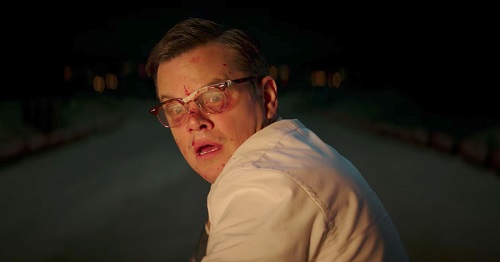 Cast and Crew
Director(s): George Clooney
Producer(s): George ClooneyGrant HeslovTeddy Schwarzman
Screenwriter(s): Joel CoenEthan CoenGrant Heslov
Story: 
Cast: Matt Damon (Gardner)Julianne Moore (Margaret)Oscar Isaac (Roger) Jack Conley (Hightower)Noah Jupe (Nicky)Glenn Fleshler (Ira Sloan)Megan Ferguson (June)
Editor(s): Stephen Mirrione
Cinematographer: Robert Elswit
Production Designer(s):
Costume Designer: Jenny Eagan
Casting Director(s): Ellen Chenoweth
Music Score: Alexandre Desplat
Music Performed By: 
Country Of Origin: USAUK