February is Women in Horror Month, and Cinema Fearité has been celebrating all month long.  First, we took a look at Mary Harron's American Psycho, then we checked out Mary Lambert's Pet Sematary.  This week, we're taking it all the way back to 1953 with Ida Lupino's noir thriller The Hitch-Hiker.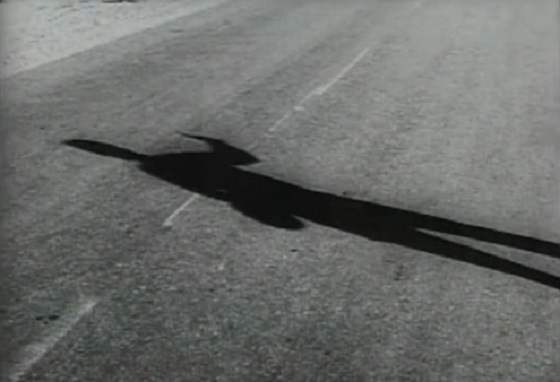 The Hitch-Hiker is about two buddies named Roy Collins and Gilbert Bowen (Edmond O'Brien from Fantastic Voyage and Frank Lovejoy from House of Wax) who drive down to Mexico for a weekend getaway to do some fishing.  Just over the border, they pick up a hitch-hiker who turns out to be a notorious killer named Emmitt Myers (William Talman from Hell on Devil's Island) who has just escaped from prison.  Myers has been hitching his way south, leaving a trail of death and destruction in his wake.  He abducts the two men in their own car and tells them that he will kill them as soon as they are of no further use to him.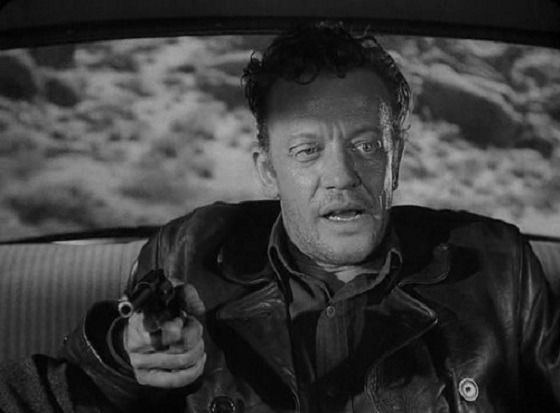 Ida Lupino was better known as a golden-age Hollywood actress, but she absorbed everything she could about filmmaking from being on set, so she also had a healthy career behind the camera, working mostly as a television director on shows like "The Twilight Zone," "Alfred Hitchcock Presents," and "Thriller."  Written by Lupino and her ex-husband, producer Collier Young ("Ironside"), The Hitch-Hiker was one of the Renaissance woman's earliest movies.  It's a very simple story, with just the three characters sharing the screen for most of its running time and much of the action taking place inside and around a single car.  It has a strong film noir sensibility about it, so it comes off as almost a police drama, only without the police.
Because it begins with a title card that warns the viewer that what they are about to see is based on real events, The Hitch-Hiker has the aroma of an "edu-sploitation" movie.  Unlike what Mary Harron did with American Psycho, Ida Lupino chose to portray her male characters as hard-boiled manly men, almost overly masculine caricatures, which only goes to further the exploitative element.  Of course, Emmitt Myers is the alpha male, but only because he's got the gun; Roy and Gilbert are every bit as macho and tough-guy as their captor, scheming of ways to overpower him even as Myers verbally dares them to try it.  There's a lot of testosterone in The Hitch-Hiker, right up until the goofy fist-flying climax.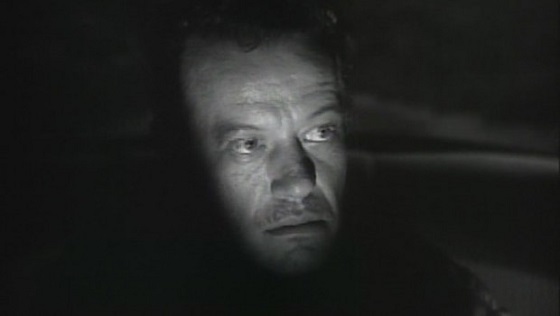 The Hitch-Hiker may be full of corny machismo, but that doesn't mean that it's not genuinely scary.  The character of Emmitt Myers has a face that is half paralyzed with one stagnant eye, so right from the get-go, he's creepy looking.  At one point, as he toys with Roy and Gilbert, he tells them that they won't even be able to tell if he's asleep or awake because of that one eye that never closes.  His demeanour is absolutely chilling as he seems to plant the seed in the guys' heads like he's half hoping that they'll try something so he can justifiably retaliate.  For the adrenaline junkies, there's a nail-biting scene where Myers chases after the guys with the car, coming very close to running them down.  It may wear the disguise of a tough-guy crime drama, but The Hitch-Hiker has its share of freaky, frightening moments.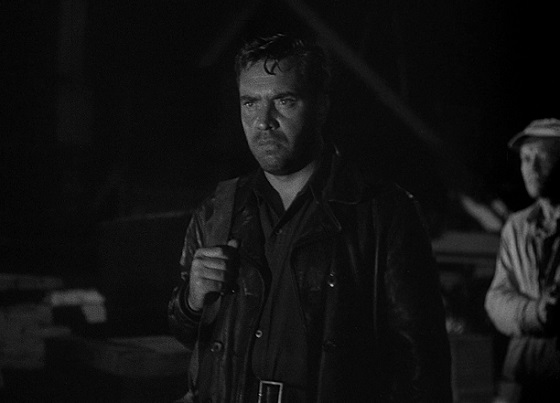 Shot by cinematographer Nicholas Musuraca (Cat People, The Ghost Ship), The Hitch-Hiker is the very epitome of a film noir movie.  The photography is full of pockets of light tucked away in deep shadows, giving the film a high-contrast look that is mysterious and spooky.  A perfect example of this happens when the guys first pick Myers up.  The killer is sitting in the darkness of the backseat, the shadows completely enveloping his face, until he leans forward into the light and the hostages get a look at the man who will make the rest of their trip a living nightmare.  Musuraca's masterful cinematography keeps the movie dark, even when the overly manly dialogue and awkwardly choreographed action scenes try to take it somewhere else.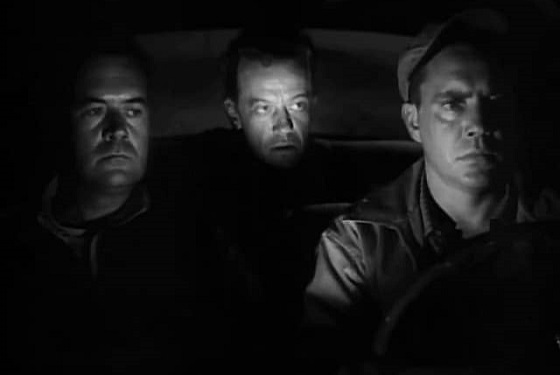 The musical score for The Hitch-Hiker was composed by Leith Stevens, who also did the stock music for other fifties classics like The Werewolf and Earth vs. The Flying Saucers.  Naturally, the music is over-the-top and melodramatic, with shouting horns and screaming strings.  There's very little subtlety to the music, so it's got a larger-than-life generalness to it – it almost could be stock music itself, and who knows?  Maybe it has been used as stock music in the decades since.  Maybe it's even been recycled by Stevens himself in one of his many cinematic projects.  Anyway, if one was going to lift a musical score from a fifties movie to use on their own, they could do a lot worse than The Hitch-Hiker.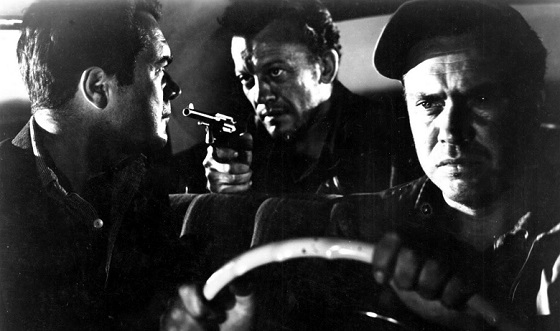 Ida Lupino never considered herself a feminist, just a filmmaker.  Her crew members claimed that she knew more about the filmmaking process than any other director in Hollywood, man or woman.  Her competence as a storyteller was always firmly on display, whether she was directing a classic episode of "Gilligan's Island" or a tense film noir thriller like The Hitch-Hiker.