The setting in which a horror movie takes place is integral to the effectiveness of the scares; haunted houses, insane asylums and dark forests are much more threatening than bright, sunny suburban neighborhoods. Yet, when an innocent place becomes the scene of terror, it can be doubly frightening. In 1982, a Canadian film from the golden age of slashers showed that not even a hospital, a place of healing and curing, is exempt from evil in Visiting Hours.
Michael Ironside (The Machinist) is Colt Hawker, a misogynistic psychopath who kills women and, while they are suffering through their last minutes, photographs them.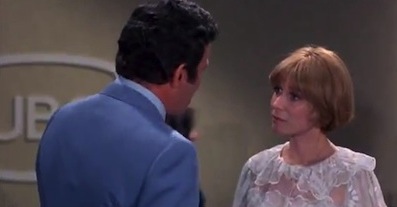 He is particularly offended by a newswoman named Deborah Ballin (Lee Grant from Mulholland Dr.), a feminist who uses her television show to bring publicity to the case of a convicted victim of domestic abuse who has been unjustly jailed for killing her husband. Hawker attacks Deborah, leaving her wounded but alive. She is rushed to a hospital, where she is kept for treatment. Hawker continues to stalk Deborah in the hospital, and when she tries to warn her boss/boyfriend Gary (Captain Kirk himself, William Shatner) and her nurse Sheila (Linda Purl from "Happy Days"), they just think that she's being paranoid. Knowing Deborah's commitment to women's rights, Sheila takes it upon herself to take care of her, and when Deborah's room is changed and the woman who is moved there ends up dead,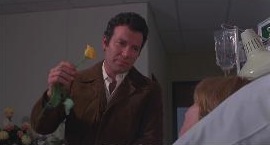 Sheila begins to believe the paranoid ramblings. Unfortunately for Sheila, Hawker has taken an interest in her as well, and starts stalking her and her children. Together, the women must find a way to survive Hawker's attacks until he can be stopped.
On the surface, Visiting Hours appears to be a simple slasher film. Directed by Jean-Claude Lord (Eddie and the Cruisers II: Eddie Lives!) and written by Brian Taggert (Poltergeist III), it seems like, at best, a unique entry into an already flooded genre and, at worst, a rip-off of Halloween II which was released a year earlier and was also set primarily in a hospital. When the layers are peeled back, however, and the subtext is looked at, Visiting Hours is a fascinating little film.
The main characters in Visiting Hours strike an interesting dichotomy. On one hand, the heroines are both strong, independent women. Deborah is a woman's rights activist and a domestic violence awareness champion. Sheila is a single mother who, with the help of her (female) nanny, is raising her children without their father's help.
Neither needs a man, and it's a good thing; the men in Visiting Hours are a joke. Gary is pretty much of a buffoon, and the police officers do more harm than good, so the women end up on their own. Deborah and Sheila are the prototypes for the strong final girls that will come around later in slasher films, heroines like Nancy Thompson from A Nightmare on Elm Street and Sidney Prescott from Scream.
Then there's Colt Hawker. Hawker is an archetypical misogynist; his father beat his mother and she fought back, scarring the father for life, and giving the impressionable Hawker the viewpoint that all women are evil. In his initial assault on Deborah, Hawker hides in her home wearing nothing but her jewelry, a tactic that implies the repressed homosexuality that often accompanies misogyny.
Make no mistake: Hawker means business when he kills and maims women, and his trophy photos of his killings illustrate that he has pride in his work. His multiple attempts at getting to Deborah in the hospital prove that, although he may not be the most effective killer in cinematic history, he is definitely one of the most persistent. In Visiting Hours, the struggle between feminist and misogynist replaces the fight between good and evil.
Although Jean-Claude Lord has limited experience in the horror genre (sometimes it seems like Hollywood let every director make a slasher in the early eighties), he has learned well from the masters. Visiting Hours comes off as the rare combination of suspense/slasher that was invented by Alfred Hitchcock with Psycho and perfected by Brian De Palma with Dressed to Kill and Body Double. The fact that the killer is known from the beginning helps out with the show-them-the-bomb suspense formula, and the fact that Deborah knows that Hawker is after her provides a pinch of paranoia to the mix. While Lord is never going to be mistaken for Hitchcock (or even De Palma), Visiting Hours shows that he can at least adapt to the script that is provided to him and make an effective film.
Among its contemporaries in the golden age of slashers, Visiting Hours is a forgettable film that has relished on late night cable and, more recently, Netflix streaming. It's not exceedingly gory and the body count is relatively small, but a quick watch will show, however, that it is much more than just a movie with Captain Kirk in a hospital.
**Watch Visiting Hours now via instant streaming on Netflix.**