Synopsis: Hazel and Gus are two extraordinary teenagers who share an acerbic wit, a disdain for the conventional, and a love that sweeps them – and us – on an unforgettable journey. Their relationship is all the more miraculous, given that they met and fell in love at a cancer support group. The Fault In Our Stars, based upon the number-one bestselling novel "The Fault in Our Stars" by John Green, explores the funny, thrilling and tragic business of being alive and in love.
Release Date: June 6, 2014     MPAA Rating: PG-13
Genre(s): Romance, Drama
Film Review

Within the first few moments of The Fault in Our Stars, narrator and main character Hazel Lancaster (Shailene Woodley from Divergent) warns viewers that her story is not the typical teenage drama. There is no happy ending for Hazel, who is forced to lug an oxygen tank everywhere she goes, but there is the promise of happy moments. And so rather than wallow in the misery that must exist for a 17-year-old girl with terminal cancer, The Fault in Our Stars chooses to paint an honest portrait of Hazel's life, from its soaring highs to its devastating lows. The film is by no means an easy watch, but there's a lot to enjoy about The Fault in Our Stars, from its strong leads to its earnest storytelling, so much so that, despite all of the emotionally draining events in Hazel's life, you come away inspired by these characters.
While Hazel's life could have had many endings, it truly begins when she meets cancer survivor Augustus Waters (Ansel Elgort, also from Divergent). Unlike Hazel, who spends most of her days as a recluse, watching TV with her mom or re-reading her favorite novel for the umpteenth time, Gus faces each day with a blissful exuberance. The two meet at a support group for teens with cancer, and while both feel a connection, Hazel tries her best to keep Gus at arms' length. Although she clearly enjoys her time getting to know Gus, and Gus clearly wants more than a simple friendship, Hazel is acutely aware that she's not long for this world and would rather hurt as few people as possible when the time comes. Still, Gus' affections for Hazel never waver, and eventually the two form a bond that, while formulaic in the sense that this is a boy chases girl story, never shies away from the harsh realities of these character's lives. Real life is messy. Real relationships are messy.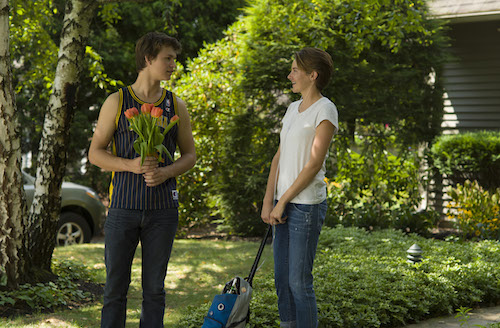 Although some may look at The Fault in Our Stars as an endless barrage of sadness, it's depiction of Hazel and Augustus' unconventional relationship is refreshing. Getting through the film is easier said than done, and likely will have plenty of audience members in tears by its conclusion, but the journey is such that you find uplifting moments in even the most dire of circumstances. Most of all, The Fault in Our Stars succeeds because it never indulges the common Hollywood tropes. This is young love at its most fragile, but also at its most authentic.
With characters that stay with you and a story that feels essential for modern audiences, The Fault in Our Stars is a teenage drama that bucks the trends of the genre in favor of brutal honesty. It depicts life simply as it is – without sentimentality and without worry for hitting a tonal base line. Oftentimes life can throw a series of curveballs that you simply can't prepare for, and The Fault in Our Stars never shies away from that fact. The film is by no means an unbearably bleak affair – there's plenty of levity and heart to this story – but it's best to go in prepared. Still, with fantastic performances from its main leads, a poignant story, and a fresh approach to what is, in some regards, an old formula, The Fault in Our Stars should not be missed.

If there is one major criticism to be raised against The Fault in Our Stars it's that the story itself meanders quite a bit, and as a result it struggles to adequately establish Hazel and Gus' initial connection. They share a few common interests and the film uses subtle clues to tell us that the two are falling for each other, but it isn't initially believable.
That being said, the script from Scott Neustadter and Michael Weber (The Spectacular Now, (500) Days of Summer) is poignant and modern, and feels brutally authentic. These two writing partners continually find new ways to frame love stories in a modern context, and with real, relatable characters. Sure, at times their dialogue gets a little too flowery for certain characters, but that doesn't diminish the meaning behind those words. The Fault in Our Stars has a lot to say about death, dying, love, life, parenthood, and art, and it frames those ideas beautifully. There are some truly great scenes in The Fault in Our Stars that should become important touchstones for teenage dramas moving forward.

The acting in The Fault in Our Stars is stellar across the board, most especially from leads Shailene Woodley and Ansel Elgort. As Hazel and Gus, the two young actors deliver performances that are second to none. Portraying such dynamic characters, and with weighty baggage, was no easy task, but the two make it seem effortless. Woodley portrays Hazel as this defeated soldier who, through her relationship with Gus, finds new hope in a life with a definitive and looming conclusion. And Elgort ensures that Gus serves as the perfect counterbalance – an endlessly upbeat and vibrant boy whose fragility lies just below the surface. Without Woodley and Elgort, The Fault in Our Stars would not have worked.
Cast and Crew
Director(s): Josh Boone
Producer(s):
Screenwriter(s): Scott NeustadterMichael H. Weber
Story: 
Cast: Shailene Woodley (Hazel)Ansel Elgort (Gus)Nat Wolff (Isaac) Laura Dern (Frannie)Sam Trammell (Michael)Willem Dafoe (Van Houter)Lotte Verbeek (Lidewij)
Editor(s): Robb Sullivan
Cinematographer: Ben Richardson
Production Designer(s):
Costume Designer: 
Casting Director(s): 
Music Score: Mike Mogis
Music Performed By: 
Country Of Origin: USA