Synopsis: Jason Bateman (Identity Thief) makes his feature directorial debut with the subversive comedy Bad Words. Mr. Bateman stars as Guy Trilby, a 40-year-old who finds a loophole in the rules of The Golden Quill national spelling bee and decides to cause trouble by hijacking the competition. Contest officials, outraged parents, and overly ambitious 8th graders are no match for Guy, as he ruthlessly crushes their dreams of victory and fame. As a reporter (Kathryn Hahn of We're the Millers) attempts to discover his true motivation, Guy finds himself forging an unlikely alliance with a competitor: awkward 10-year-old Chaitanya (Rohan Chand of "Homeland"), who is completely unfazed by Guy's take-no-prisoners approach to life.
Release Date: March 14, 2014     MPAA Rating: PG-13
Genre(s): Comedy,
Film Review

Jason Bateman's choice of Bad Words for his directorial debut is the closest one could get to a safe bet. Oftentimes directing and starring in a film is a risky proposition, but Bateman – well aware of those risks – has smartly selected a film that plays to most of his strengths and none of his weaknesses. In essence, his role as director has helped assure his role as actor will go smoothly. Moreover, Bad Words' lead character, Guy Trillby, is a role Jason Bateman was born to play, so who better to cast him in that role than himself?
Convoluted dissection or self-reflexive casting aside, Bad Words is a foul-mouthed comedy with a bit of heart; a charming film that rises above its gimmicky premise rather than using it as a total crutch. It never oversteps its bounds or outstays its welcome either, knowing when to rein it in and when to go after the big laugh. And ultimately, the film is a success for both Bateman the actor and Bateman the director.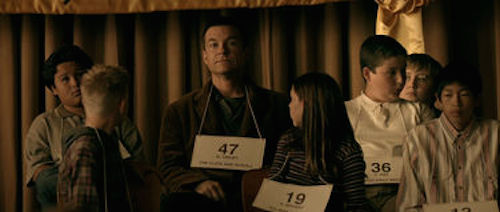 Jason Bateman plays Trillby as a bitter, sardonic Spelling Bee whiz far too old for the national competition. But, a nifty loophole in the competition's rules allows Trillby to compete in this year's event, albeit with mischievous intentions beyond the giant check and trophy. Rather, Trillby's goal is to flip the entire fictional Spelling Bee institution on its head, even if that means defiling a few virgin ears along the way.
That initial premise, obscene adult rubs elbows with naive children, is in and of itself a major selling point for Bad Words. And the film serves up its comedy in a take it or leave it fashion. Either you find Jason Bateman's epithets and hate speech towards 10-year-olds funny or you don't. As a result, audiences will either be on board for the entire run time or they will write the film off immediately. There is some redemption in Trillby's future, but those more heartwarming moments come after the character has proved himself to be a very rotten apple.
While Bad Words isn't as successful juggling the filthy with the heartwarming as well as, say, Bad Santa, it's still a cute little film. It doesn't overstep its bounds, and there are some genuine spots of humor peppered throughout. More importantly, Bateman has found a talented set of young actors to fill out his cast. Of particular note is Rohan Chand who plays Trillby's Spelling Bee confidant/major competitor in the film, Chaitanya Chopra. Without Chand's portrayal of Chaitanya's plucky demeanor and unbridled enthusiasm, Bad Words would have been an hour and a half of Jason Bateman cursing at kids. With him, however, Bad Words is able to deliver some genuine heartwarming moments to counterbalance the endless obscenities. Similarly Bad Words' adult cast members, from Allison Janney to Kathryn Hahn, perform well in their respective roles. There are some true pros from the indie scene here, and they help Bateman shine as both director and actor.
Bad Words hits the mark more often than it doesn't, and is a solid first outing for Bateman as director. The film won't be a revelation, as it mostly plays out as you would expect, but it packs enough laughs, most of them of the crude or raunchy variety, that it's worth recommending. Bad Words even has a surprisingly sweet side to it, that serves to counterbalance the overly bitter outlook Bateman's character has on the world. The film is inoffensive in that it doesn't try to step too far out of its bounds, especially with regards to Bateman's comfort zone as a director. Sure, it's a straightforward R-rated comedy, but it has a clever premise and a solid cast. That alone makes it worth checking out.

For Jason Bateman's freshman effort, Bad Words is a surprisingly well-made film. Its comedic timing and sensibilities are sharp, but the film also has a great sense of style to it, highlighted by a lot of earthy tones and flat cinematography. The filmmaking highlights the mundane nature of the Spelling Bee, but at the same time shows that Bateman has learned a few tricks over the years. To be fair, he likely had an easy road, as the cast is mostly comprised of comedic veterans, but the fact that Bateman got some excellent performances out of the film's child actors is his most impressive feat.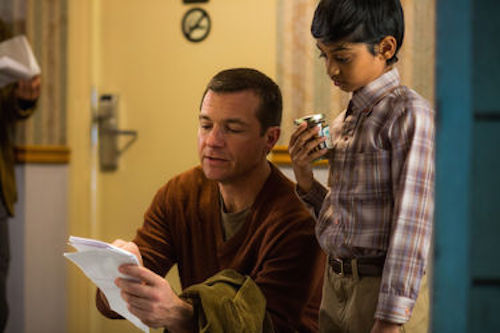 Ultimately, Bateman's work behind the camera on Bad Words, much like his work in front, plays it pretty safe with some flashes of genuine creativity popping up every now and again. He certainly has earned the right to do it again, but it will be interesting to see how far away from his comfort zone Bateman goes next time.

Bad Words lives and dies with its humor. There are plenty of laughs to be had, but they mostly feature obscenity-laced rants in the presence of children. In other words, if that type of thing doesn't sound up your alley, then it's best to avoid Bad Words. On a similar note, if Jason Bateman's shtick wore off on you some time between "Arrested Development" and The Change-Up don't expect this film to change your mind. Rather than try for something completely different, Bateman the director doubles down on the strengths of Bateman the actor. So, make of that what you will. The movie's humor is strong enough that the laughs hit early and often. They may not be totally original, but the jokes work in this context – and that's all that matters.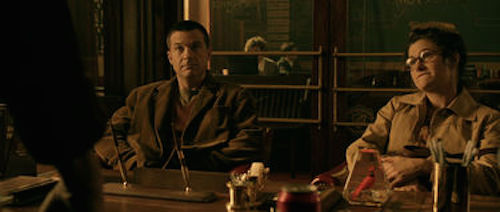 Cast and Crew
Director(s): Jason Bateman
Producer(s):
Screenwriter(s): Andrew Dodge
Story: 
Cast: Jason Bateman (Guy Trilby)Kathryn Hahn (Jenny Widgeon)Amanda Anka (National Public TV Narrator) Rohan Chand (Chaitanya Chopra)Allison Janney (Dr. Bernice Deagan)Ben Falcone (Pete Fowler)
Editor(s): Tatiana S. Riegel
Cinematographer: Ken Seng
Production Designer(s):
Costume Designer: 
Casting Director(s): 
Music Score: Rolfe Kent
Music Performed By: 
Country Of Origin: USA