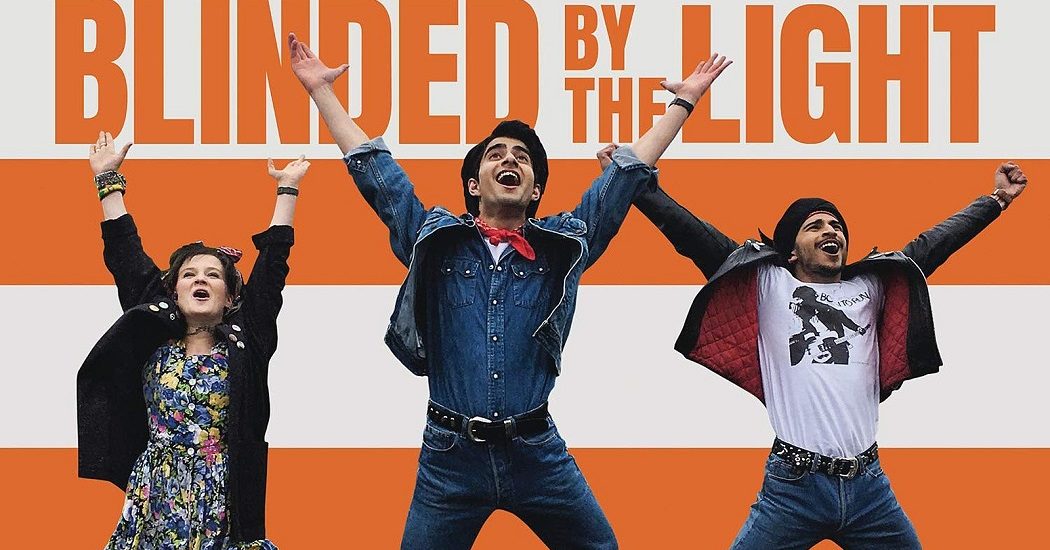 Blinded by the Light Review
Like the lyrics that inspired it, 'Blinded by the Light' is the most unpretentious and genuine movie of the year.
Release Date: August 16, 2019
In 1987 during the austere days of Thatcher's Britain, a teenager learns to live life, understand his family and find his own voice through the music of Bruce Springsteen.
Director: Gurinder Chadha
Screenwriters: Gurinder Chadha, Paul Mayeda Berges, Sarfraz Manzoor, Bruce Springsteen
Producers: Jane Barclay, Gurinder Chadha, Jamal Daniel
Cast: Viveik Kalra (Javed), Kulvinder Ghir (Malik), Meera Ganatra (Noor), Aaron Phagura (Roops), Dean-Charles Chapman (Matt), Nell Williams (Eliza), Nikita Mehta (Shazia), Tara Divina (Yasmeen), Hayley Atwell (Ms. Clay)
Editor: Justin Krish
Cinematographer: Ben Smithard
Production Designer: Nick Ellis
Casting Directors: Susie Figgis, Kirsty Kinnear
Music Score: A.R. Rahman

So far, this has been a banner year for classic rock music in movies. We've gotten the Elton John biopic Rocketman and the alternate-timeline Beatles picture Yesterday. And now, we've got a pretty cool little tribute to Bruce Springsteen in Blinded by the Light.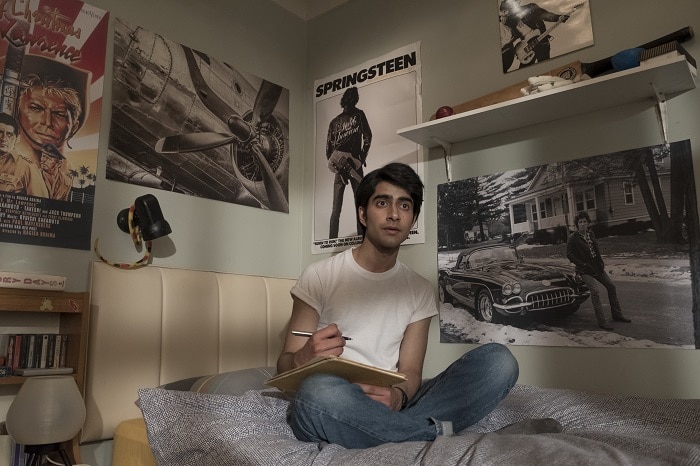 Set in the mid-eighties, Blinded by the Light is about a Pakistani teenager named Javed Khan (Viveik Kalra from "Next of Kin") whose family lives in Great Britain. Javed is an aspiring writer, crafting his poems into lyrics that his buddy, Matt (Dean-Charles Chapman from Before I Go to Sleep and "Game of Thrones"), turns into songs for his band. Javed's father (Kulvinder Ghir from "Goodness Gracious Me"), however, would rather the boy study economics.
One day at school, Javed meets Roops (Aaron Phagura from "Informer"), a Sikh boy who turns him on to the music of Bruce Springsteen. The Boss' lyrics provide Javed with the inspiration he needs to pursue his writing, and even gives him enough confidence to attract a girlfriend named Eliza (London Town's Nell Williams). But at home, he still has to deal with his old-school father. And don't forget that it's Britain in the eighties, where the National Front made life hard for immigrants, particularly ones from Pakistan.
Blinded by the Light is based on the book Greetings from Bury Park by journalist/documentary filmmaker Sarfraz Manzoor ("Artsnight"). It's essentially a true account of Manzoor's formative years as a Pakistani teenager in Great Britain and how the words and music of Bruce Springsteen spoke to him. Manzoor adapted the book for the screen himself along with writer Paul Mayeda Berges and director Gurinder Chadha (the husband/wife filmmaking team behind Bend it Like Beckham), so it's a powerfully personal movie, but it's also very accessible to outsiders. You don't need to be a big Springsteen fan to enjoy Blinded by the Light, but it will help.
Because of the economic and racial turmoil of the era, there's a constant undercurrent of seriousness to Blinded by the Light, but the film has enough retro campiness to offset any real gravity. At one point in the movie, Javed and Roops are bullied out of their seats at a pizza place by a handful of intimidating skinheads, and the boys come right back by reciting Bruce lyrics to them as they make their escape. Improbable? Sure. But it's better than watching Javed and Roops get the piss beaten out of them.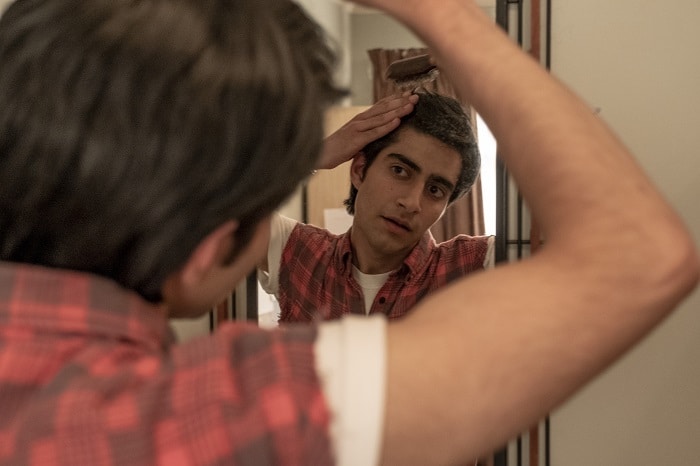 For all of the silliness of the film (or perhaps because of it), Blinded by the Light is probably one of the most unpretentious and genuine movies that will be released this year. Like the lyrics that inspired it, the movie is completely honest about both its intentions and its leanings. In fact, in some ways, it's downright heavy handed. And the characters do break into song quite frequently, but unlike something like, say, Rocketman, the musical sequences in Blinded by the Light come complete with crowds that react to the singing, sometimes with laughter and sometimes with encouragement, but always in a way that feels real. It's more of a flash mob kind of a deal than a West Side Story thing, which makes it more palatable for the non-musical fans. 
Blinded by the Light is a rare combination of entertaining and inspiring. Audiences will laugh and sing, but they'll also leave the theater wanting to go and write a poem or a song. Or at least encourage someone else to write a poem or a song.

Of course, no movie about the music of Bruce Springsteen could have been made without the blessing of The Boss himself, and Springsteen, a fan of Manzoor's book, gave it to Blinded by the Light. With this, Springsteen also gave Gurinder Chadha full access to his entire catalog of music. Smartly, though, Chadha mostly chose the hits and classics for the film. From Javed's first listening to "Dancing in the Dark" (with lyrics appearing onscreen as he hears them "Sesame Street"-style) to his putting on "Hungry Heart" when he and Eliza are making out, the familiar FM radio music of Springsteen is, predictably, all over the movie. If the viewer isn't a Bruce fan when they go in, they'd be hard pressed to not be one when they leave.
The spoken lyrics (and the inclusion of the superimposed words in some places) really drive home the poetry and imagery in Springsteen's songs. The Boss has always been much more than just a songwriter, and the listener can practically see the dirty streets and colorful characters in the songs, even when they're transposed to Luton, England instead of Asbury Park, New Jersey. During one scene, Javed, Roops, and Eliza are running around the city singing and dancing to "Born to Run," and as silly as the number is, lines like "the highway's jammed with broken heroes on a last chance power drive" and "beyond the Palace hemi-powered drones scream down the boulevard" still manage to raise goosebumps. And when the characters gleefully jump into the air after the famous "ONE, TWO, THREE, FOUR!" that takes the song out of its musical bridge, the audience feels like jumping along with them.