Synopsis: A teenage Leatherface escapes from a mental hospital with three other inmates, kidnapping a young nurse and taking her on a road trip from hell, while being pursued by a lawman out for revenge.
Release Date: October 20, 2017     MPAA Rating: PG-13
Genre(s): Horror, Thriller
Film Review

There are few horror franchises as beloved as that of The Texas Chain Saw Massacre. There have been sequels, prequels, and remakes, all with varying degrees of success and effectiveness, but even the duds have fans that will defend them until the end. Those fans' resolve will be tested with Leatherface, as it represents a new low for the storied series.
Set well before the events of the original The Texas Chain Saw Massacre, Leatherface begins with Jedidiah Sawyer, the young son of Verna Sawyer (The Conjuring's Lili Taylor), being taken away from his family by vengeful Texas Ranger Hal Hartman (Stephen Dorff from The Gate) because, well, the family is full of psychotic murderers. The child is placed in a mental hospital/orphanage called Gorman House where he is given a different name and grows up, unaware of his roots.
The kicker is that no one, including the audience, knows which inmate in the asylum is Jed Sawyer. Ten years later, crazy couple Ike and Clarice (James Bloor from Dunkirk and Jessica Madsen from "Tina and Bobby"), along with fellow inmates Jackson (Sam Strike from "EastEnders") and Bud (Sam Coleman from "Game of Thrones"), stage an escape from Gorman House, taking a young nurse named Lizzy (It Came from the Desert's Vanessa Grasse) hostage along the way. The troupe goes on a murderous rampage throughout the Texas countryside that will only end with Jed Sawyer…whoever he may be…making his way home to his mother.
Leatherface was directed by Alexandre Bustillo and Julien Maury (the duo behind Inside and Among the Living) from a screenplay written by Seth M. Sherwood (London Has Fallen). Tobe Hooper and Kim Henkel are given "based on characters created by" credits, but Leatherface has very little – if anything – to do with The Texas Chain Saw Massacre. It tries to be an origin story (even though fans already got that in 2006 with The Texas Chainsaw Massacre: The Beginning), but comes off as more of a subliminal whodunit, with the question as to which hooligan will grow up to be Leatherface always in the back of the viewer's mind. And it's a tough read, because there isn't a likeable character in the whole film. Not one.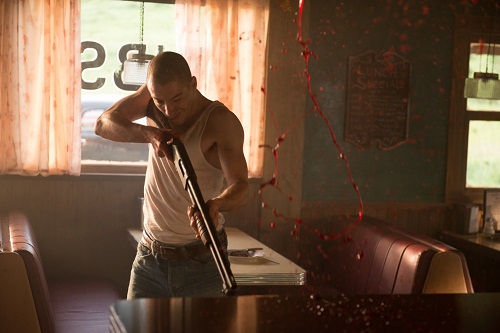 With a few little tweaks (and one major rewrite), Leatherface could be a cool brutality-on-the-run movie along the lines of Natural Born Killers or The Devil's Rejects. Unfortunately, it is unjustly forced into trying to fit the mold of a prequel to one of the most iconic movies ever made, and it does not work in that context at all. At best, it comes off as cheap fan fiction that happened to luck into getting Lili Taylor and Stephen Dorff to star in it (seriously, how did that happen? Did they each lose a bet or something?). Congratulations, Texas Chainsaw Massacre: The Next Generation, you are no longer the worst movie in the Texas Chainsaw franchise. Leatherface is the new champ.

Because it's a supposed prequel to one of the scariest movies ever made, Leatherface is obviously going to draw comparisons to The Texas Chain Saw Massacre, and of course, it's going to come up short, because it's an inferior film. But even without the lofty goal, Leatherface doesn't have a lot of scares in it. To its credit, Leatherface doesn't rely on cheap jump scares, but it also doesn't have the hyper-realistic gritty docudrama vibe of The Texas Chain Saw Massacre. The direction that Leatherface decides to take is, predictably, one of torture-porn brutality that goes for the cringeworthy grossout rather than inspiring any real terror. Sure, Lili Taylor brings a horrifying hook to the mother character, and Stephen Dorff's lawman is the type of character that makes the audience wonder who the real good guy is in the film (spoiler: there isn't one). But most of the horror in the film can be summed up in a single scene where Clarice has a threesome with Ike and a corpse. Yeah, Leatherface is that kind of movie.
Cast and Crew
Director(s): Alexandre Bustillo
Producer(s): Christa CampbellLati GrobmanCarl MazzoconeLes Weldon
Screenwriter(s): Seth M. SherwoodTobe HooperKim Henkel
Story: 
Cast: Lili Taylor (Verna Sawyer)Stephen Dorff (Texas Ranger Hal Hartman)Finn Jones (Deputy Sorrel) Nicole Andrews (Tammy)Vanessa Grasse (Lizzy)Sam Strike (Jackson)Sam Coleman (Bud)Jessica Madsen (Clarice)James Bloor (Ike)Boris Kabakchiev (Young Jed)
Editor(s): Sébastien de Sainte Croix
Cinematographer: Antoine Sanier
Production Designer(s):
Costume Designer: Ima Damyanova
Casting Director(s): Jeremy Zimmermann
Music Score: John Frizzell
Music Performed By: 
Country Of Origin: USA