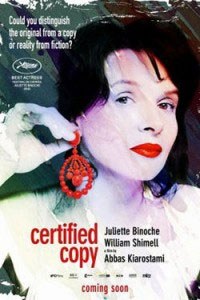 Certified Copy is a movie about its ideas more than about its plot or even its characters. Director Abbas Kiarostami
is renowned for utilizing the tight spaces of everyday life, like the insides of cars, to give us scenes of daily life unfolding at its natural pace. Couples talk, their conversations full of pauses, hesitations, parried opinions and careful retractions. The naturalism and improvisation in Certified Copy speak to a larger issue of the power of reality vs. fiction. Are the actors really improvising their dialogue or is it written and directed in such a way as to give that impression? What is the value of a reproduction? Can you "reproduce" love? Can a relationship survive on the remnants of its original intent alone? Kiarostami raises more questions than he answers in this playful and masterfully conceived movie about the legitimacy of affection and artifice.
Take the opening scene. The first shot is of a table, on which sits a book, "Copie Conforme" ("Certified Copy"), and nothing else. We are at a lecture for this book but the speaker is absent. The camera holds the angle, not cutting away to the conversations we hear all around us. Finally, the speaker enters the frame. He is James Miller (opera singer William Shimell in his first screen role), the British author of "Copie Conforme," a book on the value of reproduced works of art. Now, the film expands its viewpoint; we get an angle on the audience where we see an unnamed woman enter the lecture hall and take a seat in the front row. She (or "Elle," in French) will remain unnamed and is played by Juliette Binoche. Elle is toting a shaggy-haired son, who, engrossed in a handheld video game, sulks in the corner of the hall, totally bored with the man giving the lecture and his mother, still listening intently. Kiarostami gives us three angles, one at a time, each introducing a character, but resisting the standard shot/reverse/shot rhythms of conventional filmmaking. Consequently, we are unsure of the relationship between Elle and James or James and the son. Only after the lecture do we learn Elle is an antique dealer, which explains her interest in James' lecture. She sells reproductions for a living.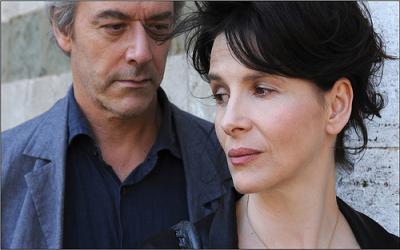 But the relationship between the two is never as easy as it seems. James and Elle spend the day together, walking, talking, and driving around Tuscany. Do they know each other, or are they strangers who've just met? Kiarostami, who also wrote the script, never fully embraces an explanation, leaving it up to the viewer to decide what these people know, or don't know, about each other's lives.
Certified Copy never gives you the real thing; or if it does, it never gives it explicitly. James and Elle are always arguing separate points, clashing over ideologies, viewpoints, and philosophies—every facet of their personal and professional lives. The film never situates your allegiances to either character; at different times you find yourself agreeing with one but moments later may side the other way. This is a shifty and slippery film that challenges the viewer as much as the characters challenge each other.
There have been many films about attractive people wandering through Europe, probing life's most enticing mysteries while falling in love. This subgenre has more recently been co-opted by Americans-in-Paris travelogues like Richard Linklaters' Before Sunrise
and its sequel Before Sunset
. Kiarostami knows this. He plays up the ambiguity in Certified Copy as a sly response to a history of the subgenre, at once acknowledging the filmic stereotype of sexy, free-spirited Europeans waltzing through sun-drenched cities and falling in love, while subverting our expectations visually.
For example: In a restaurant scene, a female waitress whispers something in Binoche's ear that we can neither hear nor see. She reacts in such a way that affects the tenor of the rest of the movie. But we will never know its importance. In another scene, we can see a man and a woman standing next to each other. The man, it appears, is screaming at his wife. We assume an argument. With a simple change in perspective, Kiarostami reveals the man to be talking on a hands-free cell phone, his wife merely listening. The director's use of deep space, of obstructive objects in the foreground, and of reflective surfaces like windshields and mirrors, provide many ways to hide in plain sight.
The film is constantly establishing perspectives only to reveal them false. Kiarostami plays with the form of cinema, what we can see and what we cannot see, using single long takes that develop an idea visually, allowing the scene to evolve organically over time. Characters enter and exit the scene: as James and Elle react to the shifting landscape, so do our perceptions as a viewer.
Nothing much happens in Certified Copy, which is its charm. Despite an obvious lack of narrative complication, the film builds to an emotionally shattering climax. It is here that we understand the weight and import of James and Elle's relationship. Juliette Binoche, whose performance won Best Actress at the 2010 Cannes Film Festival, is devastating in the film's final moments.
Certified Copy is sure to provoke a strong response in anyone who sees it. I was captivated; some people are sure to be bored. But in Kiarostami, we have a witty, provocative filmmaker indulging in beautiful photography and visually clever technique to produce a sweet and satisfying romance. It may not appeal to everyone, but Certified Copy is the first essential film of 2011.