Synopsis: Set in the 1930s, a young Bronx native moves to Hollywood where he falls in love with the secretary of his powerful uncle, an agent to the stars. After returning to New York he is swept up in the vibrant world of high society nightclub life.
Release Date: July 22, 2016     MPAA Rating: PG-13
Genre(s): Comedy, Drama
Film Review

For the past fifty years, writer/director/cinematic auteur Woody Allen has been one of the more consistent filmmakers, pumping out a movie every year, just like clockwork. The last couple of them – 2015's Irrational Man and 2014's Magic in the Moonlight – were even pretty good. This year's offering, Café Society, keeps that trend going; it's pretty good, too.
Set in the 1930s, Café Society is about a young man named Bobby Dorfman (Jesse Eisenberg from The Social Network and Louder Than Bombs) who leaves his home in New York City to go and work in Los Angeles with his uncle, a big Hollywood agent named Phil Stern (The Big Short's Steve Carell). When Bobby gets to town, Phil asks his secretary, Vonnie (Kristen Stewart from the Twilight movies), to show his nephew around. Of course, Bobby falls for Vonnie, but she has a mysterious "other" man in her life. Bobby navigates the seas of love and friendship as he adjusts to life in his glittering new town.
Of course, there's a lot more to Café Society than that, but the movie unfolds slowly and deliberately, and to say more would give away some of the fun surprises. Café Society is vintage Woody Allen, full of dry humor, quirky romance, and witty intrigue. It's essentially the bittersweet story of a love triangle, but it mixes in elements of old Hollywood magic, backstabbing mistrust and betrayal, and even a dash of some old-fashioned gangster stuff. Allen smartly shows both the sparkling topsoil and the seedy underbelly of 1930s Los Angeles. And, because it's a charming period movie, there are plenty of snazzy costumes and fun musical interludes mixed in with all of the twists and turns of the plot.
Like most of Woody Allen's movies, you pretty much know what you're going to get with Café Society. And, also like most of Woody Allen's movies, you already know if you're going to like it. If you enjoy the auteur that is Woody Allen, then Café Society is for you.

The humor in Café Society is very typical of the Woody Allen style of comedy, full of dry, deadpan witticisms and clever, hilarious observations. The laughs are almost exclusively provided by the crafty, rapid-fire, matter-of-fact dialogue, which is another trademark of the Woody Allen formula – one can almost hear Allen's own voice speaking when the characters, particularly Bobby, are delivering their lines. It's the kind of humor that takes a second to land, the type that needs time to sink in, and even then, you're not totally sure why you're laughing, but you know it's funny. You know, Woody Allen comedy. Don't blink or you'll miss it.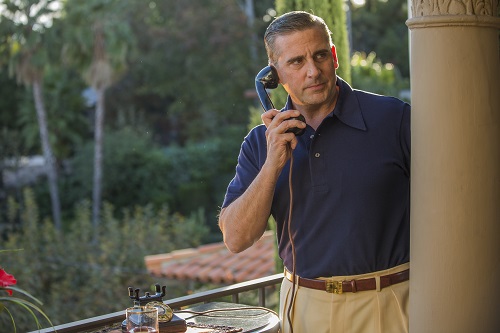 Cast and Crew
Director(s): Woody Allen
Producer(s): Letty AronsonStephen TenenbaumEdward Walson
Screenwriter(s): Woody Allen
Story: 
Cast: Steve Carell (Phil Stern)Jesse Eisenberg (Bobby)Kristen Stewart (Vonnie) Sheryl Lee (Karen Stern)Parker Posey (Rad Taylor)Blake Lively (Veronica)Corey Stoll (Ben Dorfman))Sari Lennick (Evelyn)Stephen Kunken (Leonard)Laurel Griggs (Evelyn's Daughter)Jeannie Berlin (Rose Dorfman)Ken Stott (Marty Dorfman)
Editor(s): Alisa Lepselter
Cinematographer: Vittorio Storaro
Production Designer(s):
Costume Designer: Suzy Benzinger
Casting Director(s): Patricia Kerrigan DiCertoJuliet Taylor
Music Score: 
Music Performed By: 
Country Of Origin: USA