Synopsis: After a casual encounter, a brokenhearted woman decides to confront her life and the most important events about her stranded daughter.
Release Date: January 13, 2017     MPAA Rating: PG-13
Genre(s): Drama, Romance
Film Review

Spanish filmmaker Pedro Almodóvar has a knack of making incredibly diverse movies while still managing to make them all look completely like Almodóvar films. His last two movies illustrate this phenomenon perfectly; in 2011, he made the macabre thriller The Skin I Live In, followed in 2013 by the flamboyantly quirky comedy I'm So Excited! Once again, Almodóvar is back with the distinctly Almodóvarian Julieta.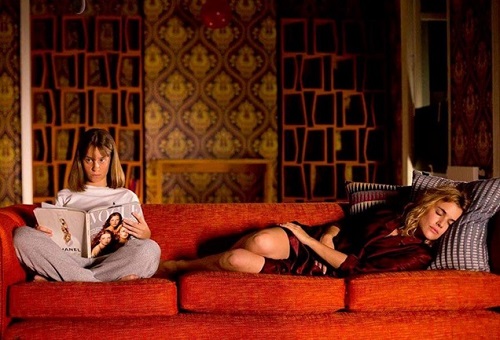 Julieta is about a classic literature professor, of course named Julieta (The Red Squirrel's Emma Suárez), who is writing her memoirs in the hopes that she can reconnect with her estranged daughter, Antía (Blanco Parés from "El secreto de Puente Viejo"). Through flashbacks, the story of how the younger Julieta (Adriana Ugarte from "La señora") met Antía's father, a dashing fisherman named Xoan (Daniel Grao from Julia's Eyes), on a train and how their torrid affair sparked passion and heartache that lasted far longer than their union. As she looks back upon her life, Julieta strains to figure out where she went wrong in her relationship with Antía.
Almodóvar based the framework of Julieta on a trio of short stories by Nobel Prize winning Canadian author Alice Munro. There's an unconventional mystery at the root of the film, with Julieta pouring over her past, partially as catharsis, but also as a way to trace the victories and defeats in her life. And her life is full of peaks and valleys, with plenty of intrigue and mischief along the way. Julieta is almost Hitchcockian in the way that it unfolds (there's even a Strangers on a Train section), yet with a much more personal MacGuffin.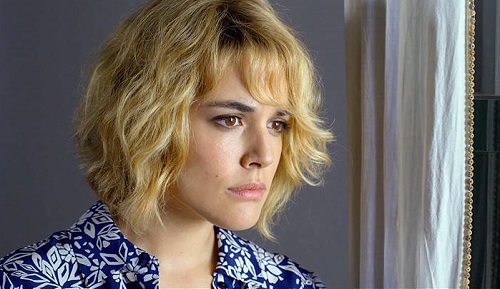 At its core, Julieta is a heart-wrenching romance, but it should not be pigeonholed as such. It lacks some of the outlandish themes that Almodóvar's movies usually have, so it's a bit more accessible to viewers who might be unfamiliar with the director's work. Because of this, it's also one of Almodóvar's safest movies. But, a safe Almodóvar movie is still edgier than the riskiest offering from almost any other director, so it's absolutely worth a look. In short, go see Julieta. It's good.

Julieta may have a Hitchcock feel to it, but as a movie, it's pure Almodóvar. It's got the same striking imagery, quirky storyline, and beautiful Spanish leading ladies for which the director's films are known. Almodóvar rose to a couple of challenges with Julieta. First, combining three different short stories into a single coherent movie is always a feat, even if the stories are written by the same author and feature the same lead character. Second, he had to function in two different timelines, Julieta's present and her past, and while he gets a lot of help from co-lead actresses Emma Suárez and Adriana Ugarte in this regard, Almodóvar makes Julieta feel like much more than simply a flashback or a memoir. Once again, Pedro Almodóvar has made a movie that pushes boundaries without changing his style and alienating his longtime fans. Of course, longtime fans have come to expect this kind of movie from Almodóvar, so of course, they won't be surprised.or disappointed.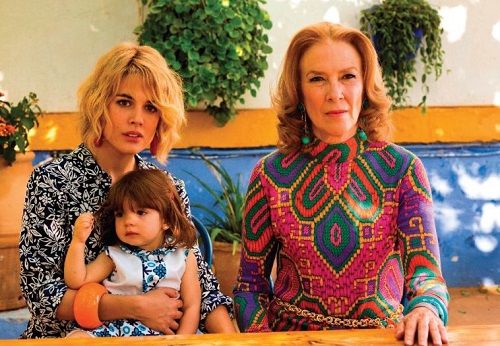 Cast and Crew
Director(s): Pedro Almodóvar
Producer(s): Agustín AlmodóvarEsther García
Screenwriter(s): Pedro Almodóvar
Story: Alice Munro
Cast: Emma Suárez (Julieta)Adriana Ugarte (julieta Joven)Daniel Grao (Xoan) Inma Cuesta (Ava)Dario Grandinetti (Lorenzo)Michelle Jenner (Beatriz)Pilar Castro (Claudia)Nathalie Poza (Juana)Blanca Parés (Antía)Priscilla Delgado (Adolescent Antía)Sara Jiménez (Adolescent Beatriz)Rossy de Palma (Marian)
Editor(s): José Salcedo
Cinematographer: Jean-Claude Larrieu
Production Designer(s):
Costume Designer: Sonia Grande
Casting Director(s): Eva LeiraYolanda Serrano
Music Score: Alberto Iglesias
Music Performed By: 
Country Of Origin: Spain