Hampton Lansdon Fancher.  You may not recognize the name, but you are no doubt familiar with his work.  His biggest claim to fame is that he wrote the first drafts of the script for Ridley Scott's Blade Runner, but he also had an extremely prolific career as a b-level character actor.  But even behind the scenes, Fancher has led a fascinating life.  So fascinating, in fact, that his filmmaker pal Michael Almereyda (Experimenter) made a movie about him.  That movie is called Escapes.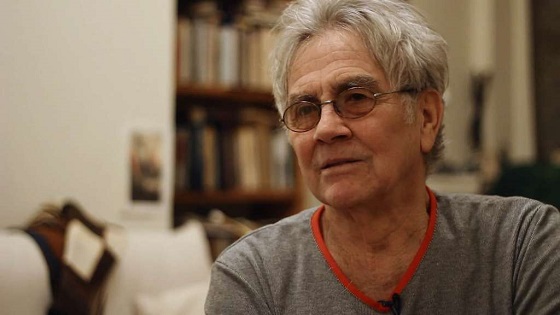 Escapes is Hampton Fancher's story and stories, in his own words.  He talks about dropping out of school at age eleven and his pursuit of the art of flamenco dancing.  He recalls his first screen appearance as an uncredited zombie in The Brain Eaters.  He speaks of guest starring roles on westerns like "Bonanza," "Rawhide," and "Gunsmoke."  He tells tales about his friendship with "Flipper" star and (later) Blade Runner producer Brian Kelly.  He talks about the long process of optioning Philip K. Dick's book "Do Androids Dream of Electric Sheep?," which would, after several rewrites and overhauls, become Blade Runner.
He also talks about his many loves, from his brief marriage to Lolita star Sue Lyon (he learned about their divorce by hearing it on the radio) to his short fling with Barbara Hershey (who, as he tells it, he kind of stole away from David Carradine).  His love-and-lust tales are kept close to his chest, however, with him stopping a few times and saying that he doesn't want to tell certain stories.  In the end, though, he tells enough to keep the audience interested.
So, Escapes is essentially a series of interviews with Fancher where he tells stories about his life.  But it's so much more than just another typical talking head documentary.  Almereyda ingeniously splices in footage from Fancher's movies that fits in eerily well with whatever story he happens to be telling.
For example, Fancher the man tells a story about getting into a fight with a guy who is getting too close to his girlfriend, and a scene where Fancher the actor is fighting another man is shown onscreen.  When Fancher the man talks about Hollywood meetings, Fancher the actor engages in a discussion with a stuffed suit over drinks.  It's all very well done, with Almereyda demonstrating an encyclopedic knowledge of Fancher's body of work.
Escapes feels like Hampton Fancher sitting down with the audience and telling the most engaging and engrossing stories from his most-interesting-man-in-the-world life while a well-curated retrospective of his movie and television appearances accompany the narrative.  The stories are romantic, treacherous, even a bit arrogant and unbelievable, but they're all pretty amazing.  Even more so if they're actually true.