Cinema Fearité presents 'Wild Beasts'
The animals strike back...kinda...in 'Wild Beasts.'
There's not much that's more satisfying than a good nature-gone-wild movie. Whether on land, as in Grizzly, or by sea, like The Shallows, it's always fun to see wildlife have its way with people. More often than not, these movies get crazy. And they rarely get crazier than Wild Beasts.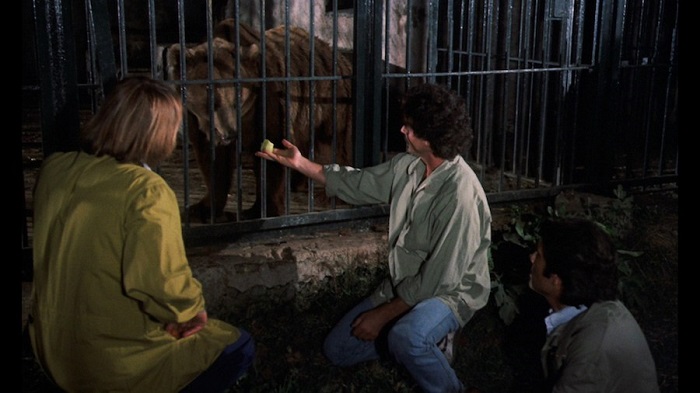 Set in "a Northern European city," Wild Beasts is about a zoo that accidentally has PCP released into its water supply. All of the animals go berserk and break out of their enclosures, eventually wreaking havoc on the city as they run amok in the streets. A zookeeper named Rupert Berner (animal trainer John Aldrich in his only acting role), his biologist girlfriend Laura Schwarz (Lorraine De Selle from Cannibal Ferox and House on the Edge of the Park), and Police Inspector Nat Braun (Nightmare City's Ugo Bologna) have to find a way to round up the animals and bring them down from their rage before they demolish the entire city…and kill anyone in their way. But has the spiked water affected more than just the animals…?
Written and directed by Franco E. Prosperi (one of the directors behind the Mondo Cane movies), Wild Beasts is exactly the kind of over-the-top exploitation that one would expect from a 1984 Italian when-animals-attack movie. As a movie, it's a silly and amateurish affair, lit just a bit too darkly to completely see everything and full of actors who don't seem to know quite how to deliver the corny dialogue. But the lighting and the dialogue are not the big draws in Wild Beasts.
The animals are what puts butts in the seats. Of course, there are typical lion, tiger, and bear attacks, but there's plenty more offbeat stuff, too. A seeing eye dog whose owner hangs out at the zoo winds up turning on his master. Rats that are affected when some of the tainted water is rinsed into the sewer attack and kill a haplessly distracted couple (as well as a cat that's nearby – this is an Italian film, no animal is safe from the [sometimes real – remember, this is the Mondo Cane guy] animal violence).
Because they're zoo animals, there's a bit of everything in Wild Beasts – a polar bear suddenly shows up at a dance school, a cheetah dramatically chases a car down a roadway, and a herd of cows randomly (and ridiculously) stampede through a scene.
But the real stars of Wild Beasts are not the lions, the tigers, the bears, the rats, or even the cows, the polar bear, or the guide dog. A trio of elephants crashes right through a brick wall and tramples all around the town, destroying everything in their path while causing some impressive car wrecks. Eventually, they wind up on an airport runway, and the results are predictably epic. The elephants in Wild Beasts deserve some kind of an animal Oscar. They steal the show.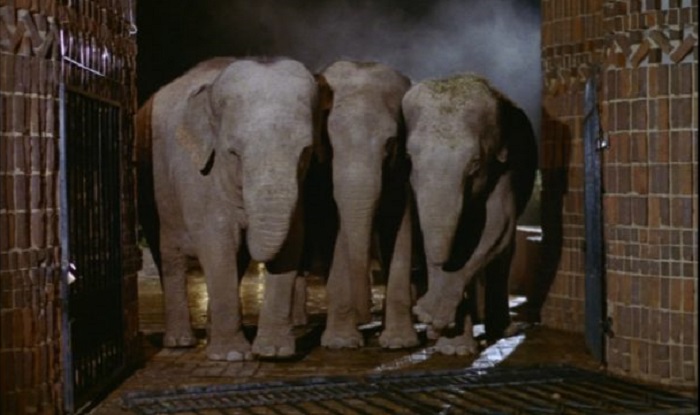 And, since it was made in the mid-eighties, nothing is CG in Wild Beasts; the animals are all real. Leading man John Aldrich was an experienced lion tamer, and there were always a handful of trainers just off camera with tranquilizers in case the beasts got a little too beastly. Thankfully, no one was seriously hurt, just an elephant stomping a foot here and a close call with a polar bear there.
It may not look like it from what winds up on screen, but Wild Beasts was no repeat of Roar. The biggest mishap was a tiger hiding out in a subway tunnel after a night of shooting, an adventure which delayed the morning opening of the station for a few hours while the cat could be captured.
The special effects in Wild Beasts are terrible, but in the best sense of the word. Since the movie is essentially a multi-layered slasher movie at heart, there's all sorts of gore stuff, things like maulings and bites, courtesy of makeup effects artist Dino Galiano (Dune, The Last Temptation of Christ). And, even though the animals are real, there are some animal effects by Massimiliano Cerchi (Down There in the Jungle, The Shark Hunter) that mostly involve puppetry and fake claws and such.
The visuals are coolest in one scene where the animal and gore effects come together and a girl's head is crushed by an elephant foot. It oozes more than it splatters, but it's still a cheer-worthy moment, especially for those in the audience who are rooting for the animals.
Wild Beasts is not for everyone. It will particularly offend those who are sensitive to animal violence (and not animal-on-people violence – despite what the title card says, there certainly were animals harmed during the making of the film). But those who just want to see some mad animals run amok on some city streets, well, few films pull off that silly concept better than Wild Beasts.