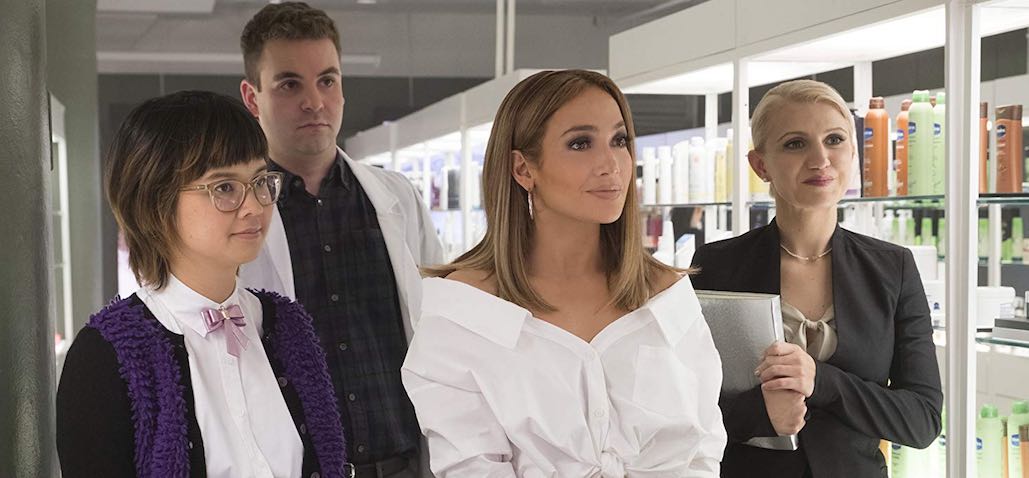 'Second Act' Review
Second Act insults its main character as its two storylines trip over each other.

Release Date: December 21, 2018
In Second Act, a big box store worker reinvents her life and her life-story and shows Madison Avenue what street smarts can do. — IMDB
Director: Peter Segel
Screenwriter(s): Justin Zackham, Elaine Goldsmith-Thomas
Producer(s): Elaine Goldsmith-Thomas, Jennifer Lopez, Benny Medina, Justin Zackham
Cast: Jennifer Lopez (Maya), Vanessa Hudgens (Zoe), Milo Ventimiglia (Trey), Leah Remini (Joan), Treat Williams (Anderson Clarke), Charlyne Yi (Ariana), Dave Foley (Felix Herman), Larry Miller (Weiskopf), Annaleigh Ashford (Hildy), Dierdre Friel (Ant), Lacretta (Suzi Teplitsky)
Editor: Jason Gourson
Cinematographer: Ueli Steiger
Production Designer: Richard Hoover
Casting Director(s): Roger Mussenden
Music Score: Michael Andrews
For the life of me, I could not remember the last Jennifer Lopez movie before heading into Second Act. IMDB doesn't even list her at the top of search results when you start plugging in letters — Jennifer Love Hewitt gets top spot. For fun, I did what Wired does with actors, turned to Google autocomplete. The number two result, after just her name, is "Jennifer Lopez age"; the second, "Jennifer Lopez movies." My favorite is "Jennifer Lopez height" only because I don't see the relevance.
It just so happens that Jennifer Lopez has not been in a live-action feature film since Lila & Eve in 2015. If you've never heard of it, we're on the same page. The Boy Next Door was another Jennifer Lopez movie released in 2015. I haven't seen that either. I did manage to sit through Second Act, though, and it's not what I expected and likely not what you're expecting either.
Second Act Is Not a Jennifer Lopez Romantic Comedy
Here's a great big non-spoiler: Second Act isn't a romantic comedy. Why IMDB has it listed as a romance is beyond me, too. It is a comedy and Lopez's Maya does have a boyfriend, Trey (Milo Ventimiglia), but their relationship is very much a B- or C-storyline.
Second Act's main focus is on Maya acquiring a job under false pretenses at a skin care company the likes of Unilever and the child she gave up for adoption as a homeless teenager. If you're going in looking for a meet-cute, you'll be sorely disappointed. Same goes for a romantic ending — Second Act isn't that movie. It is a fail-filled female-led comedy that says a great deal about job qualifications and the requirement many companies have for a college degree while disrespecting its main character.
It's not the best message.
Second Act and the Education Debate
This may anger quite a few people but I do believe a college education is valuable and that requiring an employee have one for certain positions valid. Second Act delves into this debate because Maya, who has 15 years of experience at Value Shop and is the store's assistant manager, is not made manager because of her lack of education — she only has a GED. The decision is a poor one on behalf of the company since Maya is responsible for increasing sales and implementing innovative ideas at the store, but it's policy.
Whether you agree or not doesn't change the fact that it's how things work. And given the time Maya has had over the years — she is single and does not have children — she could have gone to college in order to make herself eligible for the position. Second Act does not address why she never made it to the classroom. Maya instead just whines about how unfair the system is and eventually quits her job after being offered another at the skin care company.
Problem is: Maya only gets that job because her godson fabricates her resume. What makes matters worse is later on in the film we discover the reason for her hiring didn't even have to do with her qualifications or interview, where she showed her honest, direct approach and knowledge of the industry. Second Act, while intending to show how a woman with street smarts can perform a position just as well as a woman who went to a top university, actually discredits its main character.
Maya may be successful in her new position but it doesn't make it possible to forgive Screenwriters Justin Zackham and Elaine Goldsmith-Thomas for the insult. If Maya is supposed to be a woman we root for and look up to, that makes it possible for women without the "right" educational background to believe they can be successful, it should not come to light that the reason she's now able to shop at Bergdorf Goodman has nothing to do with her intellect.
Second Act makes you yearn for a romantic comedy where a poor woman lands the rich, handsome New Yorker and never has to work again. It's better than finding out a smart, deserving woman has her uterus to thank for her position.
The Downfall of Second Act
Second Act would be a much better film if it just focused on Maya landing the new job and her relationship with Trey. I'll even admit that I was thoroughly enjoying it until the adoption twist (more on that below).
Here's how Second Act could have been a success:
Maya doesn't get the management position and is upset
Her godson fabricates her resume and she lands the development job at the skin care company
Maya and Trey split up over her dishonesty
After success at her new job, Maya admits to being a fraud before a jealous coworker outs her
Maya and Trey reconcile now that she's no longer living a lie
The skin care company realizes how great Maya is and hires her back, regardless of her lack of education
Sure, it's formulaic but the formula works. That's why it's been used a hundred times over. A Jennifer Lopez movie doesn't need to reinvent the wheel.
Instead, Second Act has the additional adoption storyline. Maya, at 17, gave up a child for adoption and she's never quite come to terms with her decision. Just as a reference, Maya is presumably 40 in the movie — although the math is sketchy and at times quite confusing. I can't divulge much more because it's a major spoiler, but here are some keywords that describe the storyline's inclusion: ludicrous, awkward, rough, ridiculous, and movie-crushing.
From the moment the twist revolving around this storyline occurs, Second Act perishes.
The only saving grace in Second Act is the comedic-trio of Joan (Leah Remini), Suzi Teplitsky (Lacretta), and Ant (Dierdre Friel), Maya's close friends, plus Ariana (Charlene Yi), Maya's funny and awkward assistant. And yes, Vanessa Hudgens is in Second Act but her character Zoe isn't a helpful addition.
It's great to deviate from the formula when it's a positive deviation. That's not the case here. Second Act is really two movies in one since the two major storylines should have been developed separately. They don't work well together — they almost feel like they're tripping over one another throughout. Then there's that insult I mentioned above, it's really unforgivable.
If Second Act is the second act of Jennifer Lopez's career, I'd prefer to go back to other Jennifer Lopez movies, even if it means watching Gigli again.