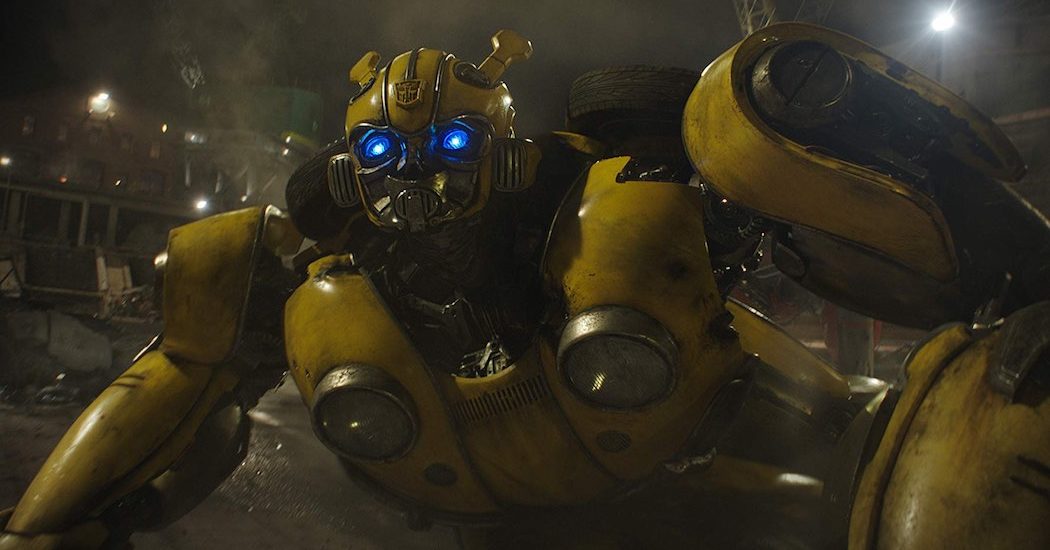 'Bumblebee' Review
With Travis Knight at the helm of Bumblebee, it's a humble, indie-inspired, and decent Transformers movie.

Release Date: December 21, 2018
On the run in the year 1987, Bumblebee finds refuge in a junkyard in a small Californian beach town. Charlie (Hailee Steinfeld), on the cusp of turning 18 and trying to find her place in the world, discovers Bumblebee, battle-scarred and broken.  When Charlie revives him, she quickly learns this is no ordinary, yellow VW bug.
Director: Travis Knight
Screenwriter(s): Christina Hodson
Producer(s): Michael Bay, Tom DeSanto, Lorenzo di Bonaventura, Don Murphy, Mark Vahradian
Cast: Hailee Steinfeld (Charlie Watson), Dylan O'Brien (voice of Bumblebee), Justin Theroux (voice of Dropkick), John Cena (Agent Burns), Angela Bassett (voice of Shatter), Grey Griffin (voice of Arcee), Peter Cullen (voice of Optimus Prime)
Editor: Paul Rubell
Cinematographer: Enrique Chediak
Production Designer: Sean Haworth
Casting Director(s): Denise Chamian
Music Score: Dario Marianelli
Despite being a box office juggernaut, the Transformers movie franchise hasn't exactly had the warmest critical reception since its 2007 debut. Although the first entry was a middle-of-the-road summer blockbuster, its sequels have represented some of Hollywood's worst tendencies. With Bumblebee, however, the executives at Paramount have sought a fresh perspective. For the first time since this series kicked off, director Michael Bay has stepped away from the helm — in his place comes stop-motion animation veteran Travis Knight (ParaNorman).
Travis Knight Puts His Mark on a Transformers Movie
This guy came out of the director's gate swinging with my favorite film of 2016, Kubo and the Two Strings. Its rich mythology, endearing characters, and unique artistic style made for an emotional journey. And although Bumblebee doesn't reach anywhere near those heights, in Travis Knight's hands, it's definitely the first decent Transformers movie.
Set during 1987, the film follows the titular Bumblebee, who, while on the run from the Decepticons, camouflages himself as a Volkswagen Beetle in California. Meanwhile, Charlie (True Grit's Hailee Steinfeld) is struggling to find her way in the aftermath of a family tragedy. While exploring her local junkyard, she comes across the yellow bug and, before too long, discover that it's — I'm so sorry — more than meets the eye.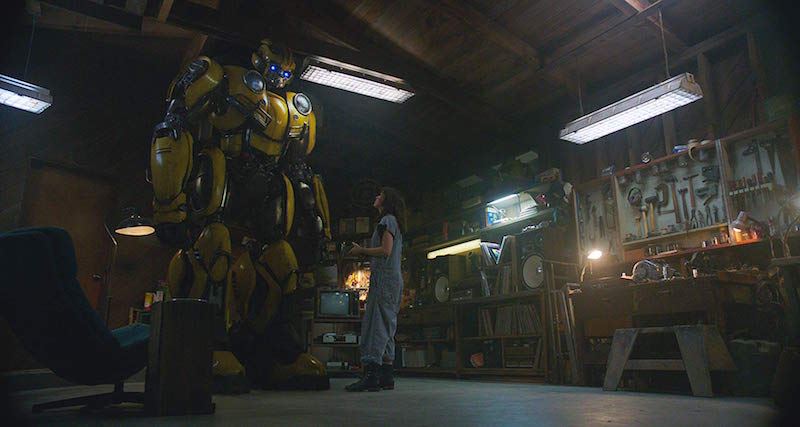 A popular opinion surrounding the Transformers movies is that they fail largely because the robots themselves feel like guest characters in their own movie. Although that was one of many of Bay's transgressions, it would've been a much easier pill to swallow if the human characters had been the least bit compelling.
Thankfully, Bumblebee shares what at least seems like an equal amount of screen time with his human counterpart. More importantly, the dynamic between the two characters is, hands down, the film's greatest strength. An infinitely more likable hero than those of the previous films, Steinfeld's turn as Charlie is representative of how Bumblebee as a whole course corrects the Transformers series.
Whereas the previous entries doubled down on lazy, overtly mean-spirited humor with each subsequent installment, Knight's film genuinely cares about its main characters. Gone, too, are the oversaturated colors and galactic-scale action set pieces. Not that I don't love films such as Avengers: Infinity War, but Bumblebee in particular benefits from its more modest story.
That said, not every joke is a winner, as some are clearly directed more toward children. Additionally, one of my main pet peeves about humor, in general, is when the joke teller feels the need to explain a particular joke. There are a decent number of genuinely funny sequences throughout Bumblebee that are undermined by a character's follow-up line that effectively spells out the joke. Just let it breathe, guys!
Then there's the not-so-subtle 80s sentiment.
80s Nostalgia in Bumblebee
Bumblebee exudes 80s nostalgia — sometimes to a fault. As strong as our two main heroes are, many of the side characters are written in the spirit of "Saved by the Bell" or similar after-school shows from that era. The Decepticons tailing Bumblebee, especially, are so thinly written that nearly any scene centered on them took me out of the movie. And the story beats are virtually identical to those of Steven Spielberg's E.T., leaving little in the way of genuine surprises.
Then there's the music. As much as I love 80s music, I wish it had been more evenly spread out. Early on, it's played so frequently that it almost feels as if the movie's just killing time — seriously, I shudder to think about how much of the production budget was used just on acquiring the rights to these songs.
Bumblebee is at its best when it focuses on the bond between its two leads. The just-a-little-too-predictable storytelling — coupled with the somewhat hit-and-miss humor — holds the film back from realizing its full potential. However, it's comparatively humble, indie-inspired presentation and Steinfeld's charming performance provide just enough to keep me invested. The fact that a live-action Transformers movie was able to do that is an achievement right there.