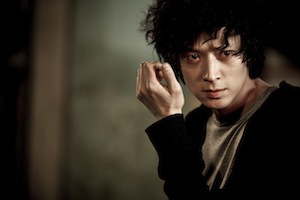 From Korea comes Director Kim Min-suk's Haunters.  A film centered around two men specifically who both harbor exceptional abilities.  Kyu-nam (Koo So) believes himself to be ordinary.  Having just lost his job at a junk yard he is seeking employment.  He finds work at a pawn shop, and believes this is the moment his life will take off and become great.  When an unknown man (Gang Dong-Won) walks into the shop one day and freezes everyone present, being Kyu-nam's two friends, and the owner, things begin to get weird.  Weird in that the only person who does not freeze is Kyu-nam.  He is not ordinary after all, but is the only person this unknown man has ever come into contact with who is not susceptible to his powers.  This of course causes great panic in our unknown antagonist, who has lived his entire life with the ability to freeze people, as well as control their actions with his eyes.  This fact is known by the opening scene where we see him as a child when he makes his own abusive father snap his own neck, and thwarts his mother from killing him by controlling her as well.  The unknown man has lived his entire life alone, stealing what he needs by using his ability.  This lonely existence has turned him into a sociopath, and discovering Kyu-nam is not affected by his powers only makes him very afraid, and very angry.
Haunters becomes a thrilling tale about good vs. evil, with some slapsticky comedy thrown in for good measure (this is a Korean action film so it can expected).  Kyu-nam, and his two bumbling friends, set out to take down the unknown man as he has harmed someone close to them.  What results is a fun and humorous trek with action aplenty and lots of eerie subtleties.  Haunters is definitely a unique film, in that the tempo changes from horror to comedy and then on to drama, with a slight science fiction edge as well throughout.   At first it may not seem to be a movie you will like, and the possibility of ending your time with Haunters early is completely possible.  If you can hold out, to the second act, you will find yourself engrossed in this crazy little film about a man whose eyes can control everyone with just a look and a normal everyday man who becomes extraordinary–almost–to stop his evil doings.
Synopsis:
A psychic sociopath who can control people with his eyes is hunted by the one man able to resist his evil gaze in this thriller directed by the writer of The Good, the Bad and the Weird.
Credits:
(Korea, 2010, 114 mins)
In Korean with English subtitles
North American Premiere
Directed By: Kim Min-suk
Executive Producer: Lee Tae-hun
Producer: Eugene Lee
Screenwriter: Kim Min-suk
Cinematographer: Alex Hong
Editor: Kim Sang-bum
Cast: Gang Dong-won, Ko Soo,Enes Kaya, Abu Dodd, Jung Eunchae, Byeon Hie-bong, Yang Kyung-mo