Synopsis: The inspirational story of World Champion Boxer Vinny Pazienza who, after a near fatal car crash, which left him not knowing if he'd ever walk again, made one of sports most incredible comebacks.
Release Date: November 18, 2016     MPAA Rating: PG-13
Genre(s): Biography, Drama
Film Review

Bleed for This is the type of boxing biopic that feels like it's trying to capitalize on a trend rather than tell a compelling story. Sure, the true tell of how Vinnie Paz (played by Miles Teller in the film) recovered from a broken neck to box again is a compelling one, but the cinematic version of Paz's real life doesn't burst with the type of energy that the fighter did. To put it another way, there's nothing about Bleed for This that makes it standout from any other boxing story where the lead character overcomes adversity to get into the ring. The film even has a washed out trainer in Kevin Rooney (Aaron Eckhart), a balding alcoholic whose triumphant return to glory is intrinsically linked to Vinnie's. Outside of the horrific injury, Bleed for This is as generic as boxing movies can get, but it's strong performances elevate it enough to be watchable.
The story itself in Bleed for This is arguably the most interesting part, so those who might not be familiar with Vinnie Paz's story should go in as fresh as they can. There are a lot of common sports tropes in Vinnie's real life story, but they are no more offensive here than they are any in other movie. Bleed for This's real struggle is that the film never makes a strong case for why the audience should care. Obviously Vinnie is trying to make a miraculous recovery, but it's hard to feel any sense of momentum throughout the film. Perhaps that speaks to the real Vinnie Paz, but there is no appreciable arc to the character's story.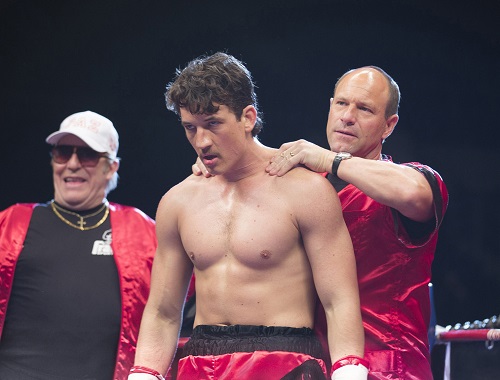 Luckily, Paz is plenty entertaining as played by Miles Teller. A Rhode Island native who loves to gamble, Paz has a brash attitude and a love for proving superiority, and Teller brings all of those elements to life. More importantly, Teller embodies Paz in the physical sense, showing a true dedication to getting into boxer's shape. Because he's all in on the character, it's hard not to be transfixed by Teller's Vinnie Paz. Similarly, the supporting cast, which includes Eckhart's Rooney, Ciaran Hinds as Vinnie's dad Angelo, and Katey Sagal as his mom Louise, all deliver high caliber work. The Pazienza family dynamic feels real on-screen, which is one of the its greatest successes.
Unfortunately, outside of those strong performances, Bleed for This struggles to make its case as a compelling piece of cinema. It's perfectly fine to watch, but it doesn't stand out amongst the crowd, especially when compared to the numerous other boxing movies out there. Worst of all, the boxing scenes in the film don't have any sense of style or uniqueness to them; they are as flat as can be. There's no developing sense of momentum or tug of war between the fighters, and the big moments don't resonate as they should. Some will argue that Bleed for This is better when it's not about boxing, and they wouldn't be wrong.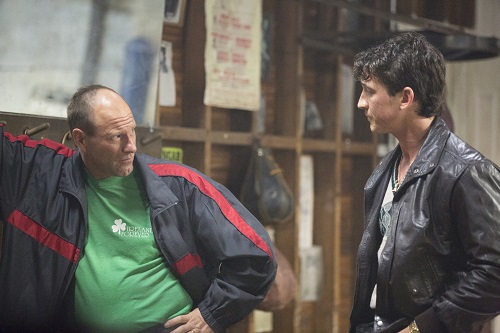 In the end, Bleed for This is an admirable biopic that never quite ascends above a b-grade biopic level. The acting is solid, especially from Miles Teller, but there is a strong emotional core that's missing from the film to help anchor it. And, for a film about an impossible comeback, that's a major misstep. It may be a case of bad timing or the hope that the material would do the work, but Bleed for This needs a little more oomph in the areas that count.

Since his starring role in The Spectacular Now, Miles Teller has been a star on the rise, but here he truly comes into his own. Teller is Vinnie Paz in every key way, from his physique to his mannerisms to his heavy Northeastern accent. In the wrong hands, the character could have felt like a cartoon, but Teller grounds him well enough so that his personality never comes across as cheesy or exaggerated.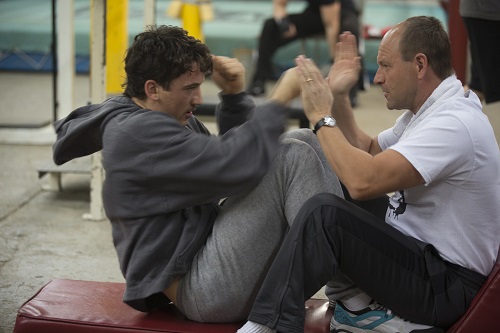 Aaron Eckhart is equally solid as trainer Kevin Rooney, but his character is a little more one note. The washed out trainer is a trope we've seen plenty of times, and unfortunately, Eckhart isn't given much more than that to work with. He's entertaining to watch, especially against Teller, but it would have been nice if his character had a real arc.
Across the board, the acting in Bleed for This makes the material sing a little more than it would in lesser hands. If nothing else, the film is entertaining, and that's a credit to its actors.
Cast and Crew
Director(s): Ben Younger
Producer(s): Bruce CohenNoah KraftPamela ThurEmma Tillinger KoskoffChad A. VerdiBen Younger
Screenwriter(s): Ben YoungerPippa BiancoAngelo Pizzo
Story: 
Cast: Miles Teller (Vinny Pazienza)Katey Sagal (Louise Pazienza)Ciarán Hinds (Angelo Pazienza) Aaron Eckhart (Kevin Rooney)Ted Levine (Lou Duva)Christine Evangelista (Ashley)
Editor(s): Zachary Stuart-Pontier
Cinematographer: Larkin Seiple
Production Designer(s):
Costume Designer: Melissa Vargas
Casting Director(s): Kerry BardenPaul Schnee
Music Score: Julia Holter
Music Performed By: 
Country Of Origin: USA