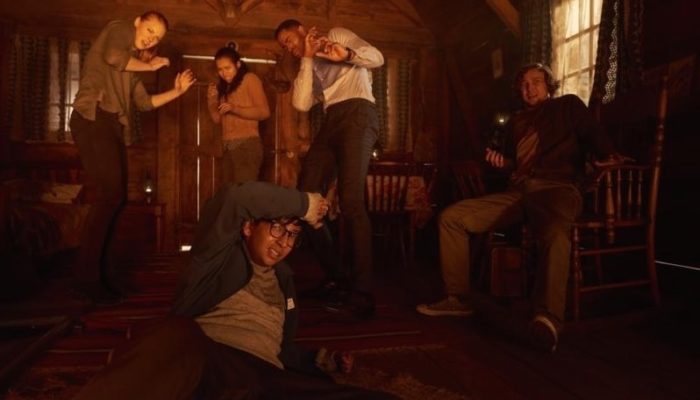 Your time in an escape room may be great fun or a total nightmare that requires more than a review but therapy.
The following escape room reviews and experiences come from brave souls around the world who dared to enter and managed to get out, albeit scathed.
If your idea of a quality night out is being trapped in a room with five other people, escape rooms can be a blast. If you're not familiar with the concept, an escape room is an entertainment experience where you pay to be holed up in a themed room where you solve various puzzles until you manage to "escape" or your time runs out.
If like me, you find the thought of being close to that many actual humans for an hour relying partly on their ability to think critically, escape rooms represent everything you fear in this life, notwithstanding clowns. Where some people see a fun night out with friends and family, I see a poignant metaphor for the horrors of forced social interaction, a feeling I'd like to think the creators of Escape Room share.
The escape room trend is still going strong, so of course, there's a movie capitalizing on it. In this game-night-gone-amok tale, a handful of strangers are coerced into a real-life escape room scenario that's as trippy as it is deadly. To kick off the release of Escape Room, we've compiled a list of our favorite scary escape room experiences and reviews.
1. The Perils of Getting Stuck With Randos
If you don't have enough friends to fill up the escape room, your group can be combined with another. But beware. Redditor Chezdor is here to warn the Internet of what can happen when you're mixed up with strangers in an escape room.
Chezdor's friend was a no-show, and poor Chezdor ended up in a group with the Tinder date and a heavily pregnant woman and her husband, who tried to muscle his way through the escape room when his brain couldn't get the job done, starting a fire in the process.
"TL;DR – Friend invited me to an escape room. Ended up blindfolded and handcuffed to her tinder date when she didn't show up on time," Chezdor summarizes, "and we got trapped in a small fire caused by a random gung-ho pregnant man."
2. The Scariest Part of an Escape Room is the Math
Of all the scary things you might find in an escape room, none is more terrifying than the math. Reddit user Mello-Knight finally found a use for all that high school learning we all thought we'd never use again.
3. Left Behind in The Escape Room
Sometimes you're having so much fun you forget something important; you know, like a whole human being. That's what happened to Reddit user PepperFinn, who was abandoned by colleagues and left chained to a wall.
"4 of us (me, good co-worker, co-worker, and owner) were doing an escape room," PepperFinn recalls. "This one had 4 different rooms (technically 5) as part of our set to solve. At the start we get divided up. I'm chained to a wall in one room with a dog lead with one end padlocked to my wrist and the easy remove latch to the wall (so if a fire or something happened I could escape but I'm not supposed to solve getting out that way)."
PepperFinn's colleagues entered the room and promptly solved a puzzle "involving liquids and weights."
Pepperfinn continued, "The next room opens and its a laser maze. Owner is super excited and rushes off with co-worker. Forgetting they haven't solved or even found the clues to the padlock on my wrist. Good co-worker is pulling my chain, trying combos while I'm shouting.
'Guys? Guys? GUYS!!! A LITTLE HELP HERE!?' and frantically pulling to get free. I got bruises.
The walkie crackles with 'You have to rescue ALL team members before you do the maze.' Owner reluctantly comes back, intermittently goes to stare at maze while not really helping me get unstuck.
We finally find the code that gets me free but I get to forever guilt him with that. And yes I've done more rooms with him since."
4. Good Luck Escaping Now
Redditor Crinfarr tells a story that can only be attributed to poor escape room planning.
5. The Real Reason AI Is Going to Take Over
If you think a nameless, faceless entity running a deadly escape room is scary, just wait until you see what our robot overlords do to us after the technological singularity. In the meantime, we'll be holding hands skipping toward our doom because artificial intelligence (AI) is just so darned convenient, as Redditor ClearBrightLight learned.
6. You're Here to Entertain the Staff
Sometimes, working in an escape room has unexpected rewards, especially if the room is chock full 'o jump scares and other freaky tricks. Reddit user QuoyanHayel shared this experience from the MBK Center in Thailand.
7. Sometimes You Get What You Pay For
Just because you can learn how to make an escape room online doesn't mean you should, as Reddit user blademak learned.
8. Behind Every Rule Is a Backstory
The common thread when reading through most escape room reviews is how weird the rules can get, and as any escape room employee will tell you, there's a story behind each and every one of them.
9. They Brought Their Own Horror Story
Sometimes the scariest part of a horror-themed escape room is what you bring with you, as one Reddit user's story explained.
There's no shortage of positive or negative escape room reviews, which is likely going to be the case for Escape Room, too. It's a good thing then that movie theaters don't lock the doors once the movie starts — you can escape at any time!