Horror movies are built on the fear of the unknown, and a big part of that unknown is the "thing that lurks in the dark." However, some horror films can be just as effective in the harsh light of day. The first half of John Carpenter's Halloween takes place in broad daylight, just as much of Jaws does, and those two films are considered two of the scariest classics ever made. In 1971, before both Jaws and Halloween, sci-fi/fantasy director Richard Fleischer (Soylent Green, Fantastic Voyage) made a bright film with a dark side called See No Evil that featured a protagonist who was blind, living in darkness even in the daylight.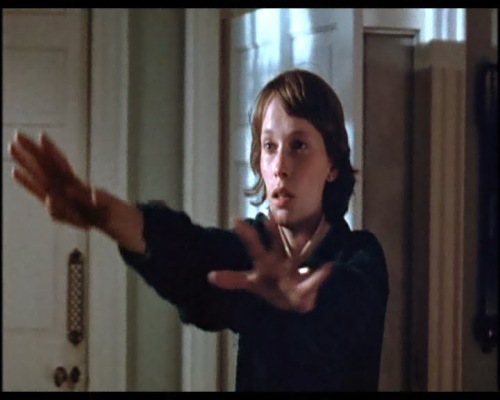 See No Evil stars Mia Farrow (Rosemary's Baby, The Haunting of Julia) as Sarah, a young woman who returns from the hospital after being blinded in a freak horseback riding accident. Upon coming home, she is reunited with her old boyfriend, Steve (Norman Eshley from "George & Mildred"), who takes her out riding on a couple of his horses. While they are away, a psychopath breaks into Sarah's home and slaughters her family. Sarah returns, but can't see the carnage and, therefore, is blissfully unaware of the tragedy. As Sarah slowly begins to realize that things are not quite right around the house, she reaches out to Steve for assistance. What she doesn't know is that the killer is still in the house…and is stalking her.
Although See No Evil masquerades as a straight-forward slasher, it also evokes the same creepy feelings as a home invasion movie. The screenplay, written by Brian Clemens (who wrote And Soon the Darkness and The Watcher in the Woods, as well as several episodes for television anthologies like "Thriller" and "Darkroom"), is a cool mix of suspense, mystery, and horror. The simple story is built on moments – lots of spooky, creepy, and downright unsettling moments – that are designed to make the viewer's skin crawl. Richard Fleischer generates dread and fear in the audience by showing to them what Sarah can't see, little by little, and the tension is maddening. See No Evil is like a clever mix between The Strangers and Fright, with just a splash of When a Stranger Calls – a slasher that's not too slashy.
Having done Rosemary's Baby a few short years earlier, Mia Farrow was already an established figure in the horror world by the time she starred in See No Evil. Of course, her depiction of the blind Sarah draws an obvious comparison to Audrey Hepburn's Susy in Wait Until Dark. While Farrow's performance is not as effective as Hepburn's, Sarah is a very different kind of character than Susy – Sarah is recently blind, and Farrow plays her awkwardly as if she is still trying to get used to her new disability. In one extremely creepy scene, Sarah wanders around the house while the bodies of her family are piled around the rooms, the girl completely oblivious to her surroundings. She even goes so far as to draw a bath in the same tub in which her father's corpse lays. Later on, Sarah makes the transition from clueless to capable when panic sets in and she is forced to flee from her attacker without being able to see where she is headed. The role of Sarah is a very dynamic one, and Farrow plays her with both comfort and skill. See No Evil is Mia Farrow's movie, and she runs with it.
Cinematographer Gerry Fisher (The Exorcist III, Highlander) constructs a unique visual style for See No Evil by using long, drawn-out takes and low angle shots to allow the viewer to really soak up the scenes. From the very first sequence, the audience knows what is in store photographically; the camera follows a pair of boots, later revealed to be those of the killer, down some steps and all the way up the street, watching as they stalk past store windows and newspaper stands making their way to their intended destination. Fisher's floor-level camera angles serve two purposes; not only do they creatively hide the killer's face, but they also force the viewer to pay special attention to where the characters, especially the blind Sarah, are walking. This becomes important when, for example, Sarah unknowingly navigates through a kitchen full of broken glass; as she narrowly misses stepping on a handful of shards, the audience cringes and holds its collective breath, wondering if the next step will bring her excruciating pain or another near miss. Fisher also puts plenty of framing mechanisms in the foreground, making the house seem more cluttered than it really is, thus amplifying the threat to the blind protagonist. Gerry Fisher knows what he is doing, and his photography in See No Evil deserves a lot more credit than it gets.
The soundtrack to See No Evil was composed by Elmer Bernstein, who also provided the music to classic westerns like The Magnificent Seven and True Grit as well as underground horror gems such as Saturn 3 and The Good Son. Bernstein's score for See No Evil is, in a lot of ways, typical film music. It is creepy yet suspenseful, with a vibe that is not unlike a hard-boiled cop show. It's not subtle or haunting enough to fit in with other horror soundtracks of its time, but that's okay; See No Evil isn't just any other horror movie. Bernstein's score may be safe, but it's effective, and it serves its purpose well.
Dark and treacherous horror movies will always have their place, and people will always be afraid of things that go bump in the night. Every once in a while, though, a movie comes along that exposes the horror in the brightness of the daylight and still terrifies. See No Evil is one of these movies.