You may want to bring some ear plugs for this, because Neil Young Journeys is a concert film shot in a style so loud and yet intimate that you may be taken with the fear of getting hit by some of the legendary rocker's sweat and spittle. Filmed in May 2011 at Toronto's iconic Massey Hall, Young is in peak form, playing his classics and new material with passion and verve.
There is no Crazy Horse or other backing band here. It's just Young by himself on the guitar and organ, and, of course, the harmonica. Not surprisingly, with the array of reverb and feedback that Neil can generate from his guitar, it's hard to even notice the lack of support.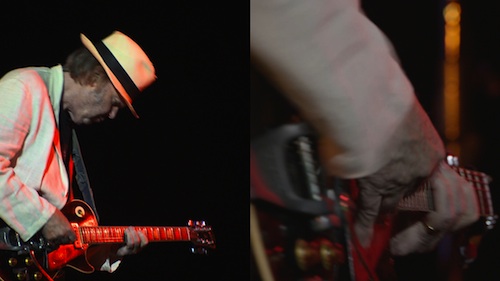 In his third film collaboration with director Jonathan Demme (see also, Neil Young Heart of Gold
and Neil Young Trunk Show), Young takes his guard down for a change, albeit briefly. Demme's hand-held camera follows Neil as he hops in his Crown Vic and makes the drive from his bucolic hometown of Omemee, Ontario to Toronto. Along the way he tells a few amusing stories of his upbringing (spoiler alert, he was a bit of a troublemaker), and there's some home movie footage as well. But the snippets are quite short, and leave you wanting more. Plus, half the time it appears he's not that sure where he's driving and he keeps pointing out where stuff used to be. Those kind of tours are always nice for the tour guide, but not so much the viewer.
The movie cuts back and forth between the drive and the concert itself. It's an interesting contrast between the peacefulness of Ontario and the sonic thunder and epic distortion of a Young concert. There are mellower moments too, including fine performances of "My My, Hey Hey" and "After the Gold Rush". Other highlights include "Down by the River", "I Believe in You" and "Ohio", perhaps Young's most powerful song, which Demme intercuts with photos of the Kent State victims.
In addition, much of Young's 2010 album "Le Noise" is performed, plus the previously unreleased tracks "You Never Call" and "Leia". The new stuff holds up fairly well next to his hits, though a couple of songs do feel like they go on about 2 or 3 minutes too long. But, that's what great about seeing Neil Young live. He will follow a song like an intrepid explorer, going down different paths, coming back and venturing out again. Even he isn't sure where or when it's going to end, but the ending isn't the point. It's about the journey.
If you're looking for Neil to give insights into his musical history, or dish some dirt on his old band mates (which I admit I was hoping for), you won't find that here. Did he mind getting swept up into the grunge craze? We may never know. On the one hand, it turned a new generation onto his music, but it also made him a symbol instead of an artist that still had something left in the tank.
Neil Young Journeys reveals Young as an artist who is at peace with his past and still lives to perform on stage; and this film puts you on stage with him. In fact, Demme places a camera right beneath the microphone, so it feels like you are practically inside Young's mouth. By the way Neil, if you're reading this, you may have an impacted molar, please get that checked. Being that close isn't a comfortable viewing experience, but that is most likely Demme's goal because Young's music has never been comfortable. But it is intense, and it is certainly rock and roll, stripped down to its essence.