Synopsis: A family man becomes a vigilante killing machine when his family is violently attacked by robbers.
Release Date: March 2, 2018     MPAA Rating: PG-13
Genre(s): Action, Crime
Film Review

Over the last decade and a half, director Eli Roth has built himself a solid reputation in schlock filmmaking with movies like Cabin Fever, The Green Inferno, and the Hostel movies. Now, he's taking a step towards "legitimate" filmmaking with his remake of the seventies classic Death Wish.
Set in crime-ridden Chicago, Death Wish is about a doctor named Paul Kersey (The Sixth Sense's Bruce Willis) whose house is robbed and, in the process, his wife, Lucy (Elisabeth Shue from Battle of the Sexes), is killed and his daughter, Jordan (Never Goin' Back's Camila Morrone), is put into a coma. While helping an emergency room patient, Paul accidentally comes across a handgun, and begins stalking the streets, preying on criminals of the night. In the news, he becomes known as The Grim Reaper, a vigilante who punishes bad guys. But, as Paul finds himself getting closer to the thugs who killed his wife, the same pair of detectives who are assigned to his wife's case (Dean Norris from "Breaking Bad" and Kimberly Elise from Dope) are also tasked with tracking down The Grim Reaper.
The script for Death Wish was written by Joe Carnahan (The Grey, Smokin' Aces), based on the 1974 screenplay by Wendell Mayes which was adapted from the novel by Brian Garfield. For the most part, this version of the film follows the same basic storyline as the original, with one exception; whereas Charles Bronson's character in the first movie just went vigilante due to the grief of losing his wife, Bruce Willis' Paul Kersey actually winds up with a chance to confront his wife's killers, making the remake of Death Wish a more genuine revenge thriller. In that way, it's also more satisfying because, win or lose, the audience at least wants to see their anti-hero have a shot at avenging his loss.
Death Wish is a big leap forward for Eli Roth as a filmmaker. He's always been competent behind the camera, and he knows how to check off the boxes in order to get an emotional response out of his audience, but Death Wish is a more mature (and therefore less exploitive) movie than fans are used to seeing from him. It is, of course, an Eli Roth film, so the violence is, at times, cartoonishly brutal and over-the-top splattery, but for the most part, Death Wish feels like Eli Roth making a bid to be taken more seriously by Hollywood. And it's an effective bid.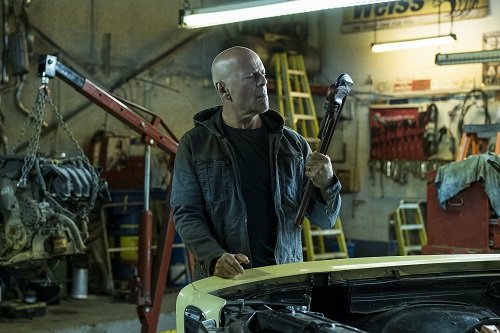 In a lot of ways, Death Wish is a long advertisement for the NRA. Whether intentional or not, the movie itself glamorizes vigilante justice, and seems to foster a distrust of the police – in one scene, Paul's Father-In-Law even tells him, after shooting at a poacher, that citizens can't just sit and wait for the cops to show up if they want results. Sure, the detectives play devil's advocate to the pro-gun message, and there's a Greek chorus of news and talk show personalities that argues both sides of the issue during post-violence montages, but the film's "hero" is a "good guy with a gun." It's ambiguous as to whether or not he's in the right – his actions are justified, but not necessarily just – but it is fun to cheer Paul Kersey on when he goes on his rampages.
And that's why Death Wish is such a puzzling movie. Even strict anti-gun people will enjoy watching the carnage, because it's fun to see Bruce Willis back to his old Die Hard ways. It's the kind of situation where people may love the movie, but hate its message. A few years back, Eli Roth called America's fascination with firearms both "terrifying" and "disturbing" during a conversation with Larry King, so in a way, maybe he's made what he considers to be just another horror movie? It's hard to tell whether Death Wish is, in the end, a pro-gun or an anti-gun movie, but one thing is for sure; it's going to find a big audience with the AR-15 crowd.
Eli Roth's next project is an adaptation of the spooky children's book The House with a Clock in Its Walls, so it seems as if he's moving in the right direction if he wants to "Hollywoodize" his brand. Hopefully, he won't leave cheap-and-dirty independent grindhouse movies completely behind, because no one does torture porn and cannibalism quite like Eli Roth, but if Death Wish is any indication, he'll do just fine within the confines of the big studio system.

For a remake of a Charles Bronson revenge film, Death Wish is surprisingly light on action. There are plenty of fight scenes, but they're relatively short, fairly tame, and, with the exception of one or two, they all revolve around gunfire, which is not quite as exciting as, say, swordplay or hand-to-hand combat. The highlights include an attempted carjacking on the street and a shootout in the restroom of a nightclub, and it's all well-choreographed and executed, but after a while, the viewer goes numb to all of the muzzle flashes, smoking barrels, and whizzing bullets. The best scene in the film shows Paul interrogating a thug in a garage, and it's the most memorable segment because he uses other means besides guns to accomplish his goal. Death Wish is more of a crime drama than an action movie, and Eli Roth lets the drama takes the lead while the action is left to back it up.
Cast and Crew
Director(s): Eli Roth
Producer(s): Roger Birnbaum
Screenwriter(s): Joe CarnahanWendell Mayes
Story: Brian Garfield
Cast: Bruce Willis (Paul Kersey)Vincent D'Onofrio (Frank Kersey)Elisabeth Shue (Lucy Kersey) Camila Morrone (Jordan Kersey)Dean Norris (Detective Kevin Raines)Beau Knapp (Knox)Kimberly Elise (Detective Leonore Jackson)Len Cariou (Ben)Jack Kesy (The Fish)Ronnie Gene Blevins (Joe)Kirby Bliss Blanton (Bethany)
Editor(s): Mark Goldblatt
Cinematographer: Rogier Stoffers
Production Designer(s):
Costume Designer: Mary Jane Fort
Casting Director(s): Andrea Kenyon & Randi WellsMarisol RoncaliMary Vernieu
Music Score: Ludwig Göransson
Music Performed By: 
Country Of Origin: USA