Cinema Fearité presents 'Urban Legend'
Meta-slasher 'Urban Legend' was a bright spot for the nineties.
When Wes Craven's Scream was released in 1996, it single-handedly revitalized the slasher genre during a time when, let's face it, horror movies were pretty stagnant.  The movie's success opened the doors for more hip horror movies, and that fact was both a blessing and a curse.  For every I Know What You Did Last Summer, there were ten Bloody Murders and Lovers Lanes.  But the late nineties did have its bright spots.  And the 1998 meta-slasher Urban Legend was one of them.
Urban Legend is about a college campus that finds itself plagued by a series of strange murders.  A young woman in a folklore class named Natalie Simon (Cecil B. Demented's Alicia Witt) figures out that the murders seem to be acting out various urban legends, everything from "The Killer in the Backseat" to "The Boyfriend Outside of the Car."  Armed with this knowledge, Nat enlists help from her best friend, Brenda (Jawbreaker's Rebecca Gayheart), and the school newspaper's star reporter, Paul (Jared Leto from American Psycho and Blade Runner 2049), to figure out who might be the next victim – and what legend might be used to kill them.
Urban Legend was directed by Jamie Blanks (Valentine) from a script by Silvio Horta ("Ugly Betty").  Essentially, it's a formula slasher, complete with all of the inorganic-yet-suspenseful plot contrivances, unrealistically scary story elements, and ridiculous red herring leads.  It's got a fearsome mysterious killer with a spoon-fed motive who hunts a plethora of cannon fodder victims to get to a capable "final girl" with whom he has an inevitable showdown.  What makes Urban Legend fun and exciting is the integration of the campfire tales and urban legends into the narrative, providing the killings with a unique and creative spin.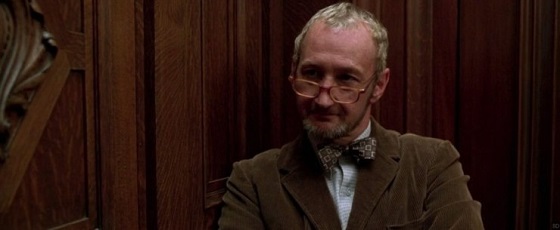 And Urban Legend does throw in just about every significant spooky folk tale from the seminal Jan Harold Brunvand urban legend textbooks.  Every cautionary legend from "The Babysitter and the Man Upstairs" (as popularized in When a Stranger Calls) to "Aren't You Glad You Didn't Turn On The Lights" are used to kill off stupid college kids.  The fact that the kids know the legends and still wind up on the wrong end of them just makes the movie all the more self-referential.  As if the crazed maniac stories aren't enough, Urban Legend also mentions many of the more mundane and unbelievable myths, tales like the old "Pop Rocks and Coke" standard and the "Poodle in the Microwave" fable (trigger warning for animal lovers – yes, this last one is in there, and yes, a poor dog dies).  Jamie Blanks and Silvio Horta stuff every familiar legend from Brunvand's encyclopedia into Urban Legend, and for amateur folklorists, spotting them is an added bit of fun.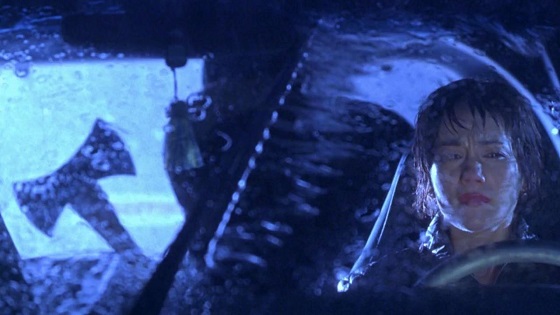 Like most of the post-Scream slashers, Urban Legend boasted a hip, young, and pretty cast that effectively sold the film to the WB/Fox television crowd.  Alicia Witt previously appeared on the Chuck Lorre/Cybill Shepherd comedy "Cybill," Jared Leto was a bona-fide heartthrob from his days on "My So-Called Life," and Rebecca Gayheart did time as Dylan McKay's love interest on "Beverly Hills, 91210" (after a modelling stint as the "Noxzema Girl").  The cast is rounded out by actors like Joshua Jackson (who was keeping up with his "Dawson's Creek" co-stars Katie Holmes and Michelle Williams, who made Disturbing Behavior and Halloween H20 that same year, respectively), Tara Reid (who was about to blow up big on American Pie), and Michael Rosenbaum (who would go on to play both The Flash on "Justice League" and Lex Luthor on "Smallville").  That's a lot of big up-and-coming names for one movie by today's standards, but that was par for the course when it came to late nineties horror movies.
In addition to the flavor-of-the-month actors, there were a handful of familiar horror icons that were cast in glorified bit parts in Urban Legend.  Freddy Krueger himself, Robert Englund (also from Dead & Buried and Eaten Alive), shows up in a few scenes as the college's folklore professor.  Danielle Harris from the middle Halloween movies (and also Hatchet III) pops in as Nat's goth roommate who becomes one of the movie's most memorable murder victims in the "Aren't You Glad You Didn't Turn On the Lights" bit.  And, in an uncredited surprise appearance, the voice of Chucky, Brad Douriff (also from Body Parts and Sonny Boy), drops by as a gas station attendant who plays a pivotal role in the "Killer in the Backseat" murder.
Also like all of the good nineties teen slashers, Urban Legend's soundtrack plays a big role in the film.  There's a suitably satisfying score from veteran composer Christopher Young (Trick or Treat, The Dark Half, Flowers in the Attic), but the real sonic draw is the clever use of strategically placed pop songs.  The opening scene, the one that retells the "Killer in the Backseat" legend, features an ominously innocent placement of Bonnie Tyler's "Total Eclipse of the Heart," twenty years before it was used to a similar effect in The Strangers: Prey at Night ("Turn around, every now and then I fall apart!").  Keeping with the urban legend theme, a DJ at a big party spins Ohio Players' "Love Rollercoaster," which, as "legend has it," features a recording of a scream from a woman who was actually being murdered at the time (the legend is false).  On the humorous side, during a scene where Joshua Jackson starts up his car, Paula Cole's "I Don't Want to Wait" unexpectedly blasts out of his speakers, causing his character to turn it down quickly and claim to hate the song (it was the theme song from Jackson's hit show "Dawson's Creek").  Every diegetic song in Urban Legend is there for a reason, and picking out that reason is a lot of fun for the audience.
Of course, Urban Legend can't hold a candle to Scream.  It can't even hold a candle to I Know What You Did Last Summer.  But, as a hip nineties slasher, it's functional, and thanks to the urban legend gimmick, the emphasis is on the "fun."