Robert Pattinson smells like sex…that is what director David Cronenberg makes clear in Cosmopolis, his new film starring Robert Pattinson as the paranoid corporate tycoon Eric Packer who is destined to fall prey to his own created schizoid demise.  Adapted from the highly acclaimed novel "Cosmopolis" by Paulo Branco, Cronenberg's screen adaptation pits Pattinson against his own known screen persona, the vampire, baiting him to come forth and prove he is more than a cool and distant undead male desperately seeking affection and empathy for his cruel deeds.  But Pattinson's Eric is exactly the same typographical character in Cosmopolis; the only difference being his thirst is not for blood but for money, security, and power.
Pattinson manages to elude a sense of boredom with every scene, his character more drawn to the innocuous than the ferocious as one with his power would assume to possess. He meets with employees of his company in his fortified limousine while on his way across town to get a haircut.  He has been told a threat exists, someone wants him dead, but the haircut trumps any form of danger. The haircut by chance being his desire to break free of the walls that have imprisoned him.   Those he meets with are filled with information, answers to his questions, or teasing commentary as to the state of his own existence.  Some scenes run far too long causing disinterest, as when he meets with his security advisor Shiner (Jay Baruchel).  Or the conversations become grossly obtuse, losing the viewer in a haze of conjecture and confusion, as with advisor Vija Kinsky (Samantha Morton).  He picks up Vija and shortly after a doctor who will perform his daily physical, rectal exam included.  The intrusiveness of the scene is suffocating, as Eric is examined while continuing to philosophize with Vija.  It also happens to be sexually charged, an occurrence otherwise not seen in the film–an unfortunate occurrence as his mistress Didi Fancher is played by the beautiful Juliette Binoche.  The meetings in the limousine, while chaos ensues outside on more than one occasion, procure a sense of denial as to these people being real.  The possibility that they are constructs of Eric's own mind highly probable.  The fact that they lead to his own demise into a form of callous and careful madness more than evident.  The meetings provide information on the way Eric's mind works, how his world is managed, and most importantly the fear he possesses.  The fear of death, of loss, his insecurities are put in plain view, but void of any emotional response.  A masterful plan or poorly executed adaptation of a character originally created on paper–the answer remains unknown.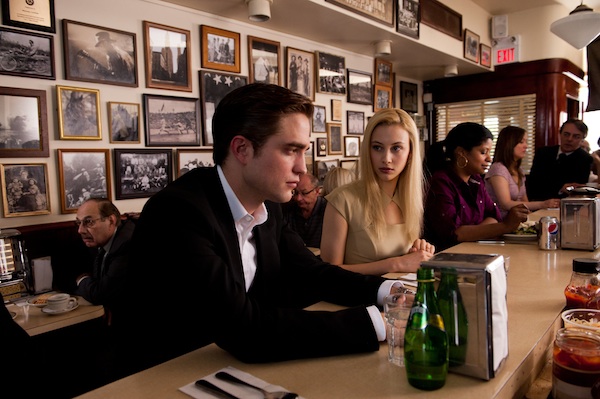 The only real opportunity to glimpse the man behind the persona that is Eric Packer occurs during the awkward meetings with his new wife Elise (Sarah Gadon).  He has to find her in the city, and by doing this it occurs mostly by chance, or perhaps planned probability.  Their meetings could be construed at first as a playful game between lovers, a cat and mouse chase to add an element of surprise to their dreary money laden lives. The realization that they are in fact desperate attempts by Eric to find an emotional connection outside of his vapid reality comes with little shock, yet it provides humor when she greets him each time by saying "you smell like sex."  Only to have him reply that she is smelling his want for sex, with her of course.  The viewer knows better, after he has been seen with his mistress Didi and an employee in the midst of coitus only minutes before.  The grounding element of Cosmopolis is the time spent between Eric and Elise.  The meetings occur in a planned sequence throughout the day, around meal times, and conclude over a dinner table in an empty restaurant–emptiness being a recurring theme in Cosmopolis.  The desire for intimacy, a greater meaning and connection to the world through his relationship with his wife contrasts drastically with the stone-faced yet panic stricken persona seen in the rest of the film. It is only when a drastic blow is dealt by Elise that Cosmopolis takes the desperation that surrounds loneliness and threatens to implode upon itself by the hands of Eric.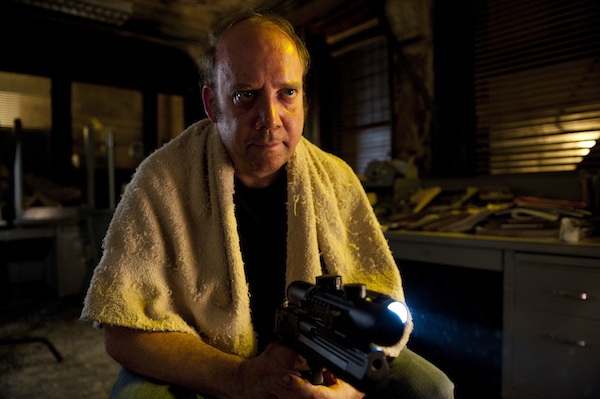 The implosion procures violence without remorse.  It then proceeds to pit the Man against the Minion.  Paul Giamatti steps in to play the part of the people with Benno Levin, those who go unnoticed and neglected in society.  His presence over-emphasizes the plight of man, the depths of destruction and torment that exists in life.  Far too much time is spent on telling, on exposition, than on actual evocation.  The face off between villain and victim is no more than a meek statement on power politics.  Cosmopolis does not meet the grand expectations it sets forth for itself.  A gun in the hand does not equate power, and powerful words spoken are not powerful when they contain little capacity for thought and analysis.  The overreaching of Cosmpolis is seen in the final minutes, and the fraud of a film desperately trying to mean something more than it does seen fully.
Official Synopsis:
From director David Cronenberg (A HISTORY OF VIOLENCE, DEAD RINGERS, THE FLY, EASTERN PROMISES) and based on the prophetic novel by Don DeLillo, comes COSMOPOLIS, a contemporary thriller that turns into a wild, hypnotic odyssey through our new millennium's obsessions with power, money, control, information, technology, violence, sex, mortality, revolution, destruction and ultimately, redemption.
Unfolding in a single cataclysmic day, the story follows Eric Packer (Robert Pattinson) – a 28-year old financial whiz kid and billionaire asset manager – as he heads out in his tricked-out stretch limo to get a haircut from his father's old barber, while remotely wagering his company's massive fortune on a bet against the Chinese Yuan.  Packer's luxe trip across the city quickly becomes dizzyingly hellish as he encounters explosive city riots, a parade of provocative visitors, and is thrust into a myriad of intimate encounters.  Having started the day with everything, believing he is the future, Packer's perfectly ordered, doubt-free world is about to implode. Produced by Paulo Branco and Martin Katz, COSMOPOLIS also stars Juliette Binoche, Sarah Gadon,  Mathieu Amalric, Jay Baruchel, Kevin Durand, K'Naan, Emily Hampshire with Samantha Morton and Paul Giamatti.
Website:   www.cosmopolis-movie.com