The HBO Brexit Movie, Brexit: The Uncivil War, Is Absolutely Enthralling While Making Brits Look Incredibly Stupid
Americans, too, look very stupid in Brexit's eyes, and with good reason.
Release Date: January 19, 2019
The result of the Brexit referendum in summer 2016 caused a political earthquake that laid waste to the normally stable British establishment and sent political tremors around the world. This provocative feature-length drama, Brexit: The Uncivil War, goes behind the scenes, revealing the personalities, strategies and feuds of the Leave and Remain campaigns. The tactics employed by Vote Leave during the data-driven campaign swayed a historically silent voting bloc that would ultimately decide the outcome of the referendum, as well as affecting future elections around the world.
Director: Toby Haynes
Screenwriter(s): James Graham
Producer(s): Lynn Horsford
Cast: Benedict Cumberbatch (Dominic Cummings), Lucy Russell (Elizabeth Denham), John Heffernan (Matthew Elliott), Rory Kinnear (Craig Oliver)
Editor: Matthew Cannings
Cinematographer: Danny Cohen
Production Designer: Ed Turner
Casting Director(s): Nina Gold, Martin Ware
Music Score: Daniel Pemberton
Regardless of your location in the world, you may be quite tired of hearing about Brexit, even if it will affect you personally. In fact, it will effect us all in one way or another, but that's a story best suited for coverage on, say, CNN. HBO's Brexit, or Brexit; The Uncivil War, starring Benedict Cumberbatch (Avengers: Infinity War) as Dominic Cummings, the mastermind behind the Leave group whose mission is was to convince voters in the United Kingdom to leave the European Union, is here to make sure the Brexit topic doesn't die anytime soon. Not that there is a chance of that happening anyways.
The HBO Brexit movie is also here to make sure that everyone in the United Kingdom feels stupid, and everyone in the United States, too.
On June 23, 2016, British voters chose by referendum whether to stay or exit the European Union (EU). When you take Britain and exit and smash them together, you get Brexit. It's like Brangelina for a member of a far-reaching, super impactful political, economic, and everything else bloc of 28 countries. The United Kingdom, the fifth biggest national economy in the world, was a massive part of the European Union on all fronts.
The 2016 Brexit vote decided that the United Kingdom would be ditching the EU and returning to a solo nation that will manage itself — something it hasn't exactly done since WWII, but more so since the 1990s. The HBO Brexit movie tells the story of how an anti-EU group convinced citizens of the United Kingdom to vote leave.
Brexit is both a cautionary tale and not; it's done, for better or worse, and while we would love to think that history does not repeat itself, it does all the time.
The Big Question in the HBO Brexit Movie: How Did Brexit Happen?
This is where HBO's Brexit comes in: To tell you a version of what went down behind the scenes of the anti-EU group that made it possible for the Leave vote to win. It's done in a strange, dramatic but comedic fashion, where many characters come off as caricatures or even buffoons, like Nigel Farage (Paul Ryan) and Boris Johnson (Richard Goulding), the then Mayor of London. But all eyes are truly on Dominic Cummings, whom Benedict Cumberbatch plays splendidly, as a narcissistic, no tactic too sleazy strategist.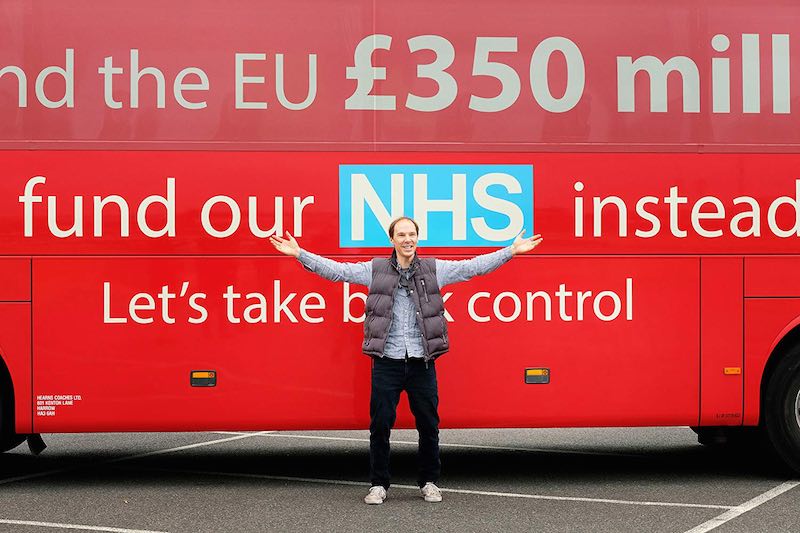 The tactics he employs are sleazy, but they make total sense if you're fighting to win. And Cummings signed on to the cause ready for a fight. How he managed to get the votes to leave the EU will make every Brit and American's skin crawl.
Data Mining and Social Media, a Match Made In Brexit Movie Heaven
For the first act in Brexit, we get the normal introduction to characters and background and a sense of why some people want to stay in the EU and why others want to leave. It's not a history lesson and is quite fascinating to watch as the data unfolds and you see how people feel about such things as immigration and the long-standing resentments they hold. Cummings knows how to feed the disgruntled exactly what they need to hear to secure their vote, and the catchphrase to nab their attention: "Vote Leave, Take Back Control."
Take back is key here because it makes you think that what you had before was better, even if it never actually existed or is completely inaccurate.
If you're an American reading this and did not vote for Trump, your stomach likely just turned, and maybe a bit of your last meal tried to creep up from your stomach. I felt that way, too. It only gets worse, which is why Brexit is a movie you can't look away from or leave the couch for any reason until it concludes. It resonates even across the pond where "Make America Great Again" is still being sold on hats and other merchandise because everything is for sale, including people.
Brexit makes that quite clear with its reveal that AggregateIQ, a data mining and analysis company in Canada, played a major part in the passing of Brexit. This is also where the fun really begins in HBO's Brexit. Seeing how audiences on social media are manipulated into giving out their information is fascinating. And it's so easy to fall for it without even knowing. That's the point. It only gets better when you learn that your habits on social media can be read and interpreted by a computer and accurate predictions made on what you will do before you've done it.
The Brexit movie isn't science fiction, but it damn well feels like it should be. For all the political jargon and confusing mentions of the structure of the British Parliament to an outsider, Brexit succeeds because you want to understand how the manipulation works. You want to see what they did to convince millions of people to vote for something that they knew nothing of the repercussions or fully understood in general.
Americans, is this sounding more and more like a mirror into what happened in November 2016? It should.
Brexit and Trump, More Than a Movie
The similarities to the depiction of how Brexit passed and how Trump became the president of the United States are hard to ignore in the HBO Brexit movie. It's funny to recall the teasing Americans (like myself) put upon British friends after Brexit, only to have it come right back five months later when Trump took the White House.
It may be a spoiler to tell you who the man behind the data mining companies is so I'll leave it out, but the filmmakers make it very clear to reveal his connection to Trump. Brexit may be about the United Kingdom voting to leave the European Union, but it doesn't want the conversation to end there. It plainly makes it clear that Brexit is only the beginning of the story, and it leaves you with the undeniable feeling that a part two may be coming soon (hopefully with the title "Trexit").
Once the thrill and interest of watching the Leave EU group treat citizens like puppets and accept whatever nonsense is thrown at them, you may come to a very big realization: British, American, they're all idiots. And if you're part of either group, you may have to own up to being an idiot. Thankfully, second chances are possible (remember that in 2021 if you're American).
If you're British, The HBO Brexit movie is really going to piss you off whether you voted to stay or go. Watch it anyway because it truly is great entertainment, even though you know it's detailing a distressing moment in history that isn't over and foreshadowing another.
HBO wins with Brexit, the rest of the world, not so much.