Synopsis: Simon Spier keeps a huge secret from his family, his friends, and all of his classmates: he's gay. When that secret is leaked, Simon must face everyone and come to terms with his identity.
Release Date: March 16, 2018     MPAA Rating: PG-13
Genre(s): Comedy, Drama
Film Review

Love, Simon is about a high school kid named Simon Spier (Nick Robinson from Jurassic World) who has loving parents (Safe Haven's Josh Duhamel and Dallas Buyers Club's Jennifer Garner), a cool kid sister (Talitha Bateman from Annabelle: Creation), and a tight group of friends that includes Leah (Katherine Langford from "13 Reasons Why"), Abby (Alexandra Shipp from Tragedy Girls), and Nick (Spider-Man: Homecoming's Jorge Lendeborg Jr.). But he also has a secret. Simon is gay.
After seeing an anonymous post on the high school rumor web page from another closeted teen, Simon begins an email relationship with the poster. When his email records fall into the hands of a cocky kid named Martin (Before I Fall's Logan Miller), Simon is blackmailed into helping Martin land a date with Abby under the threat of being outed. While Simon tries to appease Martin, he also desperately longs to learn the true identity of the secret correspondent for whom he has fallen.
Based on the young adult novel "Simon vs. the Homo Sapiens Agenda" by Becky Albertalli, Love, Simon was written by Elizabeth Berger and Isaac Aptaker (two of the writers behind "This Is Us"), and directed by Greg Berlanti (Life as We Know It). The best way to describe it is that it's an LGBTQ answer to Me and Earl and the Dying Girl, sort of like a modern-day John Hughes movie with a clever little mystery built right into it. It's a story of unrequited love and longing for acceptance, but there's also a ton of the typical high school movie drama tacked on for good measure.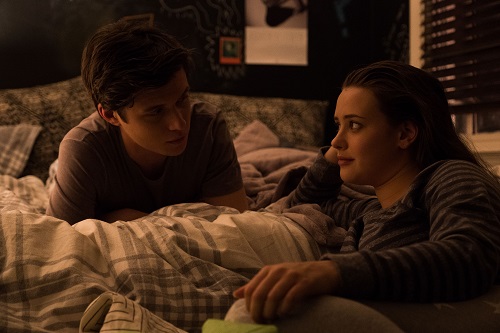 Whether one considers the movie a cunning mystery or a romantic comedy, the strength and effectiveness of Love, Simon lies within its characters. Simon is likeable and relatable, no matter what the sexual orientation of the viewer may be. Outwardly, Simon has an idyllic life, but his internal strife is what keeps him fascinating.and flawed. And the other characters are fleshed out just as fairly. Simon's bestie Leah has schoolgirl secrets of her own, and Abby struggles with her insecurities about fitting in as the "new" friend in the group. Even Martin, who is the closest thing to an antagonist that Love, Simon has, is treated somewhat sympathetically as not an entirely bad guy, even when he's using underhanded tactics to accomplish his goals. So, Love, Simon is a bit like a true high school experience, or at least a very saccharine memory of one, and that nostalgic feeling spills over to the viewer. It's a charming story filled with charming characters.
The world needs more movies like Love, Simon. There have been a plethora of movies with homosexual characters flooding theaters lately, and they're good ones like Call Me by Your Name and A Fantastic Woman, but Love, Simon is different. There's a certain nonchalance about it. Simon's sexuality plays a part in the story, and it's a big part, but a huge deal is never made out of it. It's just a genuine coming of age and coming out story. It's also heartwarmingly funny. And it's a very difficult movie to not like.

Cinematographer John Guleserian (The Overnight) looks to have been having a lot of fun with Love, Simon, and that fun carries over into the finished film. Much of the movie is captured with handheld cameras and Steadicams, so the viewer actually gets a feel for being in the trenches at Simon's school. Guleserian also uses cool focal tricks like shallow depth of field and rack focusing to help point the audience's eye to exactly what they should be seeing. Which is good, because Guleserian also uses the entire frame when he shoots, giving the viewer plenty to look at in each scene. Love, Simon is equally whimsical and somber (okay, maybe more whimsical), and the photography helps show both sides of that coin, plus a whole lot more.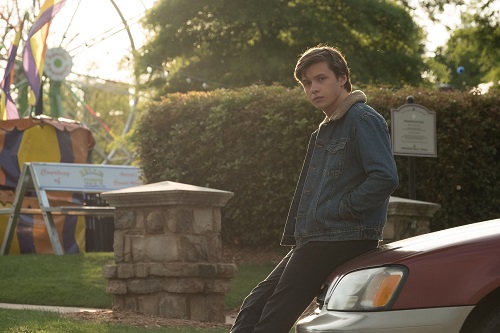 Cast and Crew
Director(s): Greg Berlanti
Producer(s): Marty BowenWyck GodfreyIsaac KlausnerPouya Shahbazian
Screenwriter(s): Elizabeth BergerIsaac Aptaker
Story: Becky Albertalli
Cast: Nick Robinson (Simon Spier)Josh Duhamel (Jack Spier)Jennifer Garner (Emily Spier) Talitha Eliana Bateman (Nora Spier)Katherine Langford (Leah Burke)Alexandra Shipp (Abby Suso)Jorge Lendeborg Jr. (Nick Eisner)Logan Miller (Martin Addison)Keiynan Lonsdale (Bram Greenfeld)Miles Heizer (Cal Price)Tony Hale (Mr. Worth)Clark Moore (Ethan)
Editor(s): Harry Jierjian
Cinematographer: John Guleserian
Production Designer(s):
Costume Designer: Eric Daman
Casting Director(s): Denise Chamian
Music Score: Rob Simonsen
Music Performed By: 
Country Of Origin: USA