No actor is more associated with the genre of film noir or better suited to interpret its tropes than Humphrey Bogart. His filmography covers a wide range from comedy to westerns, but noir was his specialty. Playing shrewd, playful characters with strict moral codes inhabiting a corrupt world, Bogart appeared in more than twenty noir and noirish tales, from The Petrified Forest (1936) to The Harder They Fall (1956). The actor who famed director Howard Hawks once called "the most insolent man on the screen" is undeniably emblematic of film noir. In his career at Warner Bros., Bogart used his sardonic glances and distinctive lisp to sketch out the essential qualities of the new noir anti-hero. By 1948, however, Bogart had established his own production company, Santana Productions, and began making films with an eye toward reworking his screen personality. Directed by Nicholas Ray, In a Lonely Place (1950) succeeds in deconstructing Bogart's old persona with a role at once more vulnerable than any previous Bogart character and closer to Bogart's true personality.
Inevitably, age becomes a factor in an actor's later career. For Bogart, he could still coast through roles such as Frank McCloud in Key Largo (1948), a mixture of noir and romanticism. But the question remained how much longer could he play a cherished romantic hero, a sarcastic private eye, or a straightforward tough guy? By the age of forty-nine when he made The Treasure of Sierra Madre (1948), Bogart was wearing a toupee. It was clear that he needed roles that acknowledged his age, even explored the insecurities of aging. Santana Productions provided the ideal outlet to adapt Bogie's on-screen personality to his new situation. Under Santana Productions, Bogart starred in the noirs Knock on Any Door (1949), Tokyo Joe (1949), In a Lonely Place, Sirocco (1951) and Beat the Devil (1954). Of these films, In a Lonely Place is best remembered today and is recognized as a masterpiece of film noir. Part of the success of the film may be attributed to its director, Nicholas Ray. Bogart and Ray had their differences but were drawn together by a shared rebellious nature and their antipathy toward studios. One of Hollywood's anomalies, Ray was the ideal director to tackle Bogart's changing persona and the burdens of an aging tough guy.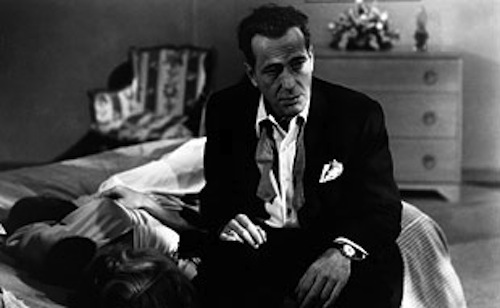 In a Lonely Place sees Bogart star as Dixon Steele, a down-on-his-luck screenwriter with an explosive temper who is suspected of murder. Dix hasn't had a hit screenplay in years, so his agent suggests he adapt a popular novel. The two meet up at a nightclub to exchange the book, but the hat-check girl, Mildred, is engrossed in reading it and insists on finishing before Dix leaves. Too tired to read the book himself, he asks Mildred to come home with him and tell him the plot. She explains the story, only confirming Dix's suspicions that the book is complete trash, and he gives her cab fare and sends her home. Dix wakes up in the morning to a police detective knocking at his door to take him downtown. Mildred was murdered in the night, and Dix is the main suspect. Called in to give evidence is Dix's neighbor, Laurel Gray (Gloria Grahame). Despite their unconventional first meeting, the two begin to fall in love, but their relationship is troubled by Dix's violent outbursts and Laurel's suspicions. What has been described as one of the most heartbreaking love stories ever committed to film, In a Lonely Place explores the dark places in a man's soul and a woman who thinks she can heal him.
Dix's story fit Nicholas Ray's formula perfectly – a violent, loner protagonist racked by insecurities and cynicism. Ray's previous films, They Live by Night (1949) and Knock on Any Door (also starring Bogart) subtly subverted the conventions of Hollywood and focused on characters who held normal society in contempt and simultaneously longed to rejoin it. This struggle applies to both Dix and Bogart – a hard-up writer with a bad reputation and an aging star seeking to break out of his confining studio tough guy roles. In a Lonely Place gave Ray and Bogart an opportunity to make explicit the demystification of Bogart's classic wise guy hero. Ray looked beyond the old Bogart persona, the slick detective roles and instead explored the successful man afflicted with selfishness and drunkenness. Ray saw Bogart as an emblem of this condition. Minimizing the audacity and bravado of Bogart's bold noir heroes, what remains is the fatigued sadness, the melancholy that had always been concealed. As In a Lonely Place illustrates, no amount of wisecracking shields this character from ultimate disillusionment.
Bogart's famous roles – from Sam Spade to Charlie Allnut – cast him as a tough, world-weary, anti-social, and witty cynic. Film noir traditionally gives us a protagonist who we should find repellent but who is, instead, sympathetic. Bogart always brought magnetism and charm, even to his darkest roles, and his portrayal of Dix initially seems to follow the pattern of a lovable deadpan sarcastic. When first brought in for questioning after Mildred's death, his witty repartees and apparent unconcern are nothing short of delightfully hilarious. The police don't see it that way, rebuking his behavior after being told that the hat-check girl was murdered, "What's your reaction? Just petulance at being questioned and a couple of feeble jokes." Put that way, Dix comes across as completely uncaring, but even his close friends admit that it's hard to tell how he feels about anything. He is unreadable, and his inherent ambiguity only strengthens the doubts surrounding his innocence. We want to excuse his jokes, his violent temper, and his gruesome reimagining of the murder scene as artistic temperament. After all, his agent is right when he says that Dix wouldn't be the same brilliant writer without his dark side. He has to explode sometimes. With each outburst, our unease only grows, and we can't help but suspect him until the very end.
Many critics have cited Bogart's performance as Dixon Steele as the strongest in his career, mostly due to his honesty in portraying the temperamental, alcoholic writer. Honesty was really the only way to approach a role so close to home. The best attributes of Dix and the worst of Bogart intersect in In a Lonely Place. At their most basic levels, they share the fears of successful men and choose to dissolve them in alcohol. Ray foregoes the bravado of Bogart's old persona and instead depicts a man who is truly vulnerable and, above all, tragic. This new version of Bogart merges with Dix Steele whose crippling self-loathing destroys all hope of success and future happiness. As Bogart's friend, Louise Brooks, later wrote, "he played one fascinatingly complex character, craftily directed by Nicholas Ray, in a film whose title perfectly defined Humphrey's own isolation among people. In a Lonely Place gave him a role that he could play with complexity because the film character's, the screenwriter's, pride in his art, his selfishness, his drunkenness, his lack of energy stabbed with lightning strokes of violence, were shared equally by the real Bogart." For all of Dix's drunkenness and violent outbursts, he comes closest to the real Bogart.
It's strange that Bogart was so inescapably linked to the hardened image of a tough guy. He played vulnerable men with such honesty, his performances tempered by experience. Earlier in Casablanca – his most famous role – he was already a vulnerable, insecure man drinking alone late at night and afraid of hearing an old love song. Nicholas Ray merely pushed this character to his logical end: a tough guy mellowed by age, unkempt and full of self-doubt but even more sympathetic.