Synopsis: Nymphomaniac: Volume 2 is the conclusion of Joe's (Charlotte Gainsbourg) story, a self-diagnosed nymphomaniac who is discovered badly beaten in an alley by an older bachelor, Seligman (Stellan Skarsgard), who takes her into his home. As he tends to her wounds, she recounts the erotic story of her adolescence and young-adulthood.
Release Date: April 4, 2014     MPAA Rating: PG-13
Genre(s): Drama,
Film Review

Smartly, Lars von Trier divided his epic Nymphomaniac into two parts. This was a good move for a couple of reasons. The obvious one is that together they clock in at about four hours long, but there is also the fact that Volume I and Volume II have thematic differences, making it a tale of two movies. While they function as one story, they split up rather conveniently.
Nymphomaniac: Vol. II picks up right where Nymphomaniac: Vol. I left off, with Joe (Charlotte Gainsbourg from Antichrist) recuperating from her beating and discussing her past with Seligman (Melancholia's Stellan Skarsgard). She continues through her history, recounting the events that brought her to Seligman, while he offers insights and advice about her experiences. Volume II covers more of Joe's adult life, with more risque and dangerous encounters, and also shows some of her attempted methods of coping with her affliction. Seligman talks her through the tough areas as she recalls the shady and horrible things that she has done in the name of her nymphomania.
If Nymphomaniac: Vol. I set up the characters and concept, Nymphomaniac: Vol. II shows their growth. There's not as much pure sex in Volume II, but the film is still provocative and shocking. Now that Joe has reached adulthood, her narrative delves into the darker side of her life, showing her experiences with bondage, S&M, lesbianism, and pedophilia. Volume II explores the deviance of the adult Joe; there is very little innocent play, and much more of the seedy underbelly of Joe's world. And it's violent. Aside from the S&M and the actual assault that brought her to Seligman's care, the film also shows unflinching and cringe-worthy looks at the toll that Joe's lifestyle is taking on her body. Even though her experiences were explicit and x-rated, there was still a certain innocent charm to Joe in Volume I; not in Volume II.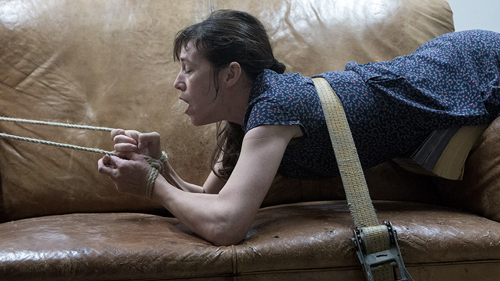 Seligman's commentary to Joe's play-by-play is more advanced, as well. Instead of the fishing metaphors and therapeutic psychobabble that he spouted in Volume I, Seligman turns his thoughts more towards philosophy and religion, all while still listening and dishing advice. The audience learns more about his character as well, as Joe is able to squeeze secrets and confessions out of him. He no longer seems like the savior that he was in Volume I. Both volumes of Nymphomaniac have very ambiguous character elements, but Volume II treats Joe's past life as the story's antagonist. She is unapologetic, consistently making decisions that jeopardize her health and safety as well as that of her family and friends, all in the name of her sex addiction. She won't even refer to it as an addiction; in one scene, she is part of a therapy group, and she chastises the other members for using the phrase "sex addiction," proudly proclaiming herself as a nymphomaniac.
Lars von Trier keeps the actual sex in Nymphomaniac: Vol. II to a minimum. The film deals more with abnormal sexuality than white-bread sex, but not in a deranged way; when Joe is part of a threesome or is being bound and whipped by a boyfriend, the audience knows enough about the character to not pass judgment too quickly. Joe may be a less sympathetic character in Volume II than she was in Volume I, but she's still the heroine of the story.

Just as it was in Nymphomaniac: Vol. I, the acting in Nymphomaniac: Vol. II is great. Once again, the chemistry between Charlotte Gainsbourg and Stellan Skarsgard is at the forefront, and the pair's relationship advances as they get to know each other. Joe begins to harden a bit as she gains confidence, while Seligman shows vulnerabilities and cracks in his armor. Because she plays the older Joe in flashbacks, Gainsbourg gets more screen time in Volume II, and she makes the most of it. Volume II also introduces a couple of new faces to the story to take the place of the ones from Volume I who have disappeared; Jamie King (Billy Elliot) plays one of Joe's men whom she allows to tie her up and whip her during her S&M phase, while Willem Dafoe (The Grand Budapest Hotel) has a small yet meaningful role as a man who helps Joe find her calling in life. Like Skarsgard, both King and Dafoe have great comfort and chemistry with Gainsbourg, a fact that states volumes about Gainsbourg's acting ability during awkward and uncomfortable moments. Nymphomaniac: Volume II still has the Shia LeBeouf factor to contend with, and he is not any better than he was in Volume I, but the rest of the cast makes up for it.
Cast and Crew
Director(s): Lars von Trier
Producer(s):
Screenwriter(s): Lars von Trier
Story: 
Cast: Charlotte Gainsbourg (Joe)Stellan Skarsgard (Seligman)Stacy Martin (Young Joe) Shia LaBeouf (Jerome)Christian Slater (Joe's Father)Uma Thurman (Mrs. H)Sophie Kennedy Clark (B)Connie Nelson (Joe's Mother)
Editor(s): Morten Hojbjerg
Cinematographer: Manuel Alberto Claro
Production Designer(s):
Costume Designer: 
Casting Director(s): 
Music Score: 
Music Performed By: 
Country Of Origin: USA