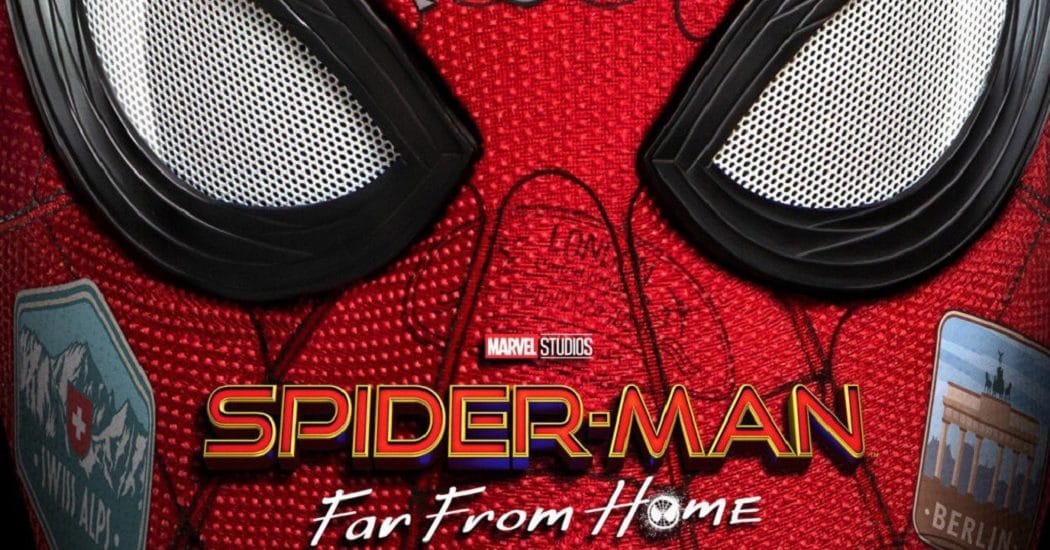 Spider-Man: Far From Home Review
It's not as ambitious or grandiose as its predecessors, but 'Spider-Man: Far From Home' is a fitting comedown for the MCU Infinity War Saga.
Release Date: July 2, 2019
Following the events of Avengers: Endgame, Spider-Man must step up to take on new threats in a world that has changed forever.
Director: Jon Watts
Screenwriters: Chris McKenna, Erik Sommers, Stan Lee, Steve Ditko 
Producers: Kevin Feige, Amy Pascal
Cast: Tom Holland (Peter Parker/Spider-Man), Jake Gyllenhaal (Quentin Beck/Mysterio), Samuel L. Jackson (Nick Fury), Jon Favreau (Happy Hogan), Zendaya (Michelle Jones), Cobie Smulders (Maria Hill), Marisa Tomei (May Parker), Jacob Batalon (Ned), Angourie Rice (Betty)
Editors: Leigh Folsom Boyd, Dan Lebental
Cinematographer: Matthew J. Lloyd
Production Designer: Claude Pare 
Casting Directors: Sarah Finn, Jina Jay, Maya Kvetny
Music Score: Michael Giacchino

If you thought Avengers: Endgame wrapped up the most recent phase of Marvel movies, well, you're pretty much right. But what has been known as "Phase 3" of the Marvel Cinematic Universe isn't quite finished. Not yet. Spider-Man: Far From Home is here to officially close out the "Infinity Saga" of the MCU.
Spider-Man: Far From Home takes place after the events of Avengers: Endgame, with Peter Parker, aka Spider-Man (The Impossible's Tom Holland), struggling to come to terms with (spoiler alert for Endgame) the death of his friend and mentor, Tony Stark. What better way to cope with grief than to take his senior trip to Europe with his friends, and possibly confess his feelings to his crush, M.J. (Zendaya from Smallfoot).
But nothing is ever that simple in the life of a superhero. With no Tony Stark around, Nick Fury (Shaft's Samuel L. Jackson) looks to Spider-Man for help with the latest global threat, four "Elementals" who are wreaking havoc around the world (and are conveniently striking in Europe, where Peter happens to be). But Spider-Man doesn't have to face the foes alone; Fury has also enlisted the help of a powerful hero from an alternate Earth named Quentin Beck, aka Mysterio (Nightcrawler's Jake Gyllenhaal), who is familiar with the Elementals. Unfortunately for all involved, Mysterio's motives for helping are not entirely pure.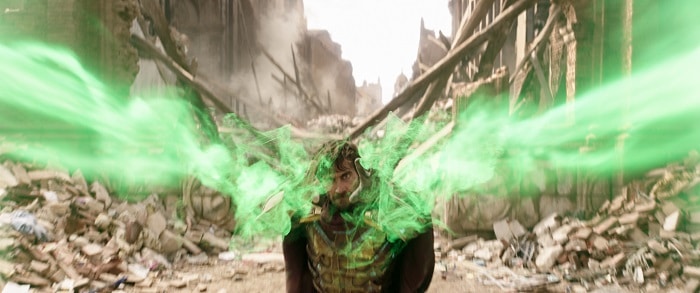 That is pretty much only the first half of Spider-Man: Far From Home. There's a genius left turn at about the midway point that changes everything. Those who are familiar with the characters of the Spider-Man universe can probably figure out what happens, but for the sake of those who aren't, this review will not spoil anything. Just know that the second half of Spider-Man: Far From Home is a very different movie from the first.
Director Jon Watts and screenwriters Chris McKenna and Erik Sommers from Spider-Man: Homecoming are all back for this trip, but that's it; none of the other six credited screenwriters on the first movie have returned, so Spider-Man: Far From Home is a much more streamlined and economical movie. And, after the ambitious and grandiose Avengers: Infinity War series of movies, the stripped back approach is a welcome change. It's not exactly a simple story, but keeping track of where (and when) the different characters are is not an issue.
There's a naïve simplicity to Peter Parker/Spider-Man that is charmingly on display in Spider-Man: Far From Home. Peter plays the reluctant hero, seeming almost as if saving the world is a necessary nuisance to his primary goal of hooking up with M.J. This lends a cute sort of John Hughes vibe to the Stan Lee adventure, one which is amplified by the fact that all of his high school friends are in the danger zone with him. It also serves to humanize Peter, making him one of the MCU's most likeable characters. There's a different layer of conflict that goes beyond heroes vs. villains. Much of the movie is high school student Peter wrestling in his own mind with Avenger Spider-Man. Everyone knows that Spidey is going to make the right choice, but the moral dilemma is both heartwarming and gut-wrenching to watch.
There are some story problems with Spider-Man: Far From Home, mostly surfacing when it seems as if McKenna and Sommers have written themselves into a corner and need a quick and easy way to provide exposition or escape. But people watch superhero movies to forget reality, not live through it, so the far-fetched Bond villain moments won't be too jarring for the target audience. As a come-down from the epic Avengers: Infinity War/Avengers: Endgame experience, Spider-Man: Far From Home is perfect, and it whets the appetite for Spidey to play a bigger role in the next phase of the MCU.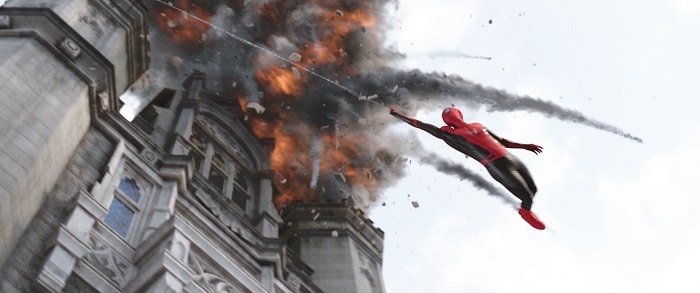 As is the case with most of the Marvel movies, the action sequences in Spider-Man: Far From Home are slick and well crafted, but they get a bit redundant after a while. The battles are a lot of what fans expect from Spider-Man movies, with plenty of web-slinging and bodies zipping through the air. The big fights are all very CG laden, which is to be expected when the heroes all jump and fly, and the villains are all made of things like fire and water. But after a while, it seems as if the action is just repeating itself. While it's still fun to watch, it doesn't build to the crescendo that it should. Instead, it just stays at the same level of intensity. Maybe comparing the solo-shot Spider-Man: Far From Home to the other Marvel Cinematic Universe team-up movies isn't fair, but viewers should be able to expect a bit more from their action scenes.