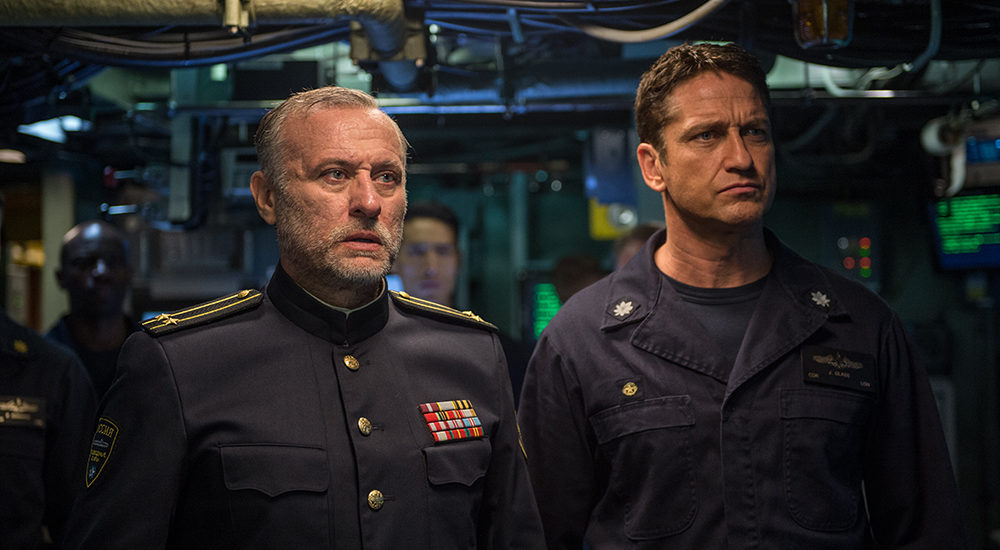 'Hunter Killer'
In a surprising twist, 'Hunter Killer' just may be the movie world powers (and everyone else) need in order to get over themselves and work together for a peaceful future.
With a name like Hunter Killer, it's very difficult to take the latest Gerard Butler (Geostorm, London Has Fallen) movie seriously. Perhaps a comma would help, or trimming it to "Hunt Kill," and throw in an "and" for good measure. But when the United States Navy has a Hunter-Killer submarine and you're writing a script about said submarine, as Arne Schmidt and Jamie Moss did, title-making creativity could stall, resulting in the easy out. That is, unless you take a cue from Tom Clancy and add a bit of plot detail, as he did with his debut novel about a submarine gone rogue, "The Hunt for Red October." And the book's big screen adaptation just happens to be one of the best submarine movies ever made, with Sean Connery playing a Soviet submarine captain with questionable intentions. Butler isn't anything like Connery, and Hunter Killer isn't close to the calibre of The Hunt for Red October, but Director Donovan Marsh (Spud) doesn't (most surprisingly) fail us all with Hunter Killer.
There isn't much that can be said about Hunter Killer without ruining a large twist, but here goes the basics. A United States submarine is attacked while trailing (stealth-like) a Russian submarine in nearby Russian territory. Another submarine — a Hunter Killer — is sent to investigate, headed by Captain Joe Glass (Butler). Glass isn't a by-the-book captain; he didn't go to Annapolis but worked his way up in the trenches on subs. This point is made very clear to establish him as someone the crew can get behind and respect. It also helps to know he's not preprogrammed and does what he thinks is best. Call it gut instinct or recklessness, either way it works. And his lack of trigger-happiness a welcome respite.
There aren't any lives to save on the fallen United States submarine, but, surprise surprise, a sabotaged Russian submarine does have a few survivors – Captain Andropov (Michael Nyqvist from John Wick and Europa Report) being the most important. In the first of many "America Rocks" moments, Glass orders the rescue of the Russian Navy men. It's the best decision he could make. Especially when a team of Navy Seals who are sent into Russia by the powers that be back home, namely decorated war hero turned Department of Defense employee John Fisk (Selma's Common) and NSA insider Jayne Norquist (Linda Cardellini from A Simple Favor and The Founder), uncover the unimaginable: a coup in Russia. 
Yea, it's hard to believe, but this is a movie, so suspend your disbelief and enjoy the ride. Under the water, on the ground, and in the situation room, everyone is working together to thwart a war between the United States and Russia that Admiral Dmitri Durov craves (the coup leader). Well, almost everyone. There has to be someone in the government who is quick to go to war, and in Hunter Killer that honor goes to Chairman of the Joint Chiefs of Staff Charles Donnegan (Darkest Hour's Gary Oldman). He's the embodiment of everything that's wrong with the Department of Defense, and you grow to despise him more and more as the minutes tick by.
The plan to stop the war may make you shake your head in astonishment (here's a hint: a kidnapping is key), and doubt the probability that anything like this could or would ever happen. That's what made me respect Hunter Killer, even after cringing at the Navy Seals scenes that are quite terrible. Hunter Killer gives you hope for a better future, where countries work together without grudges, quests for absolute power, secret keeping, or age-old fears that are no longer relevant holding them back from establishing a world that supports its people, regardless of borders. Because, while there may be plenty of pro-America in Hunter Killer, there's also pro-Russia — take that and think on it for a moment.
There is plenty of chatter out there about Hunter Killer being stuck in the past, when the Cold War was in full swing and the United States and then USSR relations were strained. That's nonsense. The last time I clicked on the news there were plenty of talking heads discussing Russian influence, the fear surrounding the countries capabilities, its power struggles in other countries around the world, and the list could go on. Hunter Killer may be a bit proposterous in its thinking that a Russian coup could take place, with war imminent, and how the problem could be solved, but it's not completely absurd to admit that the United States and Russia don't always play nice nowadays. And that should change, as the film makes perfectly clear with its focus on comraderie, loyalty, and, put plainly, doing what's right for everyone, regardless of your Mother Land.
Hunter Killer may seem like a stretch to be a film full of morality and positive messages that can influence, but it actually makes great sense. Action movies transcend borders, language, more than any other genre. If you can reach billions of people by selling them a movie packed with action under the water aboard a submarine, plenty of explosions, tension and suspense, the propaganda machine is working. And the positive propaganda Hunter Killer sells isn't going to hurt anyone.